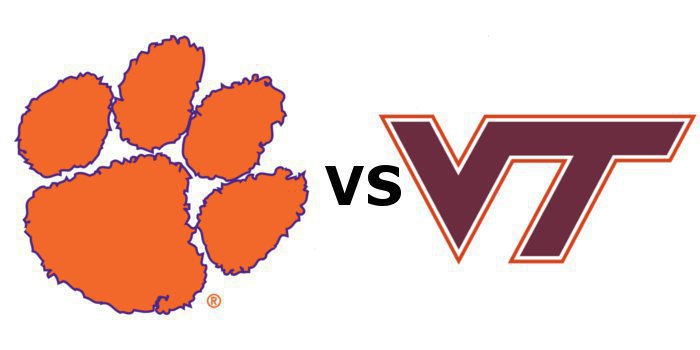 | | |
| --- | --- |
| Clemson vs. Virginia Tech prediction | |
---
| | | |
| --- | --- | --- |
| Friday, September 29, 2017, 1:34 PM | | |
Clemson. Virginia Tech. Brent Venables. Bud Foster. Enter Sandman. Lane Stadium.
This one should be fun.
No. 2 Clemson travels to No. 12 Virginia Tech for a Saturday night ACC Showdown and a possible preview of this year's ACC Championship Game. The last time Lane Stadium hosted a Top 15 matchup, No. 13 Clemson defeated No. 11 Virginia Tech 23-3. That game also happens to be the last Saturday night game in Blacksburg.
GAME 5 CLEMSON (4-0) VS. VIRGINIA TECH (4-0)
WHEN: SATURDAY, SEPTEMBER 30, 2017
WHERE: Lane Stadium (65,632), Kickoff: 8:00 p.m.
TV: ABC (Chris Fowler, Kirk Herbstreit, Maria Taylor)
CLEMSON RADIO NETWORK: (Don Munson,Rodney Williams, Sideline: Reggie Merriweather)
XM Radio: Ch. 84
SERIES HISTORY
Clemson Leads 21-12-1
at Blacksburg: Clemson leads 8-4
at Clemson: Clemson leads 9-6-1
at Neutral Site: Clemson leads 4-2
ACC Championship Games: Clemson leads 2-0
First Meeting: 12-5 Clemson, 1900 (Charlotte)
Last Meeting: Clemson 45-37, 2016
Streak: Clemson won 4 in a row
Last Virginia Tech Win:41-23 at Clemson, 2007
Notes of note
*Dabo Swinney is 4-0 vs. Virginia Tech by an average score of 35.3 to 16.
*Clemson has a 21-12-1 lead in the series with Virginia Tech. Clemson's 23-3 victory on October 1, 2011, in Blacksburg ended Virginia Tech's five-game winning streak in the series. Clemson had not defeated Virginia Tech since 1989 prior to the victory at Virginia Tech in 2011. Clemson has now won four in a row over Virginia Tech, including a pair of ACC Championships, one in 2011 and one in 2016.
*The Clemson vs. Virginia Tech series is one of the oldest in the Clemson history books. The two teams first met in 1900 when the Tigers won 17-5 during John Heisman's first year as head coach. That was Clemson's fifth straight win in a 6-0 season in Heisman's first year. That game was played in Charlotte, NC.
*Clemson has a 6-3 advantage in the series in games played in Blacksburg, including a 4-2 lead in Lane Stadium. The two teams are not scheduled to play again in the regular season until 2024 at Clemson and Clemson won't come back to Blacksburg until 2031 if the rotation remains the same.
*Danny Pearman has worked for both teams. Pearman is currently Clemson's assistant head coach, special teams coordinator and tight ends coach. The 1987 Clemson graduate is in his ninth year overall at Clemson as a full-time coach. He served as a graduate assistant at Clemson for the 1988 and 1989 seasons. Clemson is 89-26 with Pearman as a head coach with seven top 25 final rankings. Pearman coached under Frank Beamer at Virginia Tech from 1998 to 2005.
*Virginia Tech offensive line coach Vance Vice was the tight ends coach at Clemson under former head coach Tommy West from 1996-98.
*Virginia Tech senior associate athletic director for internal operations Angie Littlejohn worked in various legal, compliance and sports information capacities in the athletics department at Clemson where she worked closely with former AD and Tech football assistant coach Terry Don Phillips.
*Clemson has five players on its roster from the state of Virginia. The most prominent is defensive end Clelin Ferrell of Richmond and Benedictine High School. Ferrell was the defensive MVP of the Fiesta Bowl victory over Ohio State last year. Chad Smith and K'Von Wallace are both reserves who see considerable action on defense. Jordan Williams is a defensive end from Virginia Beach who is red-shirting this year.
WHY VIRGINIA TECH CAN WIN
*Special teams might play a huge part, and while Clemson's new kicker Alex Spence has yet to attempt a field goal. Tech kicker Joey Slye (360 points) is 12 points shy of overtaking Shayne Graham (371) as Tech's all-time leading scorer. Slye already owns the most made FGs (70) in VT's annals. CB Greg Stroman is second in the ACC in punt return avg. (11.6) and has even punted for VT.
*Clemson's offense sputtered at times last week against Boston College, while Virginia Tech has been on a roll. Since the second quarter of the Hokies' 64-17 win at East Carolina two weeks ago, Tech has rattled off 95 unanswered points over seven quarters in two wins over the Pirates and Old Dominion. The Hokies rushed for 250+ yards in both victories. This season, the Hokies have outscored their opponents 160-41 and are +27 in points off turnover margin.
*Wide receiver Cam Phillips had 12 receptions for 92 yards and a touchdown against Clemson last December, and he has 40 receptions during Tech's five-game winning streak. If the Hokies can get Phillips open, they can move the chains and convert on third down.
*It's at home, at night, with the nation watching.
WHY CLEMSON CAN WIN
*This Clemson team is good running the ball and they are good against the run. The Tigers are now 42-1 under Swinney when rushing for at least 200 yards and have won 38 in a row dating back to a loss to Georgia Tech in the 2009 ACC Championship game. Clemson is 3-0 this year in that situation. So far this year Clemson has also stopped the run, allowing just 92.5 rushing yards per game. Clemson is 12th in the nation in rushing defense with that 92.5 figure and 13th in the nation in rushing offense, gaining 272 yards per game.
*This group can play defense. The Clemson defense ranks in the top 25 in the nation in a number of categories through four games. That includes third in the nation in scoring defense (9.2), second in sacks (42.5), third in total defense (227), 12th in rush defense (92.5), ninth in pass defense (134.5 yards per game), and they shut down Louisville's high-powered offense two weeks ago. The Hokies are starting a freshman quarterback who hasn't really been tested. Saturday night will be a bit of a reality check for young Josh Jackson.
*Despite what people think, the offense has been just fine. Clemson is averaging 272 yards a game rushing and 238 passing. Oregon is the only other school at the FBS level averaging at least 235 yards of each category so far this year. Over the history of Clemson football, the Tigers are now 83-0-1 when gaining at least 200 yards rushing and 200 yards passing in the same game. The Louisville game was the second time Clemson has done it this year, as Clemson had over 300 of each for just the fourth time in school history in the season opener against Kent State. Clemson had 342 yards rushing against Boston College, but just 140 yards passing.
WHAT WILL HAPPEN
The stars have aligned for Tech to claim a big victory in front of their home crowd. But this Clemson team just knows how to win. The Tigers have won 35 of their last 37 games dating to 2014. That streak includes winning 19 of the last 20 games against ACC teams with the only loss coming to Pittsburgh last year, 43- 42 on the last play of the game. Clemson also has a streak of 11 straight wins on the road and 11 straight away from home against ACC teams. The Hokies are well-coached, play good defense and have good special teams play, so don't look for a Louisville-type blowout. The Tigers and quarterback Kelly Bryant will have to protect the football and not give away cheap scores.
I say it every road game, but Clemson has to survive any kind of early flurry by the home team and let it settle into a game in the trenches, and that's where Clemson has the advantage. The Hokies will get an early score, but once the game settles in the Tigers speed and athleticism will take over. It won't be easy, but it'll be another win.
FINAL SCORE: CLEMSON 27, VIRGINIA TECH 16
---
GUEST PREDICTIONS
---
Mickey Plyler - 6-9 AM on WCCP 105.5FM - 31-17 Clemson
Tony Crumpton - Associate Editor - 28-17 Clemson
Nikki Hood - Staff writer - 30-20 Clemson
Brandon Rink - Staff writer - 24-20 Clemson
Daniel Shirley - Sports Editor, Macon Telegraph - 24-17 Clemson
Pigskin Prophet - 30-17 Clemson
| Game | Actual | David Hood | Mickey Plyler | Tony Crumpton | Nikki Hood | Brandon Rink | Daniel Shirley | Pigskin Prophet |
| --- | --- | --- | --- | --- | --- | --- | --- | --- |
| Kent St | 56-3 CU | 47-6 CU | 56-7 CU | 49-14 CU | 47-13 CU | 52-3 CU | 51-10 CU | 55-10 CU |
| Auburn | 14-6 CU | 24-20 CU | 27-20 CU | 28-21 CU | 28-20 CU | 27-24 CU | 24-10 CU | 27-17 CU |
| Lou | 47-21 CU | 31-23 CU | 27-24 CU | 31-21 CU | 27-20 CU | 34-27 CU | 28-17 CU | 34-20 CU |
| BC | 34-7 CU | 47-6 CU | 38-10 CU | 45-14 CU | 38-10 CU | 48-10 CU | 40-10 CU | 47-10 CU |
| Points | - | 4 | 8 | 4 | 6 | 4 | 6 | 6 |
* Points: 3 pts for best prediction of the week (tiebreaker is Clemson score), 1pt for picking the correct winner