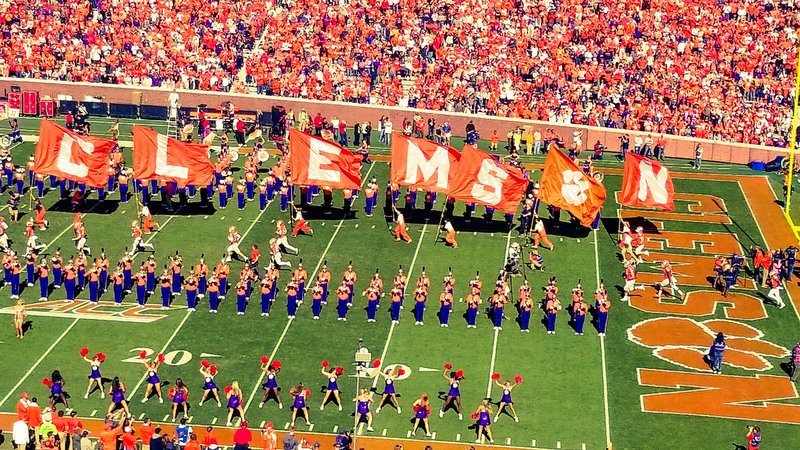 | | |
| --- | --- |
| Clemson football and autumn: Who wouldn't want to be a part of this? | |
---
| | | |
| --- | --- | --- |
| Monday, November 5, 2018, 8:01 AM | | |
College football is supposed to be fun, but the last five weeks or so have taken fun to a different level around the Clemson program.
Remember when everybody was worried that the demotion and subsequent departure of Kelly Bryant might cause a rift in the clubhouse? Remember when everyone wondered what would happen if something happened to Trevor Lawrence and Chase Brice had to play?
Guess what…Chase Brice can play and it's hard to fathom that the Tigers might actually be in better shape at quarterback than they were earlier in the season.
Back to fun……in between the third and fourth quarter of Saturday's game, the video that features strength coach Joey Batson popped up on the videoboard. The one where Batson says, "They don't put rings on smooth fingers."
That particular video is a big hit with most fans, and as Batson's speech grows more passionate, the crowd begins to roar. I truly believe that video came at the right time in the game against Syracuse – I watched members of the Clemson defense turn and watch the video and what followed was a gritty and resolute performance.
Things haven't had to be so gritty and resolute since that moment - Clemson has now outscored its last four opponents (all ACC opponents) by a margin of 240-36. Clemson's differential of 204 points is the largest in four consecutive ACC contests in conference history, surpassing Florida State's margin of 184 points in 2000.
During Saturday's game, wide receiver Will Swinney caught a touchdown pass; big defensive tackle Dexter Lawrence scored a rushing touchdown; and the coaches endeavored to left tackle Mitch Hyatt a reception but the play went awry from the start and turned into a five-yard loss.
But the message was clear – these guys are out there having fun and rewarding every player on the roster that deserves to play.
As the video started to play, the roar of the crowd caused almost the entire Louisville football team to turn and watch the video. To a man, they stood with hands on hips and watched just a small part of what makes Clemson special. It didn't hurt that the video played just above the score, a score that showed Clemson comfortably ahead.
I wondered – what is going through their minds? Those players are on the wrong end of a lopsided score, are suffering through a heartbreaking losing streak, and have to deal with the calls for their head coach to be fired. What were they thinking as they watched that video?
As I sat there, my phone dinged and it was a message from a longtime TigerNet reader, and he said, "Who wouldn't want to play here? Who wouldn't want to play for Dabo Swinney and be a part of all this?"
Even the stoic Hyatt admitted that football is fun in Clemson.
"We always enjoy what we do, and we get rewarded for it. The coaches feed into the joy that we have and put in these plays for us, because they know that we enjoy the experience," Hyatt said. "It shows the joy and appreciation we have for each other as teammates. We are always having fun on and off the field, and the coaches reward us by putting in these plays."
Big Dex was all smiles as he described his run to glory.
"We've practiced it a couple of times. I tried to take advantage of my opportunity. 'I'm a natural running back' is what I tell myself. I stopped playing [running back] in high school, so ever since then, I was a running back. I know what to do with the ball a little bit," Lawrence said. "Christian tried to [get the play call], but Coach Swinney told him that it was my time to shine. I also told him, 'Christian can't score again until I get the ball,' so that's how that went down."
The noon kickoffs don't allow for proper tailgating time, and as I left the press box and made my way down the hill towards the media parking lot, hundreds of people still loitered on the grounds. Some were playing catch with their kids, others were standing around and laughing and still others were watching other games on television while eating the last of their food and taking the last sips of their beverages.
The fall sun began to dip over the horizon and still, they stayed, soaking in a perfect fall evening after a picture-perfect fall afternoon. Clemson is always special, but Clemson is at its best when the cool wind begins to blow off the lake, the sky turns a deep shade of red at dusk and the leaves begin to change. Clemson is at its best in autumn, and we don't want it to end.
After all, who wouldn't want to be a part of all this?