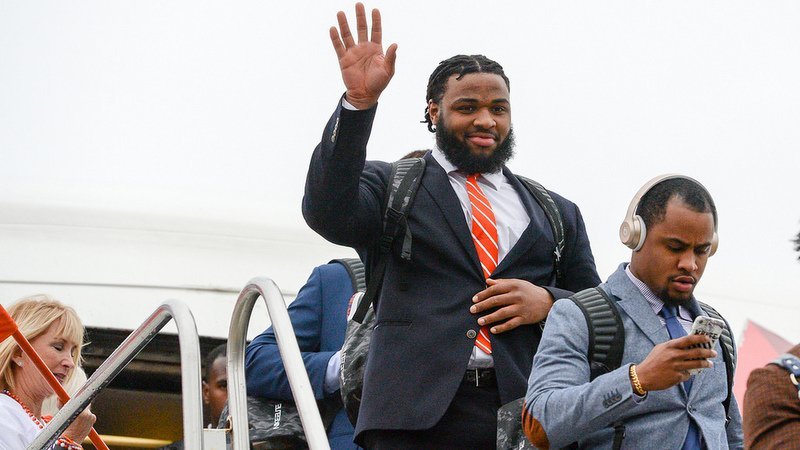 | | |
| --- | --- |
| Christian Wilkins: Senior shows leadership by taking Trevor Lawrence to breakfast | |
---
| | | |
| --- | --- | --- |
| Monday, October 1, 2018, 7:01 AM | | |
CLEMSON – The departure of former quarterback Kelly Bryant caused many fans to wonder if the Clemson locker room was fractured, with some factions backing Kelly Bryant and others backing new starting quarterback Trevor Lawrence.
Head coach Dabo Swinney was asked about the potential problem after last Wednesday's practice, and he answered that he tries to stay out of the locker room. The locker room belongs to the players, not the coaches, and he stays out of that spot as a general rule.
He then said that he didn't worry about his team, simply because he has great team leaders. Even though Bryant was one of those team leaders, Swinney said he had no doubt that someone else would step into the fray.
Enter Christian Wilkins, the Tigers' massive defensive tackle who has a heart as big as his body. Wilkins, without any prodding from or knowledge of the coaches, invited Lawrence out for a brotherly breakfast.
"The fans don't need to worry about his locker room," Swinney said Saturday. "That's mythical. This is a group of young people that, that work really, really, really hard. And that want to win mentality.
"I saw unbelievable leadership this week. Christian, a simple thing, took Trevor to breakfast Wednesday morning. You know, just took him to breakfast on his own. I didn't know about it. Somebody sent a picture to me saying, hey coach, I just want you to know the type of leaders you have on your team. There is a random picture and Christian taking Trevor to breakfast."
Swinney said he shouldn't have been surprised to see Wilkins taking ownership of the locker room.
"That's the type of leadership we've got. It's inspiring. It's inspiring to see young people, especially, rally and believe and hang in there and stay together," Swinney said. "And as I said, these are things, these are lessons that they will carry with them the rest of their life, you know, because I really think a lot of things that you learn inside the lines you take with them outside the lines, into your life. You have things go against you, but it's just how you respond. These guys responded in a very emotional way today."
After Saturday's come-from-behind victory, Swinney believes his team has the heart of a champion.
"At the end of the day, it's all about how you respond. I always talk to them about the heart of a champion and it's hard to realize. It's hard to define. It's maybe hard to do that, but you just know it when you see it. That's all I can say. The heart of a champion. That's our culture. That's our off-season program. That's the leadership of our team. Everything in life is about how you respond. It's not about what happens. It's how you respond. I've never been more proud of a team in all my life."