| | |
| --- | --- |
| Camp Insider, Day 1, Session 1: Newest commit adds momentum to summer | |
---
| | | |
| --- | --- | --- |
| Tuesday, June 5, 2018, 4:48 PM | | |
Photo Gallery: Dabo Swinney Camp I
CLEMSON – The Clemson coaching staff will be signing its largest recruiting class in a long time next February, and they hoped that head coach Dabo Swinney's high school camp would kick off some momentum heading into the summer.
Ask and ye shall receive as Hartsville (SC) 2020 four-star defensive lineman DeMonte Capehart
committed to Clemson before Tuesday's opening session. Capehart (6-4, 270) is expected to be on hand for all three days of this week's camp and informed head coach Dabo Swinney of his decision after his arrival.
Capehart had early offers from both in-state schools and added Georgia, Tennessee, Florida, N.C. State, UNC and Duke after several strong performances on the camp circuit. For those keeping score, Capehart is the first commitment for the 2020 recruiting cycle and stands to be one of the top two or three players for the 2020 class in the Palmetto St.
He spent the first part of the afternoon riding around the area in a golf cart but soon worked out. He is everything you would expect – fast and explosive for a kid his size. He has grown since we saw him in camp last year and to me his "quick twitch" movements have improved. There is a reason that defensive line coach Todd Bates made Capehart a priority once Bates arrived in early 2017.
Swinney also made Capehart a priority – and spent the first part of the session watching Capehart work out.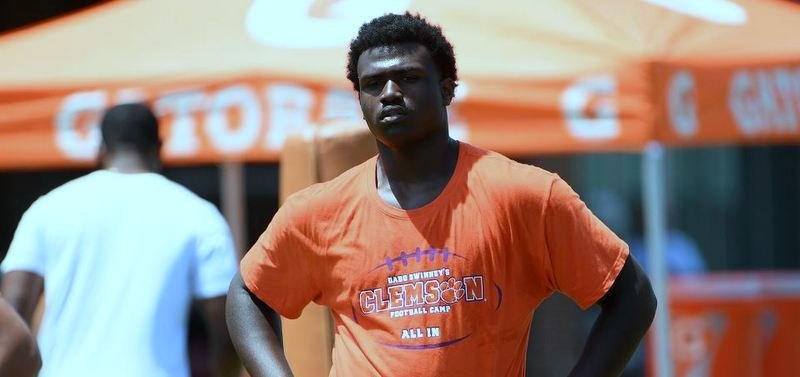 *Pensacola (FL) 2019 offensive linemen teammates Adrian Medley and Hunter Rayburn, both of whom hold offers from Clemson, were on hand for the first part of the session. Their school was at South Carolina this morning and hope to be at Georgia for supper. They were given a tour by recruiting operations coordinator Tyler Clements.
Both linemen will visit Texas A&M this weekend.
*Another intriguing prospect we told you about this morning is Charleston (SC) Hanahan 2019 defensive end Coooper Dawson. Dawson would prefer to play defensive end but might seem some evaluation this week as an offensive lineman.
*A familiar face to all of us was back in town - Dallas (TX) Highland Park 2020 quarterback Chandler Morris, the son of Arkansas head coach and former Clemson offensive coordinator Chad Morris. Morris has been a fixture at the Swinney camp since his dad arrived in 2011, and he spent part of the session working with former Clemson quarterback Cole Stoudt.
*We've said in the past that we always come away impressed with 2019 wide receiver commitment Brannon Spector and today was no exception. He is far, far better than anyone gives him credit for. He has great hands, a quick start of the line and runs his routes with precision.
Photo Gallery: Dabo Swinney Camp I