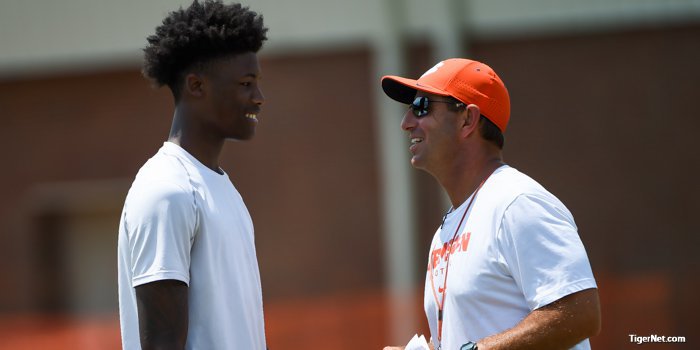 | | |
| --- | --- |
| Camp Confidential: Stars on parade as temperature soars | |
---
| | | |
| --- | --- | --- |
| Tuesday, June 14, 2016, 5:02 PM | | |
CLEMSON – It was the hottest day of the year so far in Clemson, South Carolina and that can only mean one thing. It's time for the second session of Dabo Swinney's high school camp.
Not only were the temperatures soaring close to triple digits, the talent on the field was equally as hot.
We'll start with quarterbacks Hunter Johnson, Chase Brice and Dakereon Joyner. Johnson and Brice are both 2017 Clemson commits, with Johnson being considered the best quarterback in the upcoming recruiting cycle.
I'm always a little skeptical about recruiting rankings and stars given out by the recruiting services, but there is no doubt that Johnson is the real deal. We were only able to watch three periods of camp, but in that short time the Brownsburg (IN) signal caller showed off good footwork in the three-step drop, good accuracy and exceptional arm strength.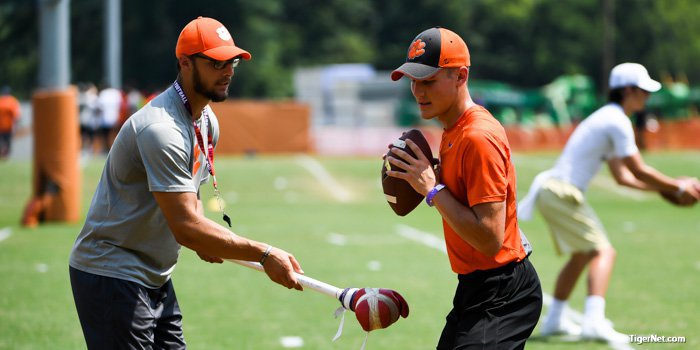 Brice – the Loganville (GA) Grayson quarterback – is a little thicker than Johnson and showed all of the tangibles and intangibles you want in a signal caller. He was accurate and can deliver any pass. It's safe to say that quarterbacks coach Brandon Streeter will have an easy job with the talent he has coming in next year.
Joyner – the North Charleston (SC) Fort Dorchester quarterback and 2019 prospect – has improved every time we've seen him. Some question whether he will be an athlete or a quarterback at the next level, but he has all of the tools to play whatever position he wants.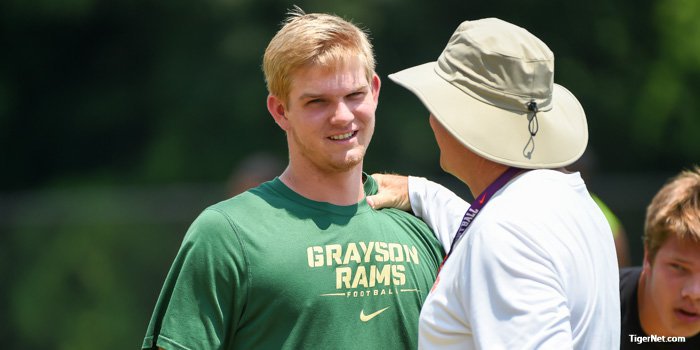 Back to Johnson. He excelled in the Elite 11 and earned an invite to Nike's The Opening, and last weekend he was impressive in the Rivals 5-star Challenge. When his high school coaches were on hand for part of spring practice, one of them told us that if Johnson were to walk on campus today he would be Watson's backup, and it wouldn't even be close.
That's high praise, especially when you consider it's not always about the arm strength or footwork. Is he a leader? Can he read a defense? How does he react when the pressure is on? There are a lot of factors, but Johnson passes the eye test and he's good. Really good. I might have to agree with his coaches…..he's the best quarterback we've seen out there since, you guessed it, some kid named Deshaun Watson.
*Every good quarterback needs good receivers to catch the ball and wide receiver is a position Clemson has had its pick over the last several years. 2017 is no different with Knoxville (TN) Catholic receiver Amari Rodgers.
Rodgers is smooth, strong and quick. He tore the labrum in his shoulder earlier this spring, but was going through every drill receiver's coach Jeff Scott put him through and showed no ill effects of the injury.
Tee Higgins – good friend of Rodgers and elite receiver prospect – was also on hand. He didn't work out in the first session, but he was taking in the lessons Scott was teaching all while being his right hand man. Higgins is tall and rangy and everything you'd want in a wide receiver.
Higgins also spent time deep in conversation with Swinney. In the early camps, Swinney was all over the place and took part in drills. Now, he acts as more of a CEO and takes the time to give the personal touch to the elite prospects. Higgins was no different.
*Offensive linemen Noah DeHond and Matt Bockhorst were both on hand and participating in drills. At 6-7, DeHond is one of the bigger high school offensive linemen I've ever seen and with his frame he can definitely add bulk and size once he gets into Clemson's strength and conditioning program.
Bockhorst's footwork and agility were impressive, especially for a 6-4, 280-pound young offensive linemen.
We'll have more on these two after the next session when we can watch them a little closer.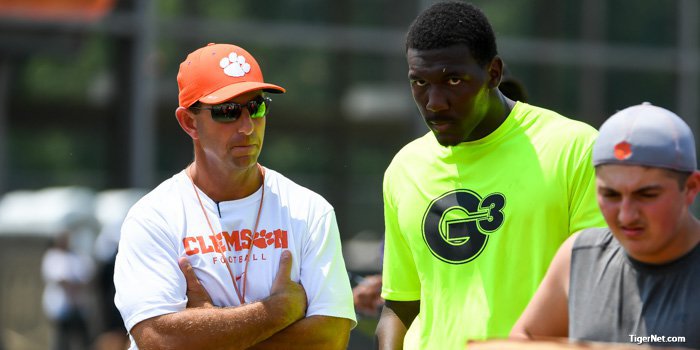 *With so many offensive weapons on hand, we didn't get to spend a lot of time watching the defensive side of the ball, but I did take the time to run over and check out Tampa (FL) Hillsborough defensive end Zachary Carter. At first glance, he reminds you of Shaq Lawson both in his body type and work ethic. He's extremely strong and explosive in his lower body. He hung on every word defensive ends coach Marion Hobby had to say and wanted to perfect his technique with every rep.
*Jamyest Williams, a four-star CB recruit from Grayson High, was on hand but not working out.

Tags: Clemson Football
,
Tee Higgins
,
Hunter Johnson
,
Noah DeHond
,
Zachary Carter
,
Dakereon Joyner
,
Chase Brice
,
Amari Rodgers
,
Matt Bockhorst
,
Marion Hobby
,
Jeff Scott
,
Brandon Streeter