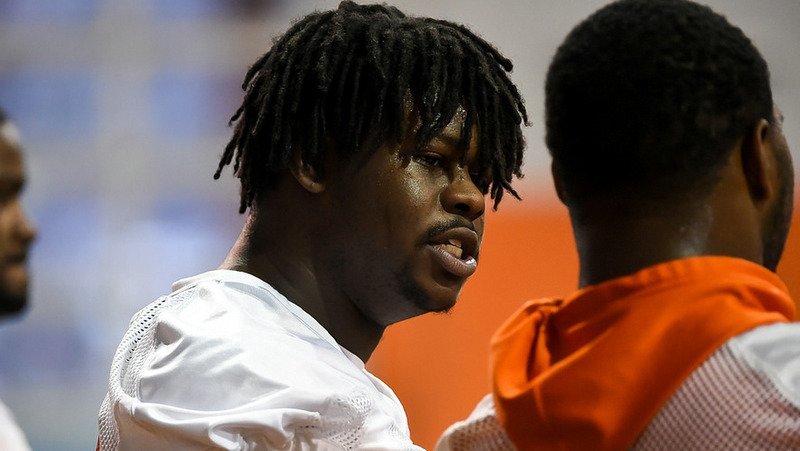 | | |
| --- | --- |
| Albert Huggins: The fifth starter along Clemson's talented defensive front | |
---
| | | |
| --- | --- | --- |
| Tuesday, July 24, 2018, 7:01 AM | | |
SUNSET – Don't forget about Albert Huggins, the fifth starter on Clemson's talented defensive line.
Huggins, a senior out of Orangeburg, started two games last season and has been called a co-starter by head coach Dabo Swinney during preseason interviews. While all of the attention goes to Austin Bryant, Clelin Ferrell, Christian Wilkins, and Dexter Lawrence on the defensive line, the coaching staff looks at Huggins as a fifth starter.
Huggins is a player that could be on the verge of a breakout season, according to defensive tackles coach Todd Bates.
"I think everybody needs to look out for him. He's one of the guys that's on the cusp of something if he can put it all together in his life - and I'd love nothing more than to see it happen for him this year because it can make all the difference in his life," Bates said. "This is his last ride as a senior and if he does max-out it could be the difference in a lot of things for this team. And I think that he's more team-oriented and understanding that I've got to be the best at my role--whatever that role is from week-to-week--I've got to be the best at it. Nobody can be better in that role than me."
Bates said that Huggins just needed an opportunity.
"I tell you what man, I get chills talking about him, but it's just believing in him. I'm not saying that nobody else believed in him, but believing in him, connecting with him and giving him a real opportunity was what it took," Bates said. "Not just when he messes up taking him out right away--let him learn through his mistakes at practice. Then when he trusts you he'll take your coaching and earning his trust. Telling him, No. 1, that was my number one goal and then earning it and then doing what you say you're going to do--those are key things when coming into a new job and having a great player like him."
"Coach (Dan) Brooks recruited him, and I would definitely have recruited him as well--a lot of upside. He just had those little things to connect around him, like being consistent, always working hard and those are no longer issues for him because he works his butt off and he's consistent. He wants to be great, he wants to compete, he ain't taking a back seat--I think those are all critical things to his development."
Bates said he and Huggins hit it off from the beginning.
"I met with all of the guys when I first got here and let them know that they have a fresh start. And, of course, I've done research on you but I want to know you for myself," he said. "So, show me who you are is basically what it was. I've enjoyed getting to know them all, but Albert hugged my neck after that meeting. I could tell that he was excited about the fresh start and you can tell looking at him every day that he's happy to come to work every day, come over to the facility and put the work in. I'm looking forward to seeing the player that he becomes."
Huggins is overshadowed in the media by his four linemates, but Bates says that Huggins is as sincere as they come.
"Albert, he's not as outgoing as a Christian Wilkins, but he is just a good kid. He's got a good heart on him," Bates said. "You can see that when you look him in the eyes when you shake his hand, he's sincere about wanting to be great and about wanting to do right. That's been fun to see and develop with him, he knows that I care about him beyond the field and just look forward to growing with him another year."