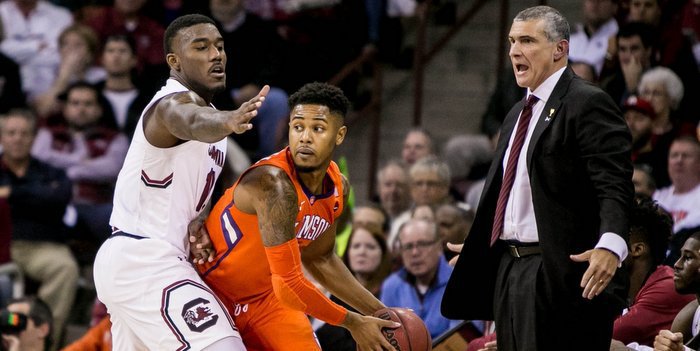 | | |
| --- | --- |
| Tigers pluck ranked Gamecocks 62-60 in rivalry thriller | |
---
| | | |
| --- | --- | --- |
| Wednesday, December 21, 2016, 11:40 PM | | |
COLUMBIA – Avry Holmes hit three critical free throws in the final 19 seconds and Clemson overcame a late four-point deficit in defeating No. 22 South Carolina 62-60 Wednesday night at the Colonial Life Arena.
The win was Clemson's (9-2) seventh in a row, and was the first ever win for the Tigers over a ranked non-conference opponent on the road. The sweep in football and basketball is also the first for Clemson since the 2008-09 season. Clemson has now won 28 games at South Carolina, the second-most road wins over any opponent in program history.
"It was a hard-fought rivalry game," Clemson head coach Brad Brownell said. "I really thought kids on both teams really competed at really high level. The physicality in the game was a big factor. We knew we had to come in and match their physicality. I think defensively they are about as good as anyone we will play."
Jaron Blossomgame led Clemson with 15 points, while Marcquise Reed and Elijah Thomas added 14 and 12 respectively. South Carolina's P.J. Dozier scored a career-high 26 points for the Gamecocks, who fall to 9-2 on the season.
Clemson shot 41% from the field (21-51) but was just 17-27 (63%) from the free throw line. Each team committed 15 turnovers. Clemson outscored South Carolina 29-3 off the bench. Clemson is also 3-0 against the SEC this season, with wins over Georgia, Alabama and South Carolina.
South Carolina led 56-52 with 3:11 to play and looked like they were ready to take control of the contest, but the Tigers battled back to take a 59-58 lead on a tip-in by Blossomgame with 52 seconds to play. The Gamecocks couldn't get points on their next trip down the floor, and Holmes hit two free throws with 19 seconds remaining to give the Tigers a 61-58 lead.
Clemson fouled Dozier with nine seconds to play, and he hit both free throws to make it 61-60. Holmes was fouled on the inbound play and he hit one free throw to make it 62-60, and Dozier's wild 3-pointer with a second to play was off the mark.
"I'm really proud of our team for just plugging away and hanging in there," Brownell said. "We had some guys in foul trouble. We had a couple of guys not play as well, but we have more depth this year."
The first half was a ragged and gritty affair, with neither team holding a lead larger than four points.
The Gamecocks held an early 5-2 lead after a 3-pointer by P.J. Dozier, but the Tigers battled back and took a 3-point lead of their own at 15-12 on a 3-pointer by Donte Grantham. The Gamecocks eventually tied the score at 25-25 on a layup by Hassani Gravett with 2:15 remaining in the half, but the Tigers got two free throws from Thomas and a jumper by Blossomgame to take a 29-25 lead at intermission.
The Gamecocks scored the first six points of the second half to take a 31-29 lead just 90 seconds into the period, but Avry Holmes stopped the bleeding with a 3-pointer that the put the Tigers back in front at 32-31. The Tigers late got two free throws to take a 37-35 lead, but both teams went into a four minute scoring drought that was broken up on a layup by Maik Kotsar with just over 13 minutes to play.
The Gamecocks took advantage of Clemson foul trouble – they were in the bonus with over 12 minutes to play – and two free throws put South Carolina up 39-37 with the Tigers in the middle of a five minute scoring drought. Clemson would end the drought with two free throws by Reed with just over 11 minutes remaining, and the teams stayed within four points of each other the rest of the way.
"They (SC) are going to have a great year," Brownell said. "They are going to win a bunch of games so they are going to be a team certainly helps your RPI. To win a game like this on the road is extremely difficult. It's obviously very rewarding and I'm sure will mean a lot in terms of our resume and those things later, but there are still too many games before that to even matter."
Clemson plays UNC-Wilmington on Wednesday, Dec. 28th, in Littlejohn Coliseum.
GAME NOTES
• Clemson's win was the program's first in history on a top-25 non-conference opponent's home floor. South Carolina was ranked 20th in the coaches poll and 22nd by the AP this week.
• Wednesday's win was Clemson's first over a ranked non-conference opponent since 2014, when the Tigers beat Arkansas in overtime at home.
• The win was the 89th in program history over a top-25 team, and the ninth in the Brad Brownell era (2010-present).
• The Tigers won their 28th game in Columbia, second-most road wins in program history against any opponent.
• Clemson has now won five of its last seven games in Colonial Life Arena dating to a 63-62 overtime victory in 2004-05.
• The Tigers are 3-0 against SEC teams this season, defeating Georgia, Alabama and now South Carolina. Clemson lost to all three opponents last season.
• Brad Brownell is now 8-8 versus the SEC as Clemson's head coach.
• Clemson outscored South Carolina's bench 29-3 on Wednesday. The Tigers are 8-0 this season when winning bench points.
• The Tigers are 7-0 since point guard Shelton Mitchell entered the lineup against High Point.
• Jaron Blossomgame produced his second double-double of the season — and second straight against the Gamecocks — with 15 points and 10 rebounds.
• Blossomgame is one point shy of tying Larry Nance for 17th in Clemson history with 1,340 career points.
• Elijah Thomas posted 12 points and seven rebounds, both career highs. He also played a career-high 26 minutes.
• Marcquise Reed scored 14 points, his high output since scoring 19 against Georgia in the season opener. He went 6-6 at the free throw line, duplicating his same performance at the stripe versus the Bulldogs.