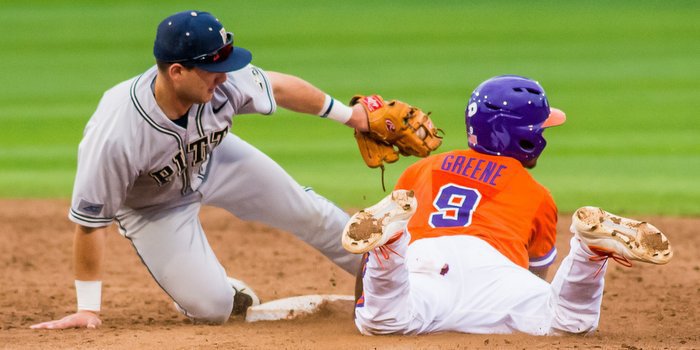 | | |
| --- | --- |
| Tigers batter Pitt in series opener for 13th-straight home win | |
---
| | | |
| --- | --- | --- |
| Friday, April 1, 2016, 8:32 PM | | |
CLEMSON – Early start time? No problem.
No. 17 Clemson scored early and often and pounded out 15 hits and 14 runs in defeating Pitt 14-6 in the opener of a three-game ACC series at Doug Kingsmore Stadium Friday night. Clemson improves to 20-6 overall, 6-4 in the ACC, while Pitt falls to 12-10 overall and 4-6 in the conference.
Clate Schmidt pitched 6.2 innings in improving to 5-0 on the season. Reed Rohlman had three hits and drove in three runs to lead the Clemson attack, while Seth Beer also drove in three after reaching base four times. Chase Pinder and Weston Wilson drove in two runs apiece. Beer exended his hitting streak to 22 games, 8th-best in school history.
Clemson has won 13 consecutive games at home, its longest since its 18-game home winning streak from May 31, 2009 to March 20, 2010.
The Panthers used a leadoff double and a single to score a quick first inning run on Schmidt, but he settled in and the Tigers got the run back in the bottom of the second. Wilson led off the second with a double down the left field line, advanced to third on Rohlman's single and scored on a two-out wild pitch.
"No walks tonight, so that was good to see. I thought Clate was okay," head coach Monte Lee said after the game. "The one thing that got away from him a little bit is he gave up some big hits with two strikes - a leadoff double in a 1-2 count and gave up a 1-2 homer to the eight-hole guy late in the game. He gave up the big inning, but the one thing I will say and we talked about it an awful lot here lately is to get beat in the strike zone. Force them to swing the bat and be aggressive in the strike zone.
"Pittsburgh is a really, really good hitting team. They've got a really good offense and they were very, very aggressive, but we didn't walk anybody. We hit one guy. I don't know if we could've played better defensively. I thought we played a really, really good game defensively in the infield. Weston was good. Eli made a couple of really, really good plays and Jordan Greene played really good defensively."
The Tigers chased Pitt starter Josh Falk in the third. Pinder singled off the shortstop's glove to start the frame and advanced to second on a walk to Chris Okey. Both runners advanced on a wild pitch, and Beer laced an RBI double off the wall in left for a 2-1 lead.
Wilson singled up the middle, scoring Okey for the 3-1 lead, and Falk's day was done. He was replaced by Jextin Pugh, who gave up a single to right-center by Rohlman that scored Beer for a 4-1 lead. Falk finished his day by going 2.1 innings and he was responsible for all four runs.
The Tigers added to the lead in the bottom of the fourth after loading the bases on a walk, a single and a hit by pitch. That brought up Beer, who saw seven pitches before finally wrangling an RBI walk that scored Jordan Greene for a 5-1 lead. A wild pitch promptly scored Eli White for a 6-1 advantage and the Tigers were rolling after just four innings.
Schmidt ran into trouble in the fifth. A bunt single got things started and five batters later Nick Yarnall spanked a long two-run homer to right. The blast was part of a four-run fifth that brought the Panthers back to within one run at 6-5. Schmidt escaped further damage but Pitt was back in the contest.
Clemson managed to get one of the runs back in the bottom of the inning. Chris Williams laced a two-out triple to right-center and scored on Greene's single to left for a 7-5 lead.
The Tigers continued to pile on in the sixth. Two singles and a walk loaded the bases for Wilson, who walked to score a run for an 8-5 lead. Rohlman followed that with a two-run single to right for a 10-5 lead, and Robert Jolly reached on an error that scored the inning's fourth run. A fifth run was scored on Williams' sacrifice fly to center and the Tigers held a 12-5 lead at the end of six.
Schmidt gave up another long homer to start the seventh – a shot to left by Caleb Parry – to make it 12-6. Schmidt gave up a two-out single and his done after 6.2 innings. He gave up six runs (all earned) on eight hits with five strikeouts and no walks.
Okey lined a two-out double to left in the bottom of the seventh, and Beer rifled a single to right to score Okey for a 13-6 lead. The RBI was Beer's 33rd of the young season.
"I don't know if we could've done anything better offensively. Middle of our order, if you look at it, I think three through six got on base 16 out of 20," Lee said. "We had a couple of two-out hits with runners in scoring position which was big for us. Beer drove in three. Weston drove in two. Rohlman had a good day and drove in three. The bottom of the order did a nice job. Overall, I thought we played a really good ballgame and we're going to need to show up ready to go tomorrow because their starter tomorrow is one of the best in our league."
Game two of the series is Saturday at 4 p.m. Pitt RHP T.J. Zeuch will face off against lefty Charlie Barnes. Game three of the series will be Sunday at 1 p.m.

Tags: Clemson Baseball
,
,
Clate Schmidt
,
Eli White
,
Weston Wilson
,
Chris Okey
,
Reed Rohlman
,
Chase Pinder
,
Robert Jolly
,
Jordan Greene
,
Seth Beer
,
Chris Williams