| | |
| --- | --- |
| The Full Monte: Lee talks position change for Seth Beer, 2017 and MLB Draft | |
---
CLEMSON – The 2016 baseball offseason is just four days old, but head coach Monte Lee is already looking forward to fall camp and putting together a new squad in what will be his second season at Clemson.
Most coaches want to take a couple of weeks to rest and recuperate, but that just isn't the case for Lee, who said he wished Clemson's fall semester began tomorrow.
"It's going to be a lot of fun. I wish August whatever, whenever school starts, I wish it was tomorrow," Lee told the media Thursday. "I'm not tired physically or mentally at all. I can't wait for the school year to get here, honestly. I'm ready to get back on the field and start that process of trying to develop next year's team into the kind of team that we all expect them to be. I'm excited about school starting back."
Lee met with the media Thursday morning in the baseball operations facility to reflect on this past season, but also look ahead to the draft and next year, and he said there are several players who he expects to make a significant jump in 2017.
"You kind of go around the field. I think all of our pitchers that got an opportunity to pitch this year have a chance to make significant improvements," Lee said. "I think Brooks Crawford, who is a true freshman, pitched a lot for us. I could see him being a guy for us next year. I'm anxious to see Higginbotham and his recovery. He got seven starts as a true freshman for us. Charlie Barnes is going to assume one of those spots. Pat Krall, we're going to try to turn him into a starter in the fall and develop him as a starter to see if that's something we can go with next spring.
"I'm anxious to see Chris Williams in his development. We'll move him back behind the plate and leave him behind the plate with the anticipation of him being the guy that takes that job, but we also have some other guys coming in that are going to be competing for that job behind the plate. I think those are guys in particular. Chase Pinder had an unbelievable season for us. He often is under-appreciated, but he's a guy that could be an All-American type player in year three. K.J. Bryant had a nice year for us and played a good big versus left-handed pitching and could assume possibly a bigger role. There are a number of guys that got a lot of experience this year that I'm looking forward to seeing coming back in the fall to see if they can become even better."
For now, however, Lee will anxiously await the MLB Draft results and hit the recruiting trail to prepare for the years ahead.
"First thing, we're all focusing on right now is the draft and how it impacts us. That's going to be the big thing," he said. "We've got a couple of guys that could go tonight, so we're going to be watching and waiting to see how the domino effect starts based on that - whether we wind up getting a guy or two into school or whether we lose them to the draft and how that effects. That's a big priority right now. We've got to get through the next three days of the draft and let the dust settle from there. Once we get through that, my focus is on recruiting and that's my focus for the summer. I've got to try to make sure that as a coaching staff we do everything we can to recruit the best players with the best makeup and toughness that we can to make sure we can make the type of run that we want to make throughout the regular season and the post-season."
Q&A with Monte Lee
How important is the outcome of this year's MLB Draft to what you do down the road?
"It's a great night for a lot of young men, which could include some of our current players along with some of our signees. It's a night of excitement, but you're also a little nervous as a head coach, just because one of the toughest parts of our job is the balancing act with the 27 spots and the 11.7 (scholarships) and who is going to be here and who's not going to be here. How do you manage all of that? It's a stressful time as a coach, sitting on this side of it, but it's also a great night. Hopefully, we will wind up being able to hold on to some high-end signees and hopefully one young man, in particular, Chris Okey, who we anticipate getting an opportunity to go out pretty high. Hopefully, it all works out for him the way he wants it to. It's an exciting night, but it's also nerve-wracking because of the balancing act and the roster moving forward and how the draft can affect that. I think we have the hardest job of roster management in any sport. It's part of it. You have to deal with it."
How can Seth Beer improve and where will he play in the future?
"Oh jeez, that's a tough one. I don't know. Maybe we can get him to steal a few bases. I really don't know. I'm a really big Seth Beer fan. Even though I coach him, I watch him a lot more than I coach him just because he's so special from a talent standpoint. There are things that he can do to get better. I think the one thing that Seth will have going into the fall is he will have a full offseason of training. We weren't able to give him the type of training that he needs like most freshmen coming into year one.
"Our freshmen came into summer school and lifted five times a week throughout the whole summer and trained and got that experience before they even started fall. Then we got into fall, we lifted four times a week as a team, so our guys got all of that time to develop and focus on their body and get stronger to put them in position, to be the best player they could be. Seth didn't get any of that. He didn't get the time in the weight room that he needed, so I think going into year two, the one thing that will really benefit Seth is the strength and conditioning and the agility training that he will get next fall. You put another 15 pounds on him and try to get him faster - work on his foot speed, which is an area that he knows he needs to work on - that's what I'm looking forward to seeing. I'm also looking forward to seeing him become more of a leader and assume more of a leadership role on our team.
"We're going to move him into the infield. We're going to try him at first base in the fall and see if that's something that can happen for him. On paper, it could make us better if he can play first base. We're going to move him in there and see if we can turn him into a viable option at first base. We'll look at all of the other parts and see how it fits. If he can play first base, great. If we need to move him back to the outfield, we will. We've got to get him faster, stronger and we're going to try to see if first base is an option for him, as well."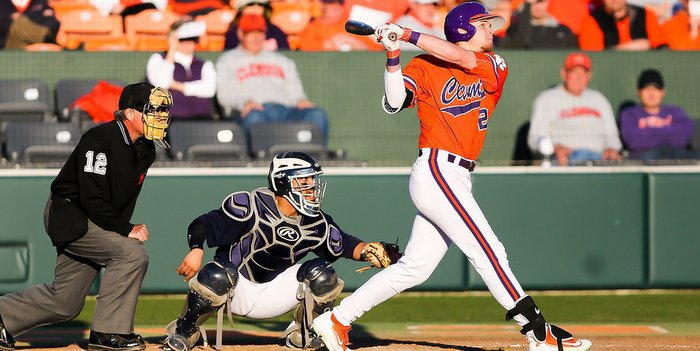 How will the redshirt players fit into the lineup next season?
"The one young man we redshirted this year - due to injury and that has a chance to help us - and depending on what we lose to the draft is Grant Cox. He's a middle infielder that can play defense, run a little bit, and we feel like he can turn into a guy that can handle the bat. He can play a number of positions for us. He can play shortstop, he can play second base, more of middle infielder that can slide out to center field if needed. Grayson Byrd, left-handed hitting middle infielder and son of Paul Byrd, former big leaguer, was a transfer from LSU and sat out this year and could be a factor for us. We anticipate - potentially - we could lose both of our middle infielders to the draft. I would think we would lose at least one, but we could lose Eli (White) and Weston (Wilson) to the draft. We will know more by the end of this weekend. So that's a big need for us. Those are two guys who played every single day for us, and if we wind up losing them, then we have those two guys who could compete for an opportunity to play in the middle of the field. "
How is Jake Higginbotham's recovery coming along?
"He's coming along. We feel very good about Higginbotham. He had a screw put into his elbow - he had a stress fracture - and they feel optimistic that he will not only make a full recovery but could even be stronger going into the fall. He is going to start throwing in September with a throwing program and building towards throwing in the bullpen and then pitching in the fall. But as you know, there are always setbacks that could happen, and we will have to monitor it and be very patient with Jake. He is a big part of our pitching staff moving forward for next year. But we feel very good that he will make a full recovery and will be able to help us next spring. "
Reflecting on 2016
"I was talking to a high school coach this morning about one of our signees, and he was talking about how great of a job our team did this year, and he was asking if I had a chance to reflect on it. What I told him was that sometimes you don't appreciate a team until a year later, two years later or five years later when you have a chance to look at teams after that. You really don't appreciate what this team accomplished until you move forward. It's hard to put into context how valuable this team is to our program. But we will always be able to use the 2016 team when talking about mental toughness and competitiveness and being selfless and working towards a goal. It will be a measuring stick for what being a team is all about. This team won 44 games with 24 come-from-behind wins. I may go the rest of my career and never have a team do that. That's an unbelievable feat within itself.
"This team won Clemson's first ACC Championship in ten years This team won more games in a season than any team in the last six years with 44 wins. This team hosted a regional for the first time in five years, and this team did it with a lot of moving parts - role players, platoon players, moving guys in and out of positions, moving guys around into different roles within the pitching staff. Great storylines. They were a bunch of guys that bought into what we wanted them to do, and they worked extremely hard in all phases of the game and the program. They did a tremendous job, and I couldn't have been prouder of what they did this year. But, we also wanted to accomplish more. At the end of the season, you look, and we hosted a regional and didn't get out of it. We have to look at this experience and figure out what we have to do to get better moving into year two."

Upgrade Your Account
Unlock premium boards and exclusive features (e.g. ad-free) by upgrading your account today.
Upgrade Now

Tags: Clemson Baseball
,
,
Chris Okey
,
Chase Pinder
,
K.J. Bryant
,
Charlie Barnes
,
,
Pat Krall
,
Seth Beer
,
Grant Cox
,
Brooks Crawford
,
Jake Higginbotham
,
Chris Williams
,
Monte Lee