---
| | |
| --- | --- |
| Tuesday, March 25, 2014 9:08 PM | |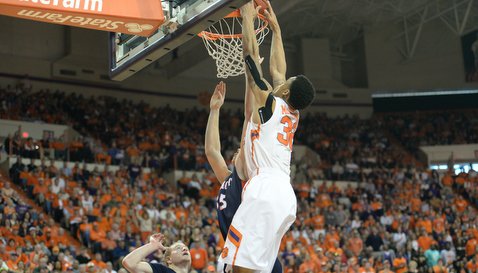 CLEMSON – The Clemson basketball team began the season with many doubting its ability to take a bite out of the ACC, and now the season will conclude with the Tigers taking a bite out of the Big Apple.
Clemson made just enough defensive stops down the stretch and Damarcus Harrison

Damarcus Harrison
Jr. Guard
#21 6-4, 200
Greenwood, SC
View Full Profile hit several big shots as the Tigers escaped a pesky, scrappy Belmont team for a 73-68 victory Tuesday night in front of a packed house in Littlejohn Coliseum.
The win sends the Tigers to New York for the semifinals and finals of the National Invitation Tournament, where they will play the winner of Wednesday's Cal-SMU contest.
Harrison and K.J. McDaniels

K.J. McDaniels
Jr. Forward
#32 6-6, 200
Birmingham, AL
View Full Profile each scored 16 points for the Tigers, while Jordan Roper

Jordan Roper
So. Guard
#20 5-11, 165
Columbia, SC
View Full Profile added 12 points. Craig Bradshaw scored 21 and J.J. Mann added 20 for Belmont, which hit 12-of-32 3-point attempts.
Belmont, which was lights out during the second half, hit two foul shots to retake the lead at 68-67 with 2:29 remaining, but Harrison hit a big jumper to put the Tigers back on top 69-68 with just under two minutes to play. The Tigers got a big stop on the defensive end, and Hall made the Bruins pay by hitting a layup that put Clemson ahead 71-68 with 1:05 to play, prompting a Bruin timeout as the Littlejohn crowd rose its feet.
The Bruins came out of the timeout and tried to set up a backdoor play, but the ball was tossed out of bounds. However, the Tigers were unable to get the ball inbounds cleanly, and the Bruins took over as McDaniels was called for a foul on the play.
Chamberlain missed the front end of the 1-and-1, but the Tigers once again threw the ball away, giving Belmont another chance, down 71-68 with 45.3 seconds remaining.
The Bruins ran 15 seconds off the clock, but a wild 3-pointer was short and Belmont fouled Landry Nnoko

Landry Nnoko
So. Center
#35 6-10, 245
Montverde, FL
View Full Profile on the rebound attempt. This time, the Tigers were able to inbound the ball cleanly and get the ball into the frontcourt, where the Bruins fouled Nnoko.
Nnoko hit the front end of his two shots for a 72-68 lead, but the Bruins were unable to capitalize on the offensive line, and Harrison was fouled with just 9.1 seconds remaining and the Tigers holding a 72-68 lead. He sank just one, but the damage was done and the celebration began as the Tigers could finally plan a trip to the Big Apple.
Brownell and his team then celebrated with the fans at midcourt to the strains of Frank Sinatra's "New York, New York."
Harrison said he was determined to not let his team lose.
"Belmont wasn't really guarding me in the first half. My guy was kind of playing off of me," Harrison said. "In the second half, we never felt like it was out of control. I have a lot of confidence right now, and I just wanted to make plays. We knew people had been doubting us, and we wanted to prove them wrong and get to New York. Now, we get to go play in the mecca of college basketball."
Brad Brownell said he was proud of his team's effort.
"They compete as hard as anybody we've played this year. Scrappy," Brownell said of Belmont. "But I'm proud of our guys. We found a way to win when we got down. I thought we played really well early, and had control, and I think that worked against us. We struggled a little bit in the second half guarding them, and they got to the basket a few times. They did a good job defensively, and sagged off people and made us take 3's. Fortunately, we made them and Damarcus hit some big shots. We are excited to go to New York."
The first half was a scrappy, tightly-contested affair that saw frustration bubble over for both sides. Clemson opened a quick 5-0 lead, but it didn't take Belmont long to find the range on a few 3-pointers and the Bruins had an 18-13 lead after Craig Bradshaw hit a 3-pointer midway through the half.
However, the Tigers responded with a 22-5 run over the next eight minutes as big man Ibrahim Djambo

Ibrahim Djambo
Jr. Forward
#42 6-10, 215
Poplar Bluff, MO
View Full Profile brought the crowd to its feet by first hitting a 3-pointer from the left wing, then draining one from the top of the key on the next possession. He was fouled on the play, sank the foul shot, and Clemson had a 35-23 lead with 2:21 remaining in the half.
Belmont wouldn't go away, however, and took advantage of Rod Hall

Rod Hall
Jr. Guard
#4 6-1, 210
Augusta, GA
View Full Profile 's absence (he picked up his second foul with over five minutes remaining in the half) to close the gap. Reece Chamberlain hit a 3-pointer with four seconds remaining and Clemson led 37-31 at intermission.
"That was big play," Brownell said. "Then they come out of the half and hit a backdoor cut and a nine-point lead is down to four. We didn't handle that very well."
The Bruins came out firing to start the second – and got to every long rebound and loose ball in the process – hitting 5-of-7 3-point attempts in racing to a 50-44 lead six minutes into the half as part of a 27-9 run that dated back to the first half.
Clemson eventually tied the score at 58-58 on a 3-pointer by Harrison with just over seven minutes remaining, and his next 3-pointer put the Tigers ahead 67-66 at the 2:45 mark.
Next up for the Tigers is a trip to Madison Square Garden.
"I can't wait," McDaniels said. "That is a place I've always wanted to play. Madison Square Garden is a place that every player thinks about. Now we get to go there, but we can't lose focus. We still have two more games to win."
If you can't see the PDF below, click here to open it.