TigerNet

is the oldest and largest Clemson Community online with 152,606 members, 58,200 news articles and 29M forum posts.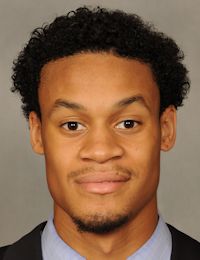 #32
K.J. McDaniels
Forward
| | |
| --- | --- |
| Position: | Forward |
| Ht./Wt.: | 6-6, 200 lbs |
| Hometown: | Birmingham, AL |
| High School: | Central Park Christian School |
| Class: | Junior |
| Exp: | 2VL |
| Years: | 2011 - 2013 |
| Major: | Communication Studies |
B I O
Overview: Signed in the late period in the spring of 2011, but has had the largest impact of the five players signed by Head Coach Brad Brownell in that class...played significant minutes down the stretch as a freshman before finding his way into the starting lineup consistently as a sophomore...second on the team in scoring as a sophomore, his role should continue to increase as Clemson's most explosive player from a scoring standpoint...has appeared in 58 career games and scored 421 points...has 78 blocked shots in just two seasons at Clemson, the top figure in school history for a player 6-foot-6 or shorter...plays with tremendous athleticism and has the ability to make spectacular plays, as evidenced by his his first two seasons within Brad Brownell's program...possesses a 35.5-inch vertical leap, one of the top figures on the roster...earned invitations to both the Kevin Durant and LeBron James skills academies, reserved for the top players in the country...comes from a strong basketball pedigree...father, Kevin McDaniels, Sr., played at South Alabama from 1989-91...Kevin was a second-team All-Sun Belt Conference selection in 1991 after leading the Jaguars in scoring at 13.4 points per game...South Alabama advanced to the NCAA Tournament that season after winning the Sun Belt Conference Tournament...majoring in communication studies...recruited by Earl Grant.

In Italy (August 2013): Averaged 11.0 points and 6.5 rebounds per game over the four contests...ranked third on the team in scoring in 23.3 minutes per game, second-most on the roster...reached double figures in one game, but had eight or more points in all four...posted 18 vs. Vicenza All-Stars, the best team Clemson played on its trip...made 4-of-5 from three and all six of his free throw attempts in that contest...had 10 steals for the trip, tied for most on the team...had eight rebounds against Indiana Pesre and Airte.
In 2012-13: Appeared in 28 games and earned 25 starts at the small forward position...averaged 27.5 minutes per game...ranked second on the team in scoring at 10.9 points per game...third on the team with 5.0 rebounds per game...led Tigers and was second in the ACC with 2.0 blocks per game, as he totaled 58 for the season...the 58 set a single-season high for a Clemson player 6-foot-6 or shorter...second on the team with 50 offensive rebounds...second on the team with 32 steals...improved scoring average by 7.0 points per game from freshman season, the biggest single-season gain by a Tiger since 1999-2000...made 32 three-point goals, 25 more than his freshman season, third-most on the team...shot 68.4 percent from the free throw line, best among players with at least 25 attempts...averaged 11.4 points per game at Littlejohn Coliseum and 12.3 per game at neutral sites...collected 37 dunks, second-most on the team behind Devin Booker...48 percent of his two-point makes were dunks...scored double figures in 16 games, second on the team behind Booker...led Clemson in scoring six times...blocked at least one shot in his final 18 games, the longest streak by any Tiger since center Sharone Wright from 1991-94...blocked at least one shot in 25 of 28 games.

Best Games of 2012-13: Scored 17 points on two occasions, first in the Old Spice Classic against UTEP and later versus Virginia Tech at home...made 6-of-8 field goals and all four of his three-pointers in the win over the Miners, while adding six rebounds and two blocks...in the home win over the Hokies, made career-best 5-of-7 from long range and added five boards, two blocks and two steals...scored 16 at South Carolina, where he added seven rebounds and five blocked shots...posted 16 in the ACC Tournament against Florida State, converting 6-of-9 field goals (including three dunks) and 2-of-3 from deep...added seven boards and two blocks versus the Seminoles in that contest...posted 15 points against Purdue, with six rebounds and three blocks...produced 15 points against FSU at home on Jan. 5...scored 15 at Florida State, which included a 5-for-9 performance on field goals...made 5-of-11 shots and scored 15 at home against Georgia Tech, and sank a pair of late free throws at the line to seal the three-point victory for the Tigers...posted 14 points at Georgia Tech, including several key baskets late, in road win over the Yellow Jackets...also blocked three shots against the Jackets at McCamish Pavilion...posted perhaps top all-around game at home versus Wake Forest; he had 14 points, nine rebounds and seven blocks...scored 13 and added four blocked shots at home against a top-10 Arizona team...posted 12 points, six rebounds and five blocks at home versus NC State.

In 2011-12: Appeared in 30 of the 31 games...played 304 minutes, an average of 10.1 per game...sixth on the team in scoring, he was second among reserve players with an average of 3.9 points per game...scored same number of points, 117, as Rod Hall but played in one less game, so he was the top freshman scorer on average...averaged 4.9 points per game during the ACC regular season, fifth-best on the team...led team in points per minute...shot 45 percent overall, but 53 percent in regular season league games...20 of his 44 made field goals were dunks, an astounding 45 percent ratio...showed an ability to shoot from the outside, making 7-25 from three-point range...totaled 20 blocked shots, third-most on the team, by far best on the team in terms of blocks per minute...grabbed 34 offensive rebounds, fourth-most on the team...scored in double figures five times, including four games against ACC teams...interestingly enough, he was by far a more productive player away from Littlejohn Coliseum, as he shot just 24 percent at home...averaged 6.9 points per game and shot 58 percent from the floor in 12 road games.

Best Games of 2011-12: First turned heads in the UTEP game to open the Diamond Head Classic in Hawaii...played 21 minutes and made 4-8 field goals, including 2-5 from three, along with 3-4 free throws for a total of 13 points...also had four rebounds and two blocks against the Miners...scored 16 points, a season-high, in regular season ACC finale at Florida State...made 6-11 shots, including 1-3 from three, against the Seminoles...collected seven offensive rebounds at Florida State, tied for most ever by a Tiger under Brad Brownell...had four steals and two blocks as well in that FSU game...posted 14 points at Virginia Tech in his lone starting assignment of the season...played season-high 28 minutes in Blacksburg and made 7-11 shots, including six dunks...the six dunks were the most in a game by a Clemson freshman, most by a small forward or guard, and the most by a player 6-foot-6 or shorter...had five rebounds and five blocks, a single-game high for the season among ACC freshmen, in that Tech game...had 11 points at Miami, making all three of his field goals and 5-8 free throws...added five rebounds against the Hurricanes...posted 10 points at Georgia Tech, which included a pair of high-flying putback dunks in the second half...scored seven at Arizona...posted eight points in the game at Hawaii, with four rebounds and two blocks...scored five points and added a block and a steal in road win over Wake Forest.

In High School: Three-star prospect according to most of the national recruiting services...two-time NACA (National Association of Christian Athletes) All-American, winning the honor in 2010 as a junior and 2011 as a senior...2011 NACA Most Outstanding Player after leading Central Park Christian to its second consecutive national championship...2010 NACA All-Tournament Team selection...team compiled a 45-3 combined record in back-to-back seasons...averaged 18.2 points, 9.7 rebounds, 3.4 blocks and 3.3 assists per game as a senior in 2010-11...2010 Neosho Holiday Classic All-Tournament Team choice...coached by Don Broadnax...born Feb. 9, 1993.

*Courtesy Clemson Media Guide
S T A T S
McDaniels Career Statistics

Year

GP-GS

Min/Avg

FG-FA

Pct

3FG-FA

Pct

FT-FTA

Pct

Off/Reb/Avg

A-T

BS-ST

PF-DQ

Pts/Avg

2011-12

30-1

304/10.1

44-97

.454

7-25

.280

22-38

.579

34/55/1.8

7-13

20-10

26-0

117/3.9

2012-13
28-25
771/27.5
109-252
.433
32-96
.333
54-79
.684
50/140/5.0
21-44
58-32
62-1
304/10.9

Totals

58-26

1075/18.5
153-349

.438

39-121

.322

76-117

.650

84/195/3.4

28-55

78-42

88-1

421/7.3
McDaniels Career Highs
Points:
17 vs. UTEP, 11/23/12; 17 vs. Virginia Tech, 1/27/13
Field Goals Made:
7 vs. Virginia Tech, 2/4/12
Field Goal Attempts:
14 vs. Arizona, 12/8/12
Field Goal %:
.800 (4-5) vs. Georgia Tech, 2/21/12
3-Pointers Made:
5 vs. Virginia Tech, 1/27/13
3-Point Attempts:
7 vs. Virginia Tech, 1/27/13
Free Throws Made:
7 vs. Furman, 11/16/12; 7 vs. South Carolina, 12/2/12
Free Throw Attempts:
9 vs. South Carolina, 12/2/12
Rebounds:
9 vs. Wake Forest, 1/15/13; 9 vs. Miami, 2/17/13
Offensive Rebounds:
7 vs. Florida State, 3/4/12
Assists:
2 vs. many (3), last vs. Florida State, 3/14/13
Blocked Shots:
7 vs. Wake Forest, 1/15/13
Steals:
4 vs. Florida State, 3/4/12
Minutes:
35 vs. NC State, 2/10/13
| | |
| --- | --- |
| | VIDEO HIGHLIGHTS |
Latest K.J. McDaniels News
Click the link below to read more!