| | |
| --- | --- |
| Like the Phoenix: Out of defeat comes a steely resolve | |
---
| | |
| --- | --- |
| Tuesday, January 12, 2016 8:01 PM | |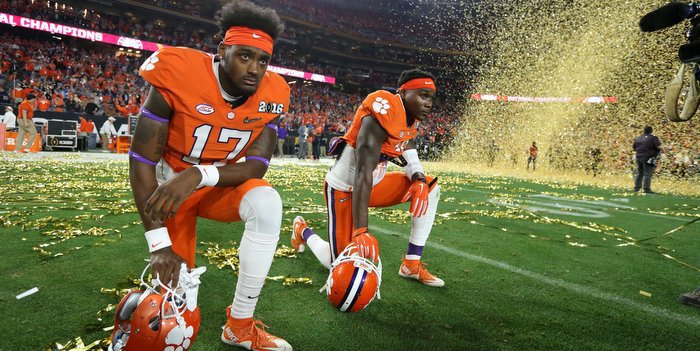 GLENDALE, AZ – The media left the pressbox following Monday night's College Football Playoff National Championship, and an elevator malfunction forced a quick trip down the stairs to the team locker rooms. As we navigated the stairwells, full of Clemson fans, a weak cadence count broke out, but it had no energy or joy.
I paused to wonder….what would the locker room be like? A sometimes distasteful part of the job is having to interview distraught players and coaches and force answers they don't want to give. Would there be tears? Would we be able to get any answers after the painful 45-40 loss to Alabama, a game that Clemson gave away more than Alabama took outright?
What I found was resolve, passion and the beginnings of bitterness turning into determination.
Running back Wayne Gallman told me, "I don't like losing. I want a ring. I want come back and make this right."
Center Jay Guillermo told me the loss left a sour taste in his mouth, and in true Guillermo fashion he was already running through every play in his head, wondering what he could have done better or different.
"We have to make this right," Guillermo said, then turned to a teammate a stall over and said, "Dude, let's do this again. It doesn't end this way."
There were indeed tears – defensive end Shaq Lawson refused to take off his uniform, and he did every interview asked of him. Deep down inside, he knew that once the interviews were over the Clemson career part of his life would also be over. He hugged teammates and coaches, and head coach Dabo Swinney walked through the doors and embraced Lawson for a minute or more. Lawson still refused to take off the jersey.
These coaches care, and these players care.
Freshman defensive tackle Christian Wilkins walked around to all of the seniors for a last hug, making sure that each one understood the role he had played in Wilkins' rapid development. In many ways, Wilkins will be one of the leaders of this team going forward, a candid, athletically-gifted freak who isn't afraid to share his emotions.
Senior Eric Mac Lain put on a brave face for the media, smiling a painfully bittersweet smile while he talked about the future of the program he's helped build. "These guys are going to be even better next year," Mac Lain said as he choked back tears. "We've set a great foundation here. The guys that are coming back are in for a fun ride. I am just glad I had a small part in it."
Safety Jayron Kearse wandered around in a daze, ignoring interview requests while he collected his thoughts. Finally cornered at his locker, his answers were short and to the point. "This hurts," is the closest he would come to revealing his true emotion.
Senior defensive tackle D.J. Reader stood at his locker, joking as always, but also pointing out that special teams mistakes were a big part of the loss. "Guys are 4-stars and 5-stars and they come from winning programs and they don't understand how important special teams are. They don't understand the grind it takes to be really special. I hope they know, now."
The general feeling, however, centered around one main point…..we'll be back.
Swinney continued to make his way through the locker room, a painful smile etched on his face. Just outside the doors, Swinney's youngest son stood with tears in his eyes while his mother tried to comfort a youngster who still feels the losses with a child's heart. He hurt for his favorite players and he hurt for himself, but he also hurt for his dad.
We wandered back upstairs and as I sat down and looked out onto the University of Phoenix Stadium, the detritus of Alabama's victory celebration, I thought to myself that Monday's loss isn't the end. It's just the beginning of a special time at Clemson. These Tigers have learned painful lessons along the way to being great, and Monday's lesson will only serve as a bitter and painful reminder of what could have been.
It's also a harbinger of what could be.
It was fitting that the game was played so close to Phoenix, a town named by an enigmatic English Lord who had visions of grandeur about even the mundane things in life. He named the burgeoning settlement after the mythical Phoenix bird in Egypt that lived 500 years, then rose from its own funeral pyre to flourish again.
Clemson's 2015 season ended with sadness and despair Monday night, and the confetti and glitter that littered the field are the ashes of that season. But like the mythical Phoenix, this program will rise from the ashes and flourish again. Those same ancient Egyptians had a saying….death is only the beginning. Out of death comes life, and Clemson will rise from those ashes and a berth in another title game will happen sooner rather than later if they take to heart the lessons learned Monday.
The rise of the Phoenix occurs in just 48 days with the start of spring practice. And cadence count will once again be loud and clear.