| | |
| --- | --- |
| Clemson vs. Notre Dame prediction | |
---
| | |
| --- | --- |
| Saturday, October 3, 2015 9:41 AM | |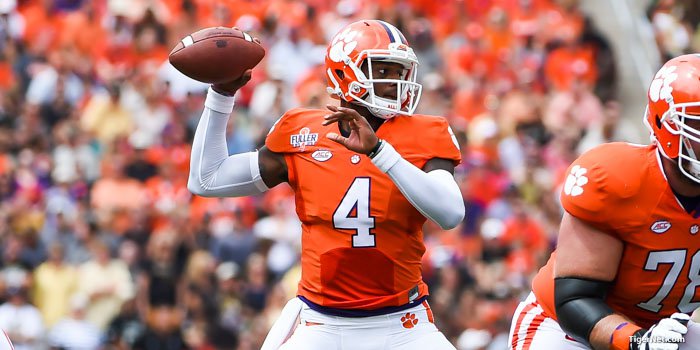 It's GameDay. It's Notre Dame. It's Clemson in a sold out Death Valley. It's also supposed to be a torrential downpour. Welcome to the weekend.
The No. 6 Fighting Irish (4-0) travel to Clemson to take on No. 12 Clemson (3-0) in what might be for a spot in the College Football Playoff. What was supposed to be an epic matchup between two talented teams might turn into a battle of survival in wet and muddy conditions.
NO. 6 NOTRE DAME (4-0) AT NO. 12 CLEMSON (3-0)
WHEN: SATURDAY, OCTOBER 3, 2015
WHERE: Memorial Stadium (81,500) Clemson, S.C. (Sold Out) Kickoff: 8:00 p.m.
TV: ABC (Chris Fowler, Kirk Herbstreit, Heather Cox)
CLEMSON RADIO NETWORK (Don Munson, Rodney Williams, Patrick Sapp)
NOTRE DAME IMG RADIO (Don Criqui, Allen Pinkett) XM Radio Channel 129 and 84
SERIES HISTORY
Overall Record: Tied 1-1
at Clemson: Notre Dame leads 1-0
at Notre Dame Clemson Leads 1-0
First Meeting: Notre Dame, 21-17, in 1977
Last Meeting: Clemson 16-10, in 1979
GAMEDAY FACTS
*Home teams have lost the last two weeks at the GameDay site. The last time the home team lost three straight weeks was week 6 - 8 in 2013 – the team which lost that third game was Clemson – a 51-14 to eventual national champion Florida State.
*Lee Corso has now lost his last three headgear picks – the first time since 2009 in the same season.
*This is the 17th time Notre Dame has been involved in a GameDay location as a true road team – the most by any team. The Irish are 7-9 in the previous 16.
*This is the 26th time GameDay has originated from a Notre Dame game, ranking sixth behind Alabama (34), Florida (34), Ohio State (33), Florida State (31), Oklahoma (29).
*Corso is 2-4 in headgear picks when picking Notre Dame and is 9-5 when picking against the Irish.
*Corso has picked against Clemson five times, has been right four times (three of those five games were Clemson-Florida State matchups); he has picked Clemson twice and is 1-1.
CONNECTIONS
*The Irish boast one student-athlete from South Carolina, WR Chris Brown (Hanahan / Hanahan H.S.).
*South Carolina does not have any student-athletes from Michiana.
*Irish legends from the Palmetto State include 1993 consensus All-American safety Jeff Burris (Rock Hill / Northwestern H.S.) and 1988 national champion quarterback Tony Rice (Woodruff / Woodruff H.S.).
*Clemson director of football communications Tim Bourret earned both his bachelor's (1977) and master's (1978) degrees from Notre Dame.
*A number of players from Notre Dame and Clemson either attended the same high school or hail from the same hometown
THE MATCHUP
WHEN NOTRE DAME HAS THE BALL
One of the best matchups of the day is Will Fuller vs. Mackensie Alexander

Mackensie Alexander
RS So. Cornerback
#2 5-10, 189
Immokalee, FL
View Full Profile . Fuller is regarded as the top wide receiver in the nation so far, at least according to Clemson defensive coordinator Brent Venables

Brent Venables
Def. Coordinator / Linebackers
View Full Profile . In just four games this year the Notre Dame receiver already has six touchdowns and averages 113 receiving yards per game. He had at least 100 receiving yards in each of the first three games, the first Notre Dame receiver to do that since 1970. Fuller has 21 touchdown receptions in his last 17 games and is already fourth in Notre Dame history in career touchdown receptions with 22. His touchdown catch with just 12 seconds left won the Virginia game in Charlottesville. As for Alexander, in 16 career games he has given up just two touchdown passes and opposing quarterbacks have completed just 21 of 65 passes when throwing towards his man for just 288 yards.
Irish running back C.J. Prosise is a converted wide receiver who is among the top 10 rushers in the nation with 600 yards in just 74 carries, an 8.1 average. In Notre Dame's win over Georgia Tech he raced 91 yards for a touchdown, the longest run by a Fighting Irish player in the 85-year history of Notre Dame Stadium. Stopping Prosise will be up to Clemson's defensive line and linebacker Ben Boulware

Ben Boulware
Jr. Outside Linebacker
#10 6-0, 241
Anderson, SC
View Full Profile , who has 22 tackles and a team best eight quarterback pressures.
Another key matchup to watch will be Irish left tackle Ronnie Stanley vs. Clemson defensive end Shaq Lawson

Shaq Lawson
Jr. Defensive End
#90 6-3, 272
Central, SC
View Full Profile . Stanley is a veteran of 31 starts and is a big reason Notre Dame has rushed for at last 200 yards in every game this year, plus the bowl win over LSU to conclude the 2014 season. Lawson has 19 tackles in just three games.
Quarterback Deshone Kizer will set up behind a big old offensive line, but if the Tigers can stop the run Kizer will have to win the game with his arm. In his first career road start – in a hostile environment – can he do that? Can Stanley keep Lawson and Boulware at bay long enough for Kizer to feel comfortable?
ADVANTAGE: VERY SLIGHT TO CLEMSON
WHEN CLEMSON HAS THE BALL
If it does rain, Clemson's key player could be running back Wayne Gallman

Wayne Gallman
RS So. Running Back
#9 6-1, 210
Loganville, GA
View Full Profile . Gallman had 139 yards rushing in the win at Louisville on September 17 and has a 5.8 yard average for the season with 310 yards in just three games. Over his last nine games over two years, Gallman has 881 yards rushing in 165 carries, 98 yards per game. Trying to stop Gallman will be the opposing No. 9 – linebacker Jaylon Smith. Smith is a preseason All-America linebacker for the Fighting Irish. He has 29 tackles for the year, 4.5 of which have been for loss.
However, perhaps the biggest key in Clemson getting a win will be quarterback Deshaun Watson

Deshaun Watson
So. Quarterback
#4 6-2, 207
Gainesville, GA
View Full Profile . Watson hasn't looked entirely comfortable through the first three games of the season. Watson has an efficiency of 165.3 and is now 7-1 as a starter over the last two years. Watson has completed 58-of-78 passes this year for 641 yards and seven touchdown passes in just three games. The native of Gainesville, Ga. has been getting more and more confident as a runner and has 93 yards on the ground, giving him 734 yards of total offense so far this year.
Notre Dame's defensive line is big and strong, and if Clemson's offensive line has trouble moving them off the ball it coul be a long night. Notre Dame's numbers on defense haven't been great this season – they are 43rd in total defense and 55th in pass defense at just over 200 yards per game. They are also 47th nationally in rushing defense. Nothing about their defense scares you except for their talent and size.
Can Clemson's offensive line let Watson feel comfortable an open holes for Gallman? Is it time for a breakout game from Artavis Scott

Artavis Scott
So. Wide Receiver
#3 5-10, 191
Oldsmar, FL
View Full Profile ? Will freshmen like Ray-Ray McCloud

Ray-Ray McCloud
Fr. Wide Receiver
#34 5-9, 181
Land O' Lakes, FL
View Full Profile or Deon Cain

Deon Cain
Fr. Wide Receiver
#8 6-1, 197
Tampa, FL
View Full Profile burst onto the scene?
ADVANTAGE: EVEN
SPECIAL TEAMS
Tyler Newsome is a weapon at punter for the Irish – he is averaging 47.11 yards per punt this season. Clemson is 117th nationally at just 37.18 yards per punt. Notre Dame's Justin Yoon has struggled – he's missed two extra points and two field goals. Clemson's Greg Huegel

Greg Huegel
Fr. Punter / Kicker
#92 5-11, 180
Blythewood, SC
View Full Profile has appeared to hit his stride and won the job.
Neither team has scared anybody in the return game and both have struggled to get touchbacks, but Clemson's Ammon Lakip

Ammon Lakip
RS Sr. Punter / Kicker
#36 5-11, 200
Alpharetta, GA
View Full Profile has returned from his three-game suspension and will get the kickoff duties this week. This game might come down to a field goal in muddy and windy conditions…….is there really an avantage here?
ADVANTAGE: EVEN
WHAT WILL HAPPEN
This one is even to me, all across the board, especially if it's played in perfect conditions. But it looks like this one won't be played in perfect conditions. Clemson has a major homefield advantage if that's the case – the Tigers can swap out uniform tops and bottoms at the half and can have their pick of cleats. Also, when the weather is bad, it really comes down to which team wants it more.
Football sense says Notre Dame – with it's big offensive line and big defensive line – will dominate the lines of scrimmage and the weather will only further that cause. If that's the case – if the Tigers let Notre Dame impose its will – Clemson will be in for a long night.
But, I don't think Notre Dame will be able to do that. The weather will hold off just enough for Deshaun Watson to have his breakout game and Clemson's defense will continue to shine.
It will be close. Too close.
FINAL: CLEMSON 24, NOTRE DAME 21
---
GUEST PREDICTIONS
---
Mickey Plyler
- 6AM-9AM EST on WCCP 105.5FM -
27-24 Clemson
Tony Crumpton - Associate Editor - 28-24 Clemson
Nikki Steele - Staff writer - 20-14 Clemson
Lawton Swann - Clemson Sports Talk / TigerNet Talk - 26-17 Clemson
Pigskin Prophet - 23-20 Clemson
| Game | Actual | David Hood | Mickey Plyler | Tony Crumpton | Nikki Steele | Lawton Swann | Pigskin Prophet |
| --- | --- | --- | --- | --- | --- | --- | --- |
| Wofford | 49-10 CU | 41-13 CU | 41-17 CU | 52-13 CU | 42-17 CU | 47-13 CU | 47-13 CU |
| App St | 41-10 CU | 37-17 CU | 42-17 CU | 41-14 CU | 45-13 CU | 45-17 CU | 42-17 CU |
| Lou | 20-17 CU | 28-20 CU | 34-24 CU | 31-20 CU | 28-17 CU | 35-20 CU | 34-21 CU |
| Points | - | 3 | 3 | 5 | 5 | 5 | 5 |
* Points: 3 pts for best prediction of the week (tiebreaker is Clemson score), 1pt for picking the correct winner

Tags:
Mackensie Alexander
,
Ammon Lakip
,
Shaq Lawson
,
Wayne Gallman
,
Ben Boulware
,
Deshaun Watson
,
Artavis Scott
,
Ray-Ray McCloud
,
Deon Cain
,
Greg Huegel
,
Brent Venables