| | |
| --- | --- |
| Cornell Powell reflects on recent success, records: "I am having a blast" | |
---
| | |
| --- | --- |
| Monday, November 30, 2020, 5:01 PM | |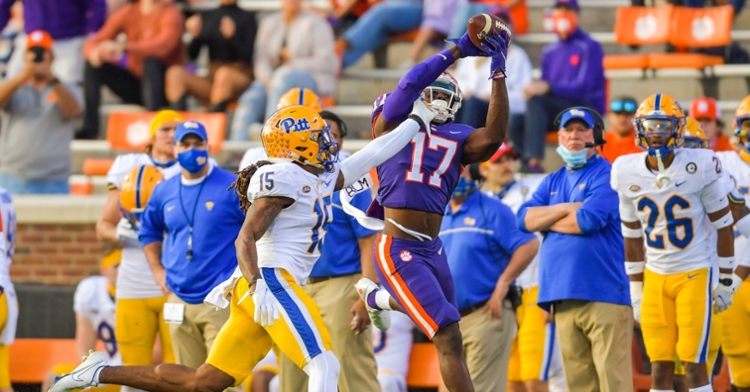 Cornell Powell walks a little taller these days, his smile is a little brighter, and the smack talk delivered to opposing defensive backs has a little more of an edge. Cornell Powell is having fun.
Powell, a fifth-year senior out of North Carolina, recorded six receptions for a career-high 176 receiving yards in Saturday's win over Pitt, surpassing his 161-yard effort against Notre Dame. Powell's 176 receiving yards tied for the 10th-most in a game in Clemson history.
Powell recorded his third consecutive 100-yard receiving game to tie a school record shared by Charlie Waters (1969), Tony Horne (1997), Rod Gardner (2000), DeAndre Hopkins (2012) and Sammy Watkins (2013), and he became the first Clemson player to record back-to-back 150-yard receiving games since Sammy Watkins against Maryland and Virginia in 2013. It's the third such instance in Clemson history, joining Watkins in 2013 and DeAndre Hopkins against Georgia Tech and Boston College in 2012.
"I am having a blast. Just enjoying these last couple of games," Powell told TigerNet. "This whole season, it really stems from the locker room and the energy and the family-like atmosphere and it just transitions to the field. We are out there having fun. You only get so many in the Valley and this happened to be the last one. The fun is in the winning."
Powell said he is happy to see his hard work paying dividends.
"I know the hard work that I've put in these last five years, and it's just a testament to everything that I've been through," Powell said. "I expect to make plays like that, I expect to dominate every game. And if you don't have that mentality going into the game, you really don't need to be out there. So, it's not really a shock to me. I work hard, man, Monday through Friday, to get to Saturday. So, it's just good to see it finally pay off."
One of Powell's catches Saturday was a one-handed grab deep down the right sideline on a pass from Trevor Lawrence, a catch he made with defensive back A.J. Woods' hand in his facemask.
"You've just got to make the catch required," Powell said of the play. "It was a great ball placement by Trevor. He put it where only I could get it. I just wanted to make sure I did my one-eleventh on the field, and it really started with the O-line having great protection and then Travis (Etienne) coming up and fitting the block. I just had to finish it."
Powell said he wants to make every opportunity count, and that it helps to be on the receiving end from players like Lawrence and DJ Uiagalelei.
"You just make the most of your opportunities – whenever the ball comes to you, you just go out there and you make a play," he said. "And then you try to come in, stack one play on top of another and then one game on top of another, and that's what I've been doing. But it's not because of me, man. First of all, it's all because of God giving me this ability and blessing me with the chance to come to Clemson, and then the offensive line and then having two great quarterbacks just throwing the ball. There are not many college programs you go from the No. 1 pick in the draft, and then he goes down and your next man up is just as good.
"So, it's just a blessing to have both of those guys back there. And to receive the ball from them, I'm honored to. So, whenever the ball is thrown my way, I'm going to try to make them look good."
Powell has had his chances to transfer, but instead stuck it out at Clemson, following head coach Dabo Swinney's mantra of "bloom where you are planted."
"You've got to be confident in who you are," Powell said. "You've got to keep the faith and keep trust in God that he has you here for a reason. I knew that I was at Clemson for a reason. Throughout my years, it was hard, but I learned how to compete, I learned how to become a better man and I learned how to handle adversity. So, just stick with it. It's going to pay off, and it's all in God's plan, all God's timing."