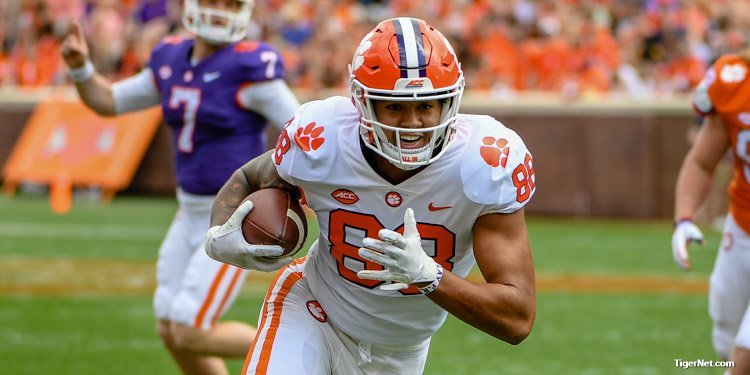 | | |
| --- | --- |
| Swinney on how Clemson TE has handled suspension | |
---
| | | |
| --- | --- | --- |
| Tuesday, October 15, 2019, 12:10 PM | | |
Clemson hasn't been with all their talented playmakers this season as sophomore tight end Braden Galloway is still suspended (one-year) by the NCAA after a trace amount of ostarine was found in his system in December.
Clemson head coach Dabo Swinney shared Tuesday that Galloway has done well handling the tough situation.
"Braden has done a really nice job," he said. "He's been a great teammate. I've been really proud of him. I've kept my eye on him all fall camp and all through the season because that's hard when you're good enough to go play. It's not like you're hurt, but you can't play.
"I just really like how he's handled himself, he has been an excellent teammate. He really has. He's gone over there on scout team and done a great job over there. He's really been a great help and encouragement to the other tight ends, and he's just stayed engaged."
Swinney is excited about how Galloway should be able to re-join the team around December 15.
"He's got a smile on his face. He's excited for the success of other guys," he said. "I've been really, really proud of Braden. When things don't happen the way you want them, you know you got an option -- they can define you, destroy you or develop you. And I think it's really developed him and matured him in a positive way. He's really chosen the right attitude, and he's just going to work. You know he's gotten in the weight room, and he's prepared, and he's going to get out of jail somewhere down the road here. I think it's like December 15 or something like that he rejoins the group and be ready to help our team. So hopefully we'll have something to play for down that road when he comes back, but I've been really proud of him, really proud of him."
As a true freshman last season, he had five catches for 52 yards with a touchdown in 12 games.