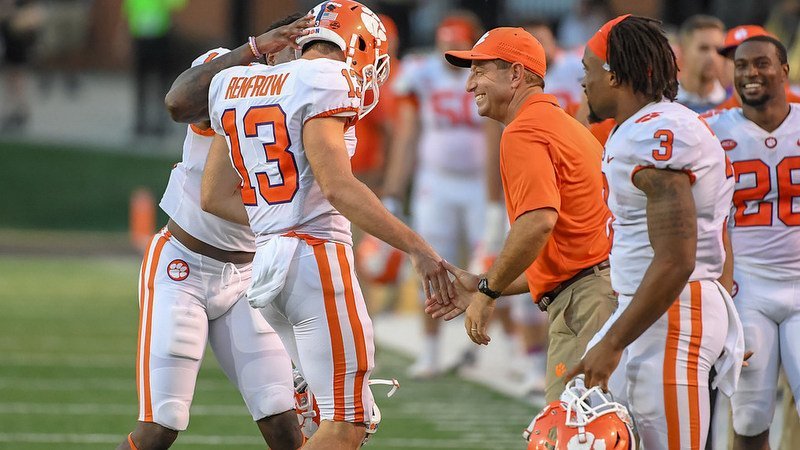 | | |
| --- | --- |
| Swinney on Renfrow: "He is as good a player as I've ever coached" | |
---
| | | |
| --- | --- | --- |
| Wednesday, March 6, 2019, 8:29 AM | | |
Clemson head coach Dabo Swinney was interviewed on the Rich Eisen show Tuesday and spoke on several subjects including a scouting report on Hunter Renfrow and the professional future of Trevor Lawrence.
Swinney praised Renfrow stating that he is one of the best players that he has ever coached.
"He is going to continue to improve and continue to get stronger," Swinney said. "He is still a work in progress from that standpoint as he was as weak as a noodle when he came to Clemson, and now he did seven reps of 225. He's Hercules now from where he came in. Just excited for his opportunity. He's really developed into a great player. He might not have some of the measurables, but I promise you he is 6-foot-4 220 on the football field and can fly. He is as good a player as I've ever coached ever. I don't know how else to say it. I've had some great ones. All positions included. He is a good a player that I've have ever coached."
Renfrow had 186 receptions for 2133 yards and 15 touchdowns during his career at Clemson.
Swinney doesn't pay attention to the chatter that standout quarterback Trevor Lawrence should play some sort of minor league football and wait out for the NFL Draft in two years.
"I don't think of it because it is just such a waste of my time," he said. "That's the world we live in. My thing is why play at all? It's great we have basically have a minor league now. I think that's great. I think that gives people opportunity if you don't really value the college experience or value the education and all it comes with it. You have another opportunity now. I think that is great. You can go ahead and go to work just like people do in other sports whether it be basketball, or minor league baseball, or whatever. I've never worried about stuff that I have zero control over."
Lawrence threw for 3,280 yards and 30 touchdowns and only four interceptions during his freshman campaign.