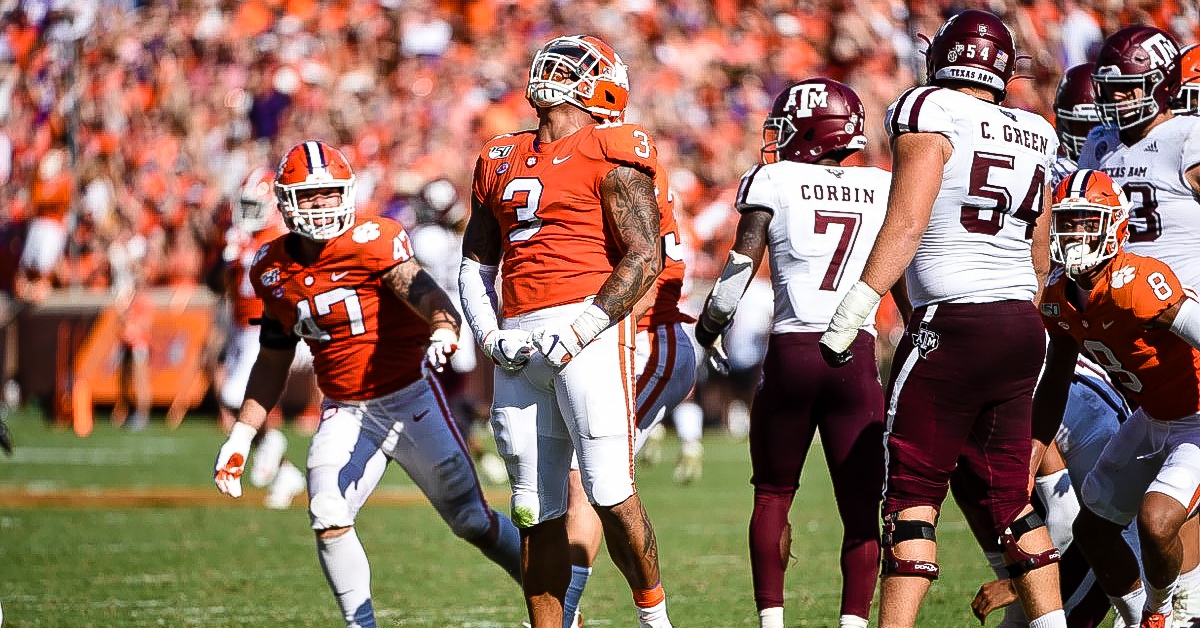 | | |
| --- | --- |
| Swinney grades Xavier Thomas' performance this season | |
---
| | | |
| --- | --- | --- |
| Tuesday, October 15, 2019, 12:41 PM | | |
Clemson has a ton of elite players, but one of the most talented on the defensive side of the ball is speed rusher Xavier Thomas.
Head coach Dabo Swinney was asked during Tuesday's press conference about Thomas' maturation process as a sophomore.
"So he's probably ahead of us Isaiah Simmons as a redshirt freshman, but probably more like as Isaiah as a redshirt sophomore that's kind of what I'd say," he said. "Unbelievably productive. I mean like production points. You know he makes plays when he's in the wrong spot. When he does the wrong thing. Even like on the two-point play, he got a minus on that, but what a play. But he didn't execute right, but that's what he can do, but very few people can do that. So, you know, we had the reverse last week that's his play. I mean, just little things on how on where his eyes are supposed to be and just be in more detail, but he's made of the right stuff."
Swinney knows that you can't teach some of the things that comes naturally with Thomas.
"He's fast. He's explosive," he said. "He plays with great effort. And those are the things that you love because you can coach all the rest of that stuff. What he has you can't coach, I mean he's just freaky athlete, so just going to get better. He has improved all year. He did not grade well early, and now his grade has become much more consistent.
Thomas can get even better, and the sky is the limit with his potential.
"Still not grading a winner, what we call a winner," he said. "Consistently enough, but he's right there, you know he's right at that line, and he's a little over, sometimes a little under in his minuses. But yeah, he'll lead the group in production points. So he's playing well to answer your question, but he's still a work in progress. He's not anywhere close to what he's going to be when the light really comes on for him because he's still learning a lot of football. He was now at Wilson, and he went out to IMG. He did not come in here with a great foundation. And so he's just he's a developing guy, but he's willing. He's a great kid. I mean, just a super attitude and works really hard. But just getting him to be more knowledgeable and more detailed and more consistent in those things, and he's improved a ton. So this second half of the season, I'm hoping that we make big strides there."
For the season, Thomas has 15 tackles and two sacks. Those numbers don't tell the whole story as he has a 21.4 percent pressure rate on quarterbacks, which is second-best in the nation.