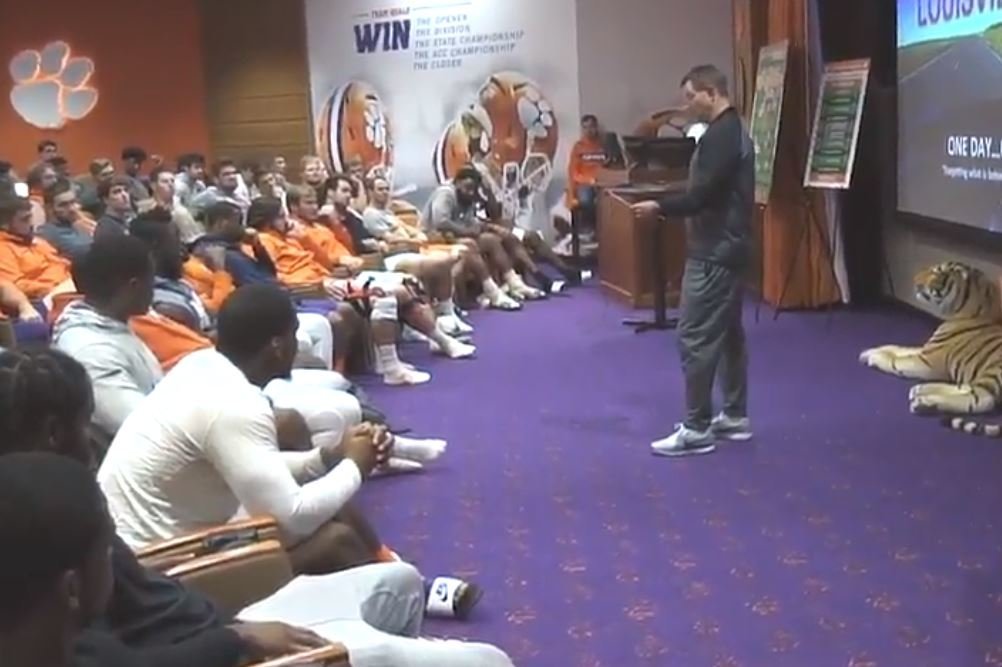 | | |
| --- | --- |
| WATCH: Wilkins recognized for national honor by Swinney | |
---
| | | |
| --- | --- | --- |
| Wednesday, October 31, 2018, 5:18 PM | | |
Clemson coach Dabo Swinney received a letter for an honor Monday that he sees as on par with the Heisman Trophy.
The message explained that Clemson defensive lineman Christian Wilkins was being named a member of this year's NFF National Scholar-Athlete Class and a finalist for the 2018 William V. Campbell Trophy. The award annually recognizes an individual as the best football scholar-athlete in the nation.
Wilkins is one of 13 finalists to receive an $18,000 postgraduate scholarship as a member of the 60th NFF National Scholar-Athlete Class. Finalists will travel to New York City for the 61st NFF Annual Awards Dinner on Tuesday, Dec. 4., when one member of the class will be declared the winner of the award and have his postgraduate scholarship increased to $25,000.
"This is a big deal. Something that I've always hoped one day to achieve something so prestigious," Swinney said. "We're talking about the best of the best of the best. This is a big deal. This is like winning the Heisman. I want everybody in here to understand what a big deal this is and it's something that he's earned because he separated from the pack...
"This dude is committed. He's always been committed since the first time I met him. He's different. He's unique. And he chases excellence. No matter what it is."
Wilkins is only the fourth Clemson player to be selected for the honor, joining quarterback Jimmy Bell (1964), quarterback Steve Fuller (1978) and center Kyle Young (2001). Candidates for the award must be a senior or graduate student in their final year of playing eligibility, have a GPA of at least 3.2 on a 4.0 scale, have outstanding football ability as a first-team player or significant contributor and have demonstrated strong leadership and citizenship.
Watch more of Swinney's speech and team reaction below:
Sometimes a special honor deserves special recognition. Here's Dabo Swinney in today's team meeting honoring Christian Wilkins for being a Campbell Trophy finalist and being selected to this year's NFF National Scholar-Athlete Class. pic.twitter.com/REZCp6OyGl

— Clemson Football (@ClemsonFB) October 31, 2018