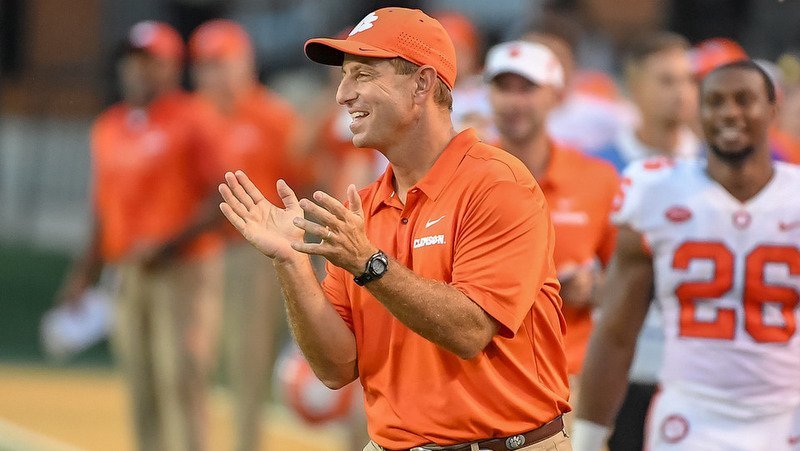 | | |
| --- | --- |
| Swinney: "My vision is a lot bigger than where we are" | |
---
| | | |
| --- | --- | --- |
| Thursday, October 25, 2018, 11:41 AM | | |
The best is yet to come for Clemson football, Dabo Swinney says.
Through seven games, his Tigers are heavily favored for a return to a fourth-straight College Football Playoff going into Saturday's game at Florida State.
That success is only part of the vision the Tigers head coach had when he took over the program a decade ago.
"We haven't even come close to what I envisioned. We're on our way," Swinney told NBC Sports Radio this week. "My vision is a lot bigger than where we are for sure. (My vision is) to be one of the most consistent programs in the country. To graduate 100 percent of my players. I've had 202 seniors and 198 graduates, so I'm four shy there. I've had about 15 juniors leave early and about 11 of those still to get their degree...
"We want to go on to eight 10-plus-win seasons in a row. We've been consistent but we've still got a lot of work to do and mountains to climb."
Swinney has talked this season about his keyword being "joy" in the 2018-19 campaign.
"I think sometimes we let our busyness of life, our daily grind, our daily jobs - things that we don't control. Something is going on with our family - whatever - to dictate our happiness," Swinney said. "I read one time - and it's so true - that happiness is kinda based on a result. But joy should be a constant because it comes from within. The Holy Spirit within, keeping that joy no matter good or bad. But I will say this, and I said it when we won the (national) championship - this is a great and awesome moment, but this isn't what it's all about. This isn't what we're made for. This isn't what makes us. It's the journey. That's what it's all about. Those moments are great but they're so fleeting.
"It's more how you live between the moments. It's how you find a way to enjoy the practice, the whatever it is you're doing and to climb every single day. That's what it's all about...That's kinda been a challenge for me this year. Just where I am with this team and being present every single day and engaged with these guys."