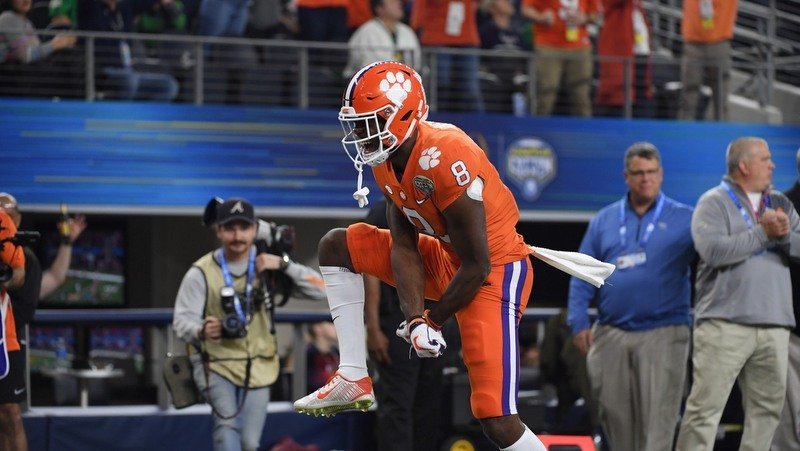 | | |
| --- | --- |
| Ross 'surprise' Clemson signing was a 'total shock' to Alabama | |
---
| | | |
| --- | --- | --- |
| Thursday, January 3, 2019, 2:02 PM | | |
Dynamic freshman receiver Justyn Ross has stepped in and made an instant-impact this season for the Tigers.
He could have easily been just as impactful for the other sideline this week.
Clemson signed the 5-star, No. 1-rated Alabama product out of the backyard of contenders in the Crimson Tide and Auburn, telling TigerNet he didn't make up his mind until Signing Day.
"It was a surprise to everybody. It was a surprise to me while I was up there," Ross said with a laugh. "I wouldn't change it for anything in the world. I love the family that I have there and I love the decision that I made. I kind of knew when I was going up on the stage but that morning when I woke up I really didn't know."
Clemson coach Dabo Swinney said he left a late in-home visit with Ross with a pinky swear, but Alabama felt they had more than that - counting Ross on their recruiting board on Signing Day, per Al.com.
"It was total shock because we were 100 percent confident he was coming to Alabama," an Alabama staffer told Al.com.
Alabama coach Nick Saban didn't go that far this week.
"We thought we were in the mix," Saban said. "But sometimes you think that, and sometimes a guy has already decided what he wants to do. We knew that the competition was always going to be really keen versus Clemson, and it's unfortunate for us that it didn't work out our way."
Saban says Ross, who ranks fifth nationally in yards per reception (21.2) and second on the Tigers with eight touchdown receptions, is one to watch out for Monday.
"He's played outstanding for them," said Saban. "He's made a lot of big plays. He's a great vertical threat. He's a big target. He's very crafty for a guy that is just a freshman. We thought he was one of the best players in Alabama a year ago and certainly recruited him with as much enthusiasm as possible. We just came up short. It's no surprise to me that he's having an outstanding year. We'd love to have him here, but we've got to try to prepare to play against him."
Per Al.com, Ross is only the second top-rated Alabama recruit not to sign with Saban since 2007 (Jameis Winston the other).