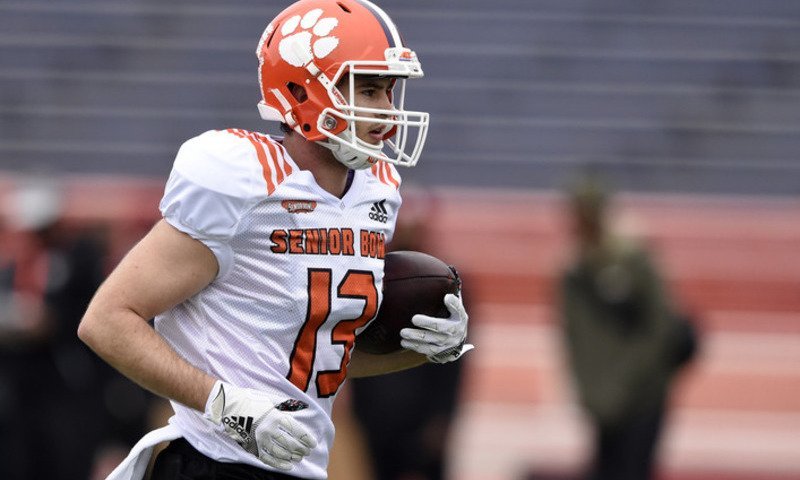 | | |
| --- | --- |
| Renfrow excited for new challenge starting with Senior Bowl | |
---
| | | |
| --- | --- | --- |
| Wednesday, January 23, 2019, 12:43 PM | | |
It didn't take long for Hunter Renfrow to wow those on hand for day one of Senior Bowl practice in Mobile, Alabama on Tuesday.
The former Clemson walk-on and two-time national champion is a step closer and just months away from the next step in quite a story.
"I'm looking forward to it," Renfrow said of the challenge in a new locker room to HoustonTexans.com. "You just have to prove yourself again and get better every day. I'm excited about learning a new system. I've been in the same system for four or five years. Learning about the nuances and the details of the system that you might overlook if you've been there four or five years. I'm excited and ready to go."
Given a prominent former teammate in Deshaun Watson is now at the next level with the Texans, Renfrow was asked about a program-defining moment in the 2016 National Championship season.
"No. 4 is at the helm. It wasn't too much pressure because we knew he was going to come through for us," Renfrow told the Texans outlet of the game-winning drive. "I just remember huddling up and Deshaun going, 'Let's go be legendary.' 'Let's go have fun.' And we got a few little passes early...and then we were able to cap it off with a touchdown."
"It was unbelievable. It was kinda (representative of) our program. It was a 5-star Deshaun throwing to a walk-on in me. Coach Swinney was a walk-on. It's kinda how we built our program from the ground up. Rags to riches. It doesn't matter who you are.
"If you go out there and make plays and consistently get open and give your best effort, you'll be successful."
Renfrow was also asked what makes Watson so good in those kinds of situations.
"He's poised. He's always poised and always has fun," said Renfrow. "There will be a very serious moment in the game and he just looks around the huddle and smiles (and says) - 'This is fun.' He's always looking to get better. He's always paying attention to everything and paying attention to the details and that's why he's a great leader."
As for his go-to QB in the clutch situation, Renfrow was predictably diplomatic on picking between Watson and Trevor Lawrence with the game on the line.
"Whoever can get the ball over there. I have confidence in both of them," he said. "Maybe they can play some rock-paper-scissors and see. Because we know they're going to throw a great ball, either one of them."
Renfrow entered the week with a projected NFL draft range from the fourth through sixth rounds come late April in Nashville (25-27).
The Senior Bowl, which also features former Clemson cornerback Mark Fields, will air at 2:30 p.m. ET on NFL Network on Saturday.
Clemson WR Hunter Renfrow can break off his routes at an elite pace #SeniorBowl pic.twitter.com/SBIbz1bjJB

— Brad Kelly (@BradKelly17) January 22, 2019
#Buffalo QB Tyree Jackson got into a grove during team drills. Spins a frozen rope to Hunter Renfrow here. pic.twitter.com/u6H3Nqyhds

— Steve Frederick (@_SteveFrederick) January 22, 2019
WR @adamhumphries13 er... Hunter Renfrow out of @ClemsonFB fielding punts at South practice.

Got a chance to talk to him today and he and Hump are even more similar in person. Should be a very productive slot player at the NFL level, too. pic.twitter.com/XJvQZ9HEL6

— Carmen Vitali (@CarmieV) January 22, 2019
#Clemson WR Hunter Renfrow vs #Temple CB Rock Ya-Sin in 1v1 pic.twitter.com/VZePzQMeyZ

— riley auman (@AumanacDraft) January 22, 2019
Hunter Renfrow #Clemson is such a great tactician at running routes. so fluid #SeniorBowl

— Austin P. Baumer (@ScoutBaumer) January 22, 2019
Day 1 @ the #SeniorBowl seemed to show favor for the WR's. Deebo Samuel (SC), David Sills (WVU) Anthony Johnson (BUFF), Andy Isabella (MASS), Penny Hart (GaSt), and Hunter Renfrow (CLEM) all with great showings. Will be interesting to see how they pan with their QB's this week

— Grant Weaver (@therealweaves) January 23, 2019