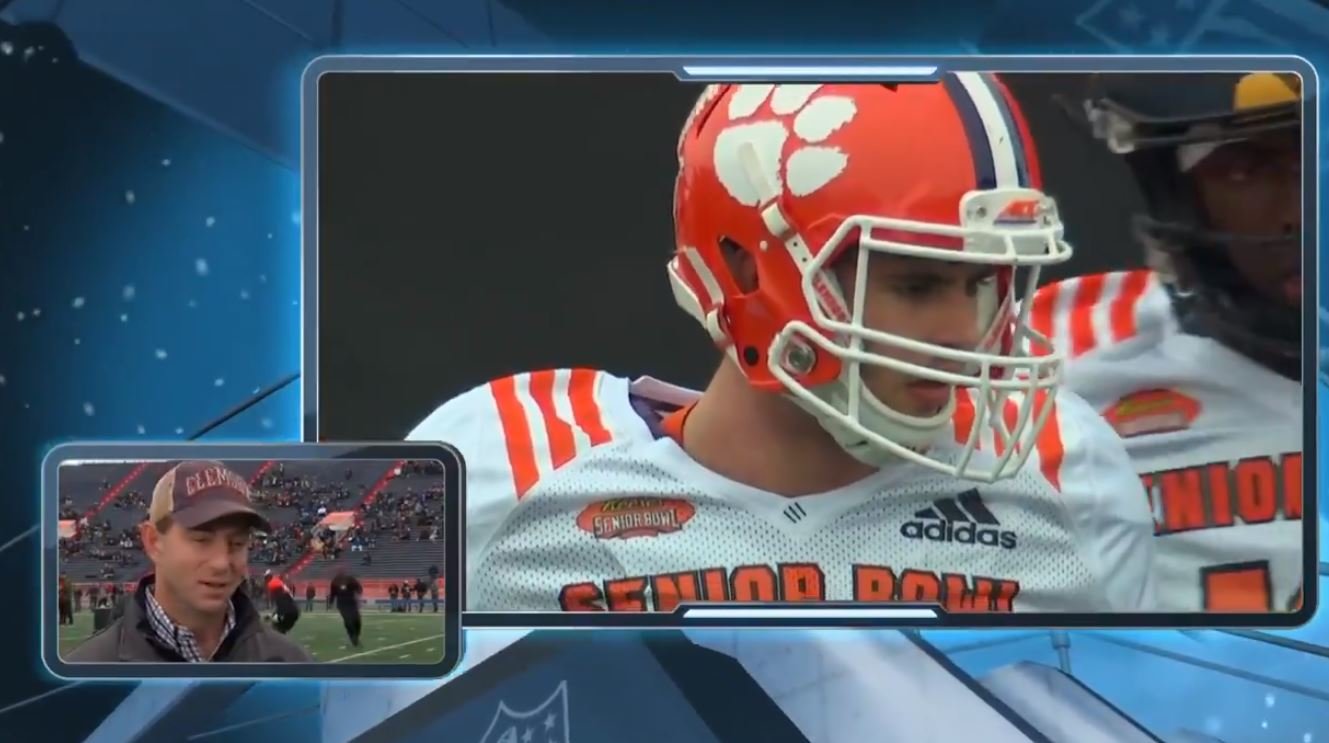 | | |
| --- | --- |
| WATCH: Dabo Swinney on Hunter Renfrow, Mark Fields at Senior Bowl | |
---
| | | |
| --- | --- | --- |
| Tuesday, January 22, 2019, 3:49 PM | | |
Clemson coach Dabo Swinney gave his breakdown of future Clemson pros with the NFL Network while attending a Senior Bowl practice on Tuesday.
He has two players competing for a better NFL draft position for the South team this week, in Burlsworth Trophy winner Hunter Renfrow and cornerback Mark Fields.
While Renfrow's length of a Clemson career has been the subject of humor, Swinney wishes he still had the former walk-on around.
"I wish I could get him for five more years. He's special," Swinney said. "He's such a great teammate and example to his team and just a worker. He's, to me, the epitome of what makes this game great. And that is, football players come in all shapes and sizes and you can't ever judge a book by its cover. At the end of the day, you've got to get between the lines and play the game. And he's going to test well and all that but he's not an overly-impressive person when you meet him. When he puts that helmet on, he's Superman.
"That's what I love about the game of football."
Swinney called Fields "a legit cover guy."
"He's got legit speed," Swinney said. "He'll be one of the fastest guys at the combine for sure. He can flat-out fly. And he's a strong corner. He doesn't have a lot of length but pound-for-pound - he'll be one of the strongest guys at that position for sure. From a speed standpoint and his ability to truly cover, that will serve him well at the next level."
Renfrow checked in at 5-10 and 175 pounds with measurables including 29-inch arms and 7 3/4-inch hands. Fields was 5-10 and 186 pounds with 31-inch arms and 9-inch hands.
Swinney said he expects to see 10 Tigers drafted in late April (25-17) in Nashville.
Watch more from Swinney below:
"He's not an overly impressive person when you meet him. But when he puts that helmet on, he's Superman."

I spoke to Clemson coach Dabo Sweeney about Hunter Renfrow and a lot more live during our @seniorbowl coverage on @nflnetwork. Part 1 here: pic.twitter.com/9XESPYb5oo

— Tom Pelissero (@TomPelissero) January 22, 2019
Dabo Sweeney told me he walked in today with a guy he's glad he won't be facing anymore: South Carolina WR Deebo Samuel. @nflnetwork @seniorbowl pic.twitter.com/RmulCqQTbX

— Tom Pelissero (@TomPelissero) January 22, 2019
Clemson WR Hunter Renfrow can break off his routes at an elite pace #SeniorBowl pic.twitter.com/SBIbz1bjJB

— Brad Kelly (@BradKelly17) January 22, 2019
WR @adamhumphries13 er... Hunter Renfrow out of @ClemsonFB fielding punts at South practice.

Got a chance to talk to him today and he and Hump are even more similar in person. Should be a very productive slot player at the NFL level, too. pic.twitter.com/XJvQZ9HEL6

— Carmen Vitali (@CarmieV) January 22, 2019
#Clemson WR Hunter Renfrow vs #Temple CB Rock Ya-Sin in 1v1 pic.twitter.com/VZePzQMeyZ

— riley auman (@AumanacDraft) January 22, 2019
Hunter Renfrow #Clemson is such a great tactician at running routes. so fluid #SeniorBowl

— Austin P. Baumer (@ScoutBaumer) January 22, 2019
Early winners from the first round of practice

- Jarrett Stidham, QB, Auburn
- Foster Moreau, TE, LSU
- Hunter Renfrow, WR, Clemson
- Deebo Samuel, WR, South Carolin

— Andrew Harbaugh ?? (@DHH_Mandrew) January 22, 2019
Ball underthrown, but Gary Jennings had a step on Mark Fields pic.twitter.com/xqgkv59wlm

— Billy Marshall (@BillyM_91) January 22, 2019
Good stuff by Mark Fields pic.twitter.com/4uKl5Lxnvi

— Billy Marshall (@BillyM_91) January 22, 2019
Three fastest players so far in south practice:
Gary Jennings (WR)- 21.5 mph
Tyre Brady (WR) -19.8mph
Mark Fields (DB) - 19.7mph

Next two are TEs ... pic.twitter.com/ZcgnxtiCMa

— Reese's Senior Bowl (@seniorbowl) January 22, 2019
"We're gaining ground... but we're just little ole #Clemson trying to make it to the top." -- Hunter Renfrow on #RollTide down at the @seniorbowl

Great stuff.. but good luck selling that line about @ClemsonFB anymore.. ????

Thanks to @BriMacNaught for the video! pic.twitter.com/FKmGWOPnTn

— Daren Stoltzfus (@DarenStoltzfus) January 22, 2019