| | |
| --- | --- |
| Postgame notes on Clemson-Citadel | |
---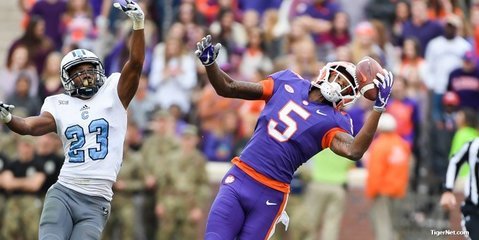 CLEMSON TEAM
Clemson won on Military Appreciation Day for the 10th straight time, improving to 20-4 overall in such games.
Clemson won its 302nd game in Death Valley, improving to 302-102-7 all time at the venue dating back to 1942.
Clemson improved to 41-3 in its last 44 games dating back to 2014.
Clemson improved to 29-1 in its last 30 home games.
Clemson improved to 52-2 in its last 54 games against unranked opponents.
Clemson won its 59th game in the past five years, which is the second-most of any program in that stretch.
Clemson won its 102nd game in the past 10 years, which is the fourth-most of any program in that stretch.
Clemson improved to 86-21 in the 2010s. That .804 winning percentage is the best of any decade in program history.
Clemson scored a season-high 61 points.
Clemson totaled a season-high 479 passing yards.
Clemson won its 54th straight game when holding the opposition to under 23 points, dating back to 2010.
Clemson defeated The Citadel for the 17th straight time.
Clemson improved to 32-5-1 all time versus The Citadel dating back to 1909.
Clemson improved to 32-0 all time versus FCS opponents, winning by double digits for the 31st time in such games.
Clemson earned its 10th win, marking the seventh straight season that the Tigers have won at least 10 games, and their 14th season overall that they have earned at least 10 wins. The streak of seven straight 10-win seasons is tied for the sixth-longest such streak in the nation.
On Senior Day, Clemson's senior class improved to 48-6 over, with the .889 winning percentage serving as the best winning percentage of any class in program history.
With the win, the senior class also improved to 27-1 at home, with the 27 home wins serving as the most of any class in program history.
CLEMSON INDIVIDUAL
With the win, head coach Dabo Swinney reached the 10-win mark for the seventh time since becoming Clemson's head coach, the most of any head coach in program history.
Swinney won his 99th game as a head coach, the fourth-most wins by an ACC coach in conference history. The 99-win mark also serves as the fifth-highest win total for any head coach in his first 10 years as a head coach.
Quarterback Kelly Bryant won his 10th game as a starter, tying a program record for the most wins earned by a first-year starting quarterback.
Bryant also accrued a career-best .773 completion percentage.
Quarterback Hunter Johnson set career highs in completions (seven), pass attempts (eight), percentage (.875), passing yards (144) and also completed a career-long 78-yard pass.
Quarterback Zerrick Cooper set a career high in passing yards (105) and also threw his first career touchdown pass and completed a career-long 39-yard pass.
Wide receiver Deon Cain hauled in a reception for the 34th straight game, the 10th-longest active streak in the nation.
Cain also amassed a career-high 140 receiving yards.
Wide receiver Hunter Renfrow hauled in a reception for the 25th straight game.
Running back Travis Etienne accrued his 11th rushing touchdown of the season, the most rushing touchdowns by a freshman in program history.
Wide receiver Hunter Renfrow scored his first touchdown of the season on a 12-yard reception in the first quarter.
Wide receiver T.J. Chase scored his first career touchdown on a 13-yard reception in the second quarter.
Wide receiver Tee Higgins set career highs in receptions (six), receiving yards (178), receiving touchdowns (two) and also hauled in a career-long 78-yard reception. The 178-yard mark serves as the highest total for Clemson this season.
Wide receiver Jack Swinney established career highs in receptions (two) and receiving yards (six) and also hauled in a career-long four-yard reception. Additionally, Swinney accrued his first career carry on a two-yard rush.
Wide receiver Kanyon Tuttle hauled in his first career reception on a nine-yard catch, finishing with two receptions in the contest.
Wide receiver Will Swinney accrued a career-best 15 receiving yards.
Running back Ryan Mac Lain accrued a career-best 11 rushing yards.
Linebacker Shaq Smith collected his first career interception.
Linebacker James Skalski (nine), linebacker Judah Davis (five), defensive end Xavier Kelly(five), linebacker Shaq Smith (three) and safety Nolan Turner (three) all set career highs in tackles.
Kicker Christian Groomes made his first career field goal on a 38-yarder.
Kicker Drew Costa made his first career extra point.