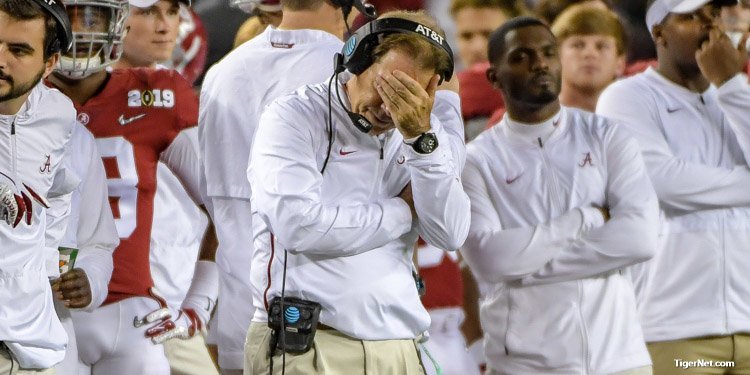 | | |
| --- | --- |
| Nick Saban explains his team losing the 'Alabama factor' in loss to Clemson | |
---
| | | |
| --- | --- | --- |
| Friday, February 8, 2019, 9:21 AM | | |
Alabama players and national media are still dumbfounded how Clemson won 44-16 over the Crimson Tide in the latest College Football Playoff National Championship.
Nick Saban held his National Signing Day press conference Wednesday and addressed how his team lost their 'Alabama factor' during the title game.
Seriously, that's what they call it.
"We kind of have the 'Alabama factor' around here," he said. "That has always helped us be successful. That's having a team that plays with a lot of discipline, that's having a team that everybody is sort of responsible and accountable to do their job at a high level and a standard and everybody puts the team first. All right? So that's the standard, and it's up to the individual players on the team to do that.
"And if I thought that we weren't doing that in one game or ten games, I would address it with the players and make sure that everybody was on board with those principles and values that's helped us be successful. I don't think we played in that game with the Alabama factor. So everybody needs to understand that and respond to it."
Saban thinks some of the players were playing for themselves and not for the team against Clemson.
"If you lose your humility, it sort of creates the thinking; I am above doing things the way I need to do them to prepare for a game and go play in a game against good competition. And if I put my own agenda ahead of the team or winning, it's going to have some effect on my performance," he said. "So if I think those things are existing in the program, I think that they need to be addressed, and they have been."
The more straightforward answer by Saban would have been that the better team won and he got out-coached during the game.