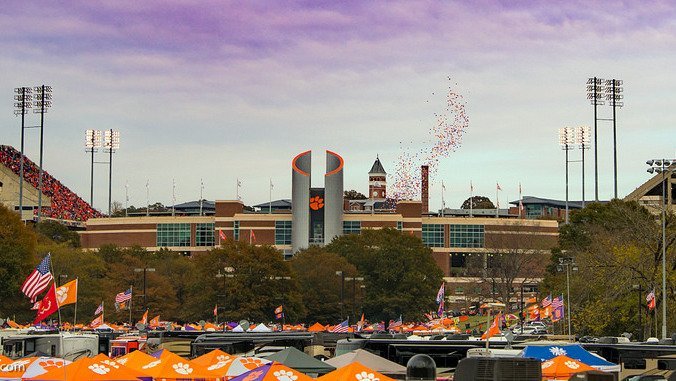 | | |
| --- | --- |
| New security measure shifts football parking around stadium | |
---
| | | |
| --- | --- | --- |
| Thursday, April 11, 2019, 7:49 PM | | |
CLEMSON – The parking spaces along Clemson's Avenue of Champions have been prime real estate for Tiger tailgaters for years, but those parking spaces will no longer be available for home football games due to the increased use of metal detectors.
The use of 140 parking spaces will be impacted, according to Associate Athletic Director Jon Allen
"As everybody is aware we instituted a 'pilot program' with metal detectors last season," Allen told TigerNet. "We set up metal detectors at different gates and rotated them around from game to game. We are planning on using walk-thru metal detectors at every gate next season. The benefit of the pilot program is that we learned a lot – some positive and some very negative. Memorial Stadium was not constructed with metal detectors in mind so implementation requires a bit of retrofitting to occur."
Lines along that side of the stadium were long, especially during the Syracuse game, as fans fought traffic and the lines for the metal detectors.
"We learned that the set-up on the north side gates of the stadium along the Avenue of Champions corridor is very challenging and requires a different strategy," Allen said. "We have been fortunate enough as a program the past several years to play at several premier NFL stadiums and have witnessed very effective security perimeters that are set-up away from the actual entry gates.
"In collaboration with our campus police department, led by Chief Greg Mullen, we identified the AOC area as a good candidate to create such a security perimeter. Removing the game day vehicle parking on AOC is a very big deal, but a decision we felt was necessary to not only allow this security perimeter to be created but also make the pedestrian travel on that side of the stadium much safer."
That doesn't mean that the entire area will be closed.
"Fans will still be able to circulate east to west on AOC and the team buses will still have a path to travel to access the top of the Hill for the pre-game entrance," he said. "We set-up a trial run of this area this past Saturday for the Spring Game. Tweaks will always be necessary, but for the most part we were very pleased with how everything worked. It is something new, but we are doing this for the right reasons."
A project that is slated to start in June will help alleviate some of the parking concerns.
"We have a project slated for this summer that will gain approximately 100 spaces in Lot 5," Allen said. "This project along with a few other alterations in areas close to the stadium will help us mitigate the loss of the parking. Parking assignments will be subject to the normal IPTAY assignment process."