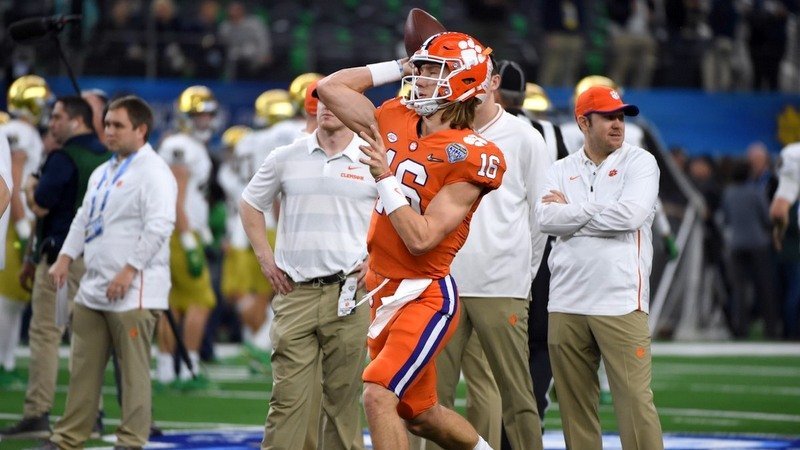 | | |
| --- | --- |
| NFL already eyeing Trevor Lawrence: 'There's nothing he can't do' | |
---
| | | |
| --- | --- | --- |
| Thursday, July 11, 2019, 5:19 PM | | |
Trevor Lawrence has two seasons of college football left before he's eligible for the NFL draft.
Two.
But that isn't stopping NFL teams from possibly shaping their future personnel decisions around that 2021 selection process, according to Sports Illustrated senior NFL reporter Albert Breer.
"Talking with quarterback gurus and NFL scouts, I looked for someone—anyone—to tell me that Trevor Lawrence is overhyped," Breer wrote. "Every single response was, in essence, a flat no...
"Lawrence likely would've been the first pick in this year's draft—and probably even next year—if he were eligible. He will almost certainly be the top pick in 2021, if he declares after his true junior season at Clemson...All of this is to say—yes, the NFL is already paying attention to Lawrence, and, yes, as was the case with Luck, Lawrence's presence will hover over (at least) the next two draft cycles."
Breer talked to former Elite 11 QB guru and Super Bowl-winning QB Trent Dilfer for the story, who declared Lawrence basically NFL-ready even before taking a college snap.
"There's nothing he can't do," Dilfer told SI. "The only question is if he'll continue to do it. It's hard to temper your excitement, because he checks every single box. Confidence, intelligence, athleticism, smarts, twitch, arm strength, power—you go through all the boxes, he's nines or 10s. It's like Andrew Luck."
Among the boxes checked is not buying into the hype either, where he told another SI reporter that he purposely avoids stories about himself - recalling his days moving up the recruiting ranks at passing camps.
"I do feel older in the sense of where I am, I feel like I have experienced a lot," Lawrence told SI. "But no, I can remember clearly just a few years ago being in their shoes. I am not that much older, it wasn't too long ago."