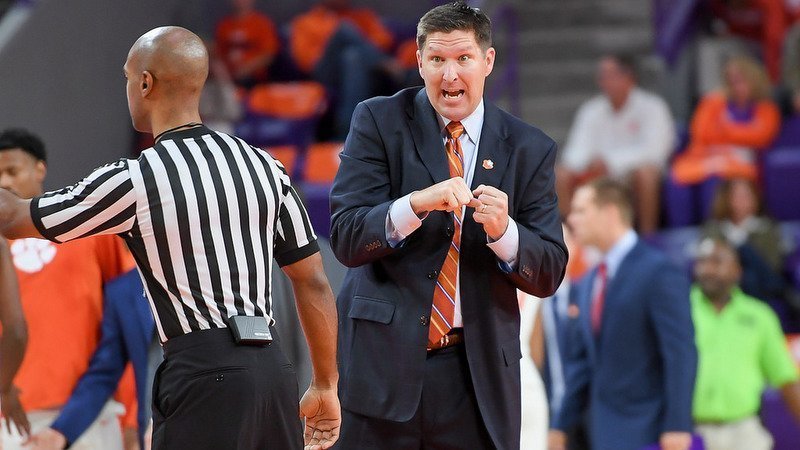 | | |
| --- | --- |
| MBB Tops UNCW in hurricane relief exhibition | |
---
| | | |
| --- | --- | --- |
| Saturday, October 27, 2018, 10:08 PM | | |
WILMINGTON, N.C. — Aamir Simms netted a game-high 20 points, while the backcourt tandem of Marcquise Reed and Shelton Mitchell each poured in 19 points each in Clemson University men's basketball's 78-67 win over UNCW on Saturday evening. The game served as a Hurricane Relief exhibition benefitting the Good Shepherd Center and UNCW's Campus Emergency Fund for Student Hurricane Relief.
The Tigers and Seahawks played evenly over the course of the first nearly 16 minutes of the first half. Clemson took a 35-32 lead into the final media timeout of the opening stanza, but the Seahawks would close the half on a 14-3 run to secure an eight-point lead at the break.
Conversely, the Tigers would come out strong and energetic to begin the second half, much of which was provided from freshman John Newman III. The Tigers engineered a 9-0 run over the opening six-plus minutes of play – keyed by one of Simms' three 3-pointers on the night and capped by a Mitchell layup in transition – forcing a UNCW timeout.
The Seahawks hit its first shot of the second half at the 13:43 mark and made it back-to-back 3-pointers to take a 52-49 advantage. With UNCW leading by four at 60-56, the Tigers made another strong push – this time capitalizing on a 10-0 run to open up a 66-60 lead.
In all, Clemson finished the final 8:57 of the contest on a 22-7 run to secure the preseason road victory.
Simms was nearly perfect from the floor on the night, hitting 6-of-7 shots from the field, including a perfect 3-for-3 from behind the arc and 5-for-5 at the foul line.
Aside from Mitchell's 19 points, he led the team with seven rebounds including four on the offensive glass. Two of his 19 points came a crucial moment in the game. With just a three-point advantage and 2:27 left to play, Mitchell grabbed an offensive rebound off of his own missed shot and connected on the put-back to push the Tigers' lead back to five.
Reed posted four rebounds and a team-high four assists to go along with his high-scoring night. He also hit a team-best six free throws.
Clemson will host Barton College in its last preseason contest on Thursday, Nov. 1 at 7 p.m. The Tigers open the regular season on Tuesday, Nov. 6 when it hosts The Citadel at 7 p.m.