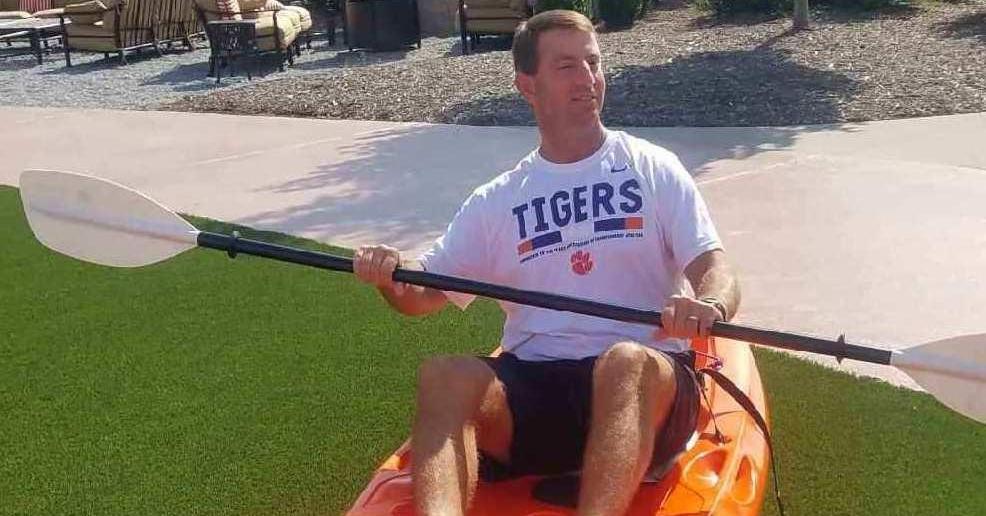 | | |
| --- | --- |
| First Look: Take home the same National Championship kayak as Dabo Swinney | |
---
| | | |
| --- | --- | --- |
| Wednesday, August 21, 2019, 2:54 PM | | |
A local outdoor company has partnered with Clemson Athletics to produce a one-of-a-kind kayak for Tiger fans who want to celebrate the big win over Alabama for the program's second National Championship in three years.
Perception Kayaks of Greenville, S.C. has produced the special-edition kayak commemorating the 2018 Clemson Football National Championship.
Founded in Upstate South Carolina in 1976, Perception Kayaks has deep connections to Clemson University. In official collaboration with Clemson Athletics, Perception Kayaks is proud to design, mold and hand-assemble the Clemson Tribe 9.5 – a limited-edition sit-on-top kayak. The solid orange kayak features the official 2018 National Championship logo.
Limited quantities of this commemorative limited edition are available at the following retailers:
Elkmont Trading Company, Clemson
Sunrift Adventures, Travelers Rest
Fanatics Shops, Death Valley
Perception Kayaks website click here
The company began to work with Clemson Athletics over six months ago to build this limited edition kayak, and in July the Clemson Crew, including The Tiger, and the National Championship Trophy paid a visit to the headquarters for a visit and The Tiger built a kayak.
Recently, the company presented the kayak to Clemson head coach Dabo Swinney, who will take the kayak to his lake house on Lake Keowee. Confluence has an employee who recently began his 40th year at the company and received the first kayak that came off the assembly line, and Swinney autographed the kayak.
"Our founders went to Clemson, and we have a huge number of Clemson fans that work here," said Todd King, the VP Of Marketing for the company. "We always wanted to build a Clemson kayak, and we threw the idea out to Clemson about the championship kayak. We knew a lot of people have homes on Lake Keowee, Lake Hartwell, and in Charleston. There won't be a lot for sale, it's a limited number, but this isn't about us making money. This is about us sharing this with Clemson. This is about celebrating Clemson and our employees."
Don't miss out on your chance to not only support a local company but celebrate the Tigers' National Championship in the process.