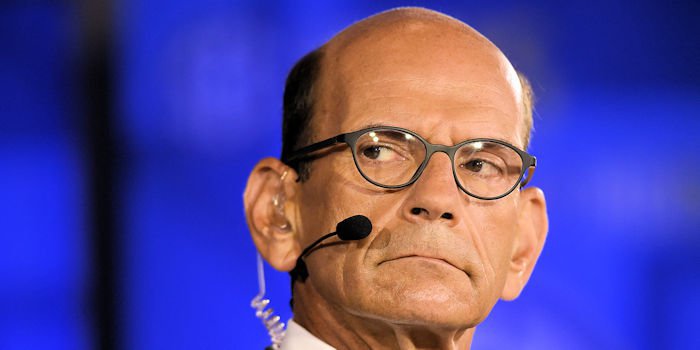 | | |
| --- | --- |
| Finebaum criticizes Clemson for not bringing Lawrence to ACC media days | |
---
| | | |
| --- | --- | --- |
| Wednesday, July 10, 2019, 3:18 PM | | |
ESPN's Paul Finebaum came on Charlotte sports talk this week to talk Clemson and ACC football, coming off of recent comments on the ACC being a "clown show" outside of Clemson.
Among the topics on the interview was Clemson not bringing projected All-American quarterback Trevor Lawrence to next week's ACC Football Kickoff and instead taking senior offensive guard John Simpson. Tigers head coach Dabo Swinney has brought only upperclassmen to the event over the years.
"I don't know the offensive guard's name but I can guarantee you that (he) won't make SportsCenter that night," Finebaum told WFNZ. "Trevor Lawrence would be live on ESPN and every other network in the country. For a league struggling with comments I made and other people have made in recent months - it is a classic idiotic move from a marketing standpoint. Because you're competing with the other leagues. The SEC one goes on for four days. The Big Ten show is two days - and you have a chance to beat your chest. You don't want to do it then fine.
"Precedent doesn't mean anything in college football. This is not 1965. It's 2019 and when you think of the ACC right now - you think of Trevor Lawrence. He's the biggest name. With Tua (Tagovailoa), those are the two biggest names in college football."
Finebaum also bristled early in the interview over being known as an SEC spokesman.
"I don't represent a league," he said. "I work for ESPN and happen to have a show that is simulcast on the SEC Network but it also heard on ESPN radio. I think it's certainly inaccurate to say I'm carrying the flag of the league. I grew up in the SEC. I went to an SEC school and have spent a lot of time talking about it but I've also spent a lot of time talking about other leagues including the ACC.
"It's not my concern what the perception is. My concern is what I say and trying to be fair and accurate as possible. Listen, I'm not deaf, mute and blind. I know what people say about me and that's perfectly alright."
Finebaum said that he recognizes Clemson's strength but has to point out the league around it.
"I think anyone who has followed me and listened to what I've said since January is that Clemson has certainly earned its spot," he said. "Anyone who would quibble about that is a blithering idiot. My only contention is that the league around Clemson has become extremely weak. Two years ago in Charlotte at ACC media days - I was at the SEC (Network) watching this - the first coach up was (then FSU coach) Jimbo Fisher, then Mark Richt and everyone all in unison said that the ACC is the best conference in college football. Two years is not a long time. I'd like to know what's happened to this league in two years. It has become at times unwatchable and that was my only point...
"I'd like to see somebody say the same thing in Uptown Charlotte - I'd like to see Dabo Swinney to say that the ACC is the best college football conference in America. I'm willing to bet you that he wouldn't dare."
In the individual SEC/ACC games, Finebaum doesn't see Clemson struggling in one key early matchup.
"I'm interested in A&M and Clemson but I don't think A&M can go to Clemson and win," Finebaum said. "A&M fans believe it because of what happened last year. But that wasn't - Clemson was definitely off. They were dealing with the Kelly Bryant situation. I don't see that same situation happening."