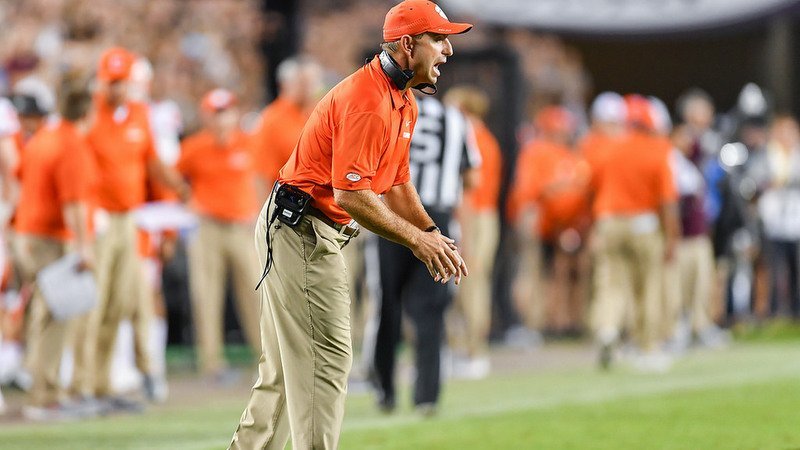 | | |
| --- | --- |
| Coaches teleconference: Swinney talks Etienne success, Nick Bosa decision | |
---
| | | |
| --- | --- | --- |
| Wednesday, October 17, 2018, 11:38 AM | | |
Clemson coach Dabo Swinney held his weekly press conference on the ACC coaches teleconference Wednesday.
Swinney talks NC State keys, Travis Etienne's success and Ohio State's Nick Bosa shutting down his season to focus on the NFL.
Introduction
DABO SWINNEY: We're coming off an open date, and it was a productive time for us, but we're excited to get back at it. A huge challenge this week with NC State. There's only five Power Five teams that are still undefeated out there, and got two of them playing this week right here in Clemson. Excited about it. NC State is a really, really good football team, very well-coached, schematically they create a lot of problems on both sides of the ball as far as what they do, and then they've got a bunch of good players doing it.
There's a reason why they're undefeated, and for us, this is obviously a huge division match-up, and we're excited about it. Feel good about our team, where we are health-wise, and feel like we've got really good preparation. But this is a game where you don't have a lot of room for error. It comes down to all about having great execution and doing the little things better than the opponent. Should be a heck of a ballgame, and know we'll have a great crowd here at 3:30 on Saturday.
Q. I'm curious what your thoughts are specifically because you just gave a really good general description of the match-up against NC State, but more specifically, why have they been able to create such close games against you guys the past few years in your match-up, and how much does the quarterback Finley fit into that equation?
DABO SWINNEY: Yeah, well, I mean, again, they're very well-coached. They do a great job of attacking what you do well, so schematically they are very smart. They offensively I think do a great job as far as how they structure everything, how they call it. Everything is built off the stretch. They put a lot of pressure on you with their stress run game, creates a lot of distortion in your defensive line because guys are running and then if they get you cut on the backside, they've got a lot of cut-back alleys, so it puts a lot of pressure on you to fit everything up properly, especially the backside fits, and your linemen getting up off the ground if they do get cut, and then they do a lot of -- they do a good job with their formationing that can stress you coverage-wise. But they've had really good players. Heck, they had six guys -- I think they were only second to Alabama in draft picks last year, so they've been really good.
And then two years ago when we played them here, we had -- we did not -- we didn't convert in the red zone. I think we were inside the 10 or 5 three times and got zero points. They created some turnovers. So both teams have a lot of respect for each other, and we've got good players, they've got good players, and it's just been really, really competitive games. We've been fortunate to find a way to win, but last year's game came down, I think, to a specific teams play. We had a punt return for a touchdown, ended up being the difference in the game.
But it's just a combination of -- when you get -- when you play games like this, there's not a lot of room for error. I don't doubt Saturday will be another very competitive game. They're 5-0, we're 6-0 and division rivals and both want the same things. Just think both teams will put their best foot forward.
Q. And quickly, have you seen a common reason why your team has gotten off to slow starts this season?
DABO SWINNEY: Well, I think we've gotten off to a couple slow starts but not every game. We've had some games that we've gotten off. But yeah, just execution. We've had some -- sometimes you get into some of these games early on and maybe you're getting a few things that are a little bit different, but that's part of what the opening part of the games are is to kind of figure out exactly how the opponent is going to defend you, and then you make some adjustments and you go from there.
But then we've just had some miscues, we've had some turnovers early, we've had some drops early, we've had a couple of -- we've had some things where we didn't read the signal properly. Just some stuff like that, and I think just our team kind of settling in and growing into who we're going to be.
But the good news is they haven't called the game off after the first quarter.
And then Georgia Tech, we got a slow start, we didn't get the ball. I think they had the ball for maybe over eight minutes the first opening drive.
Just a combination of a lot of things, and we were off the field on that drive, but we had to -- our one game we were off the field and we had to use a time-out because we misaligned. So just some execution things that we can do better. We certainly want to start fast. There's no doubt about that. But the main thing is we want to win the game.
I've seen a lot of teams start good and finish bad. We want to just put all four quarters together and play a complete game.
Q. So Travis is scoring a touchdown basically once every eight carries, close to that, for his career. When you have a running back that's that basically efficient and prolific in the stable you guys have, what's kind of the challenge in managing his workload? It's hard to say that I've seen too many backs that have that kind of yards per carry.
DABO SWINNEY: Yeah, I mean, he's been obviously very explosive. I mean, that's just -- he's one of the most explosive players we had come through here, and you know, right now he leads us, I think, career-wise in yards per carry. Depending on the games, some of these games he's had more work than others. I think the Syracuse game he had, I don't know, somewhere between 25 and 30 touches. But we really -- we've got four backs that we really love, and we try to keep those guys fresh.
But we all know that for us to be successful, Travis has to have a certain amount of touches. And sometimes the games will dictate just how many, but we definitely have a rotation, as do most all these teams. I think Feaster is second all time for us right now in yards per carry. He and the backs have got over a thousand yards over here. They're all different. They all bring things to the table that we need. But Travis has definitely differentiated himself and a guy that you're going to see continue to touch the ball in lots of ways because he makes things happen.
And then we just pay close attention to kind of where he is, and I've got a good feel for his stamina and all those type of things, and then obviously we've got good depth. So we try to use it.
Q. I'm asking coaches in light of Nick Bosa withdrawing from school to get ready for the NFL Draft because of his injury, do you think that's going to be more of a trend around college football? You have a lot of guys in your program that have that option to go to the NFL. Do you think we're going to start seeing that whether it's an injury situation or sitting out bowl games?
DABO SWINNEY: I think it's -- you know, I think every incident or situation is kind of isolated to itself. I mean, it's hard for me to comment on things I don't really know a whole lot about. I don't think he'll be the last, but I mean, it's -- I don't really know -- he's got a serious injury, and he only played in, what, one or two games. You've got a serious injury that -- I don't even know that he would be back, and if he would be back it would be maybe for one game, and your team is kind of established at that point.
I really wasn't that surprised by it, to be honest with you. But as far as guys missing bowl games and all that type of stuff, I mean, I guess that's kind of a decision that guys have to make. I have no idea if it'll be a trend or whatever, but I think in this case, you've got a guy that's hurt and out for the year, I don't really know what the big shock is. He's got to -- it's hard to come back. He hasn't played football since early September, and now you're supposed to step in and maybe play one game, if that, if he can even come back? Who knows. I wasn't very surprised by the decision for him to focus on his surgery and rehab and getting healthy and all that stuff at all.
Q. To follow up on Travis, I think he's pretty much got the rushing yards already that he had last year. What kind of growth have you seen in him from last year to this season?
DABO SWINNEY: Yeah, well, he was a true freshman last year and to be honest we thought he would redshirt when he got here, but we figured out quickly in camp, whoa, this guy is really explosive. But just had so much to learn, and we had to pick our spots, especially early, how we used him. The biggest difference in him is obviously he's got experience. He kind of got thrown into the fire last year, and he had some good success, and he had some tough moments, too. So just that experience is certainly paying off for him this year, but more than anything, just the off-season, his ability to just get in that weight room and to develop his body. You know, he's a 205-pound guy now, and he's just put on a lot of good muscle mass. He's really developed his lower body. He's bigger, faster, stronger, smarter. You know, just a more improved version of himself, and guess what, next year he'll be even better, because that's what happens. It's a developmental game. If you're a talented guy and you're putting the work in, you're going to improve, and the game is going to continue to slow down for him.
But he's just much more of a complete player, a guy that we trust in all situations now as opposed to last year. He was a little bit of a liability in certain situations. Just really proud of him. It's been awesome to see what he's done to this point. I think he's as good as anybody in this country. He certainly statistically has earned that. I don't have any doubt he's going to have a great second half, as well.