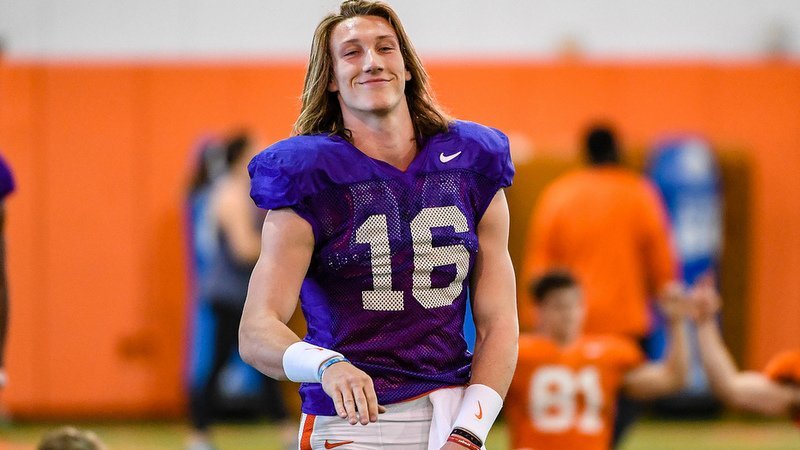 | | |
| --- | --- |
| Clemson ranked No. 1 preseason in AP Poll for first time | |
---
| | | |
| --- | --- | --- |
| Monday, August 19, 2019, 11:55 AM | | |
Clemson completed an unprecedented preseason No. 1 sweep of the traditional college football polls with the release of the Associated Press Top 25 on Monday.
The Tigers had not been preseason No. 1 in either the AP or USA TODAY Coaches rankings going into the 2019 season but were comfortable top vote-getters in each this month.
Clemson is out front in the AP Top 25 with 1,540 points (52 first-place votes), followed by Alabama (1,496; 10 first-place votes), Georgia (1,403), Oklahoma (1,331) and Ohio State (1,261).
From the ACC, the Tigers are joined in the AP ranking by week three opponent Syracuse, at No. 22.
Clemson had a run going of out-performing its AP ranking in each of the last five seasons, including going from No. 2 to No. 1 in the 2016 and 2018 campaigns. Dabo Swinney's group look to be only the third team in the last 16 years to finish No. 1 after being the AP preseason No. 1.
AP Preseason Top 25
Rnk Team (2018 record) Points
1 Clemson (15-0) 1,540
2 Alabama (14-1) 1,496
3 Georgia (11-3) 1,403
4 Oklahoma (12-2) 1,331
5 Ohio State (12-2) 1,261
6 LSU (10-3) 1,199
7 Michigan (8-5) 1,164
8 Florida (10-3) 1,054
9 Notre Dame (12-1) 1,044
10 Texas (10-4) 1,005
11 Oregon (9-4) 860
12 Texas A&M (7-6) 852
13 Washington (10-4) 786
14 Utah (9-5) 772
15 Penn State (9-4) 651
16 Auburn (8-5) 578
17 UCF (13-0) 410
18 Michigan State (10-3) 377
19 Wisconsin (8-5) 370
20 Iowa (8-5) 330
21 Iowa State (8-5) 302
22 Syracuse (10-3) 209
23 Washington State (11-2) 200
24 Nebraska (4-8) 154
25 Stanford (9-4) 141
Others receiving votes:
Missouri 117, Army 94, Mississippi State 87, Miami (FL) 70, Northwestern 63, TCU 57, Virginia 44, Boise State 38, Cincinnati 16, South Carolina 15, Virginia Tech 12, Fresno State 8, Utah State 8, Minnesota 7, Memphis 6, Appalachian State 5, West Virginia 3, Oklahoma State 3, Arizona State 3, Arizona 1, USC 1
ACC has only No. 1 Clemson in the Top 20. This is just the 2nd time in the Championship Game era (since 1998) that a Power 5 conf has just 1 team ranked in the Preseason Top 20. The other time was 2002 when Florida St was ranked 3rd and the only ACC team ranked in the preseason.

— Chris Fallica (@chrisfallica) August 19, 2019
Clemson is No. 1 in the AP Preseason Top 25 for the first time in program history.

Will they run the table to hold the top spot? Since the AP Preseason Poll began in 1950, the only schools to go wire-to-wire as the No. 1 team are Florida State in 1999 and USC in 2004. pic.twitter.com/1eCOQtT71c

— ESPN Stats & Info (@ESPNStatsInfo) August 19, 2019