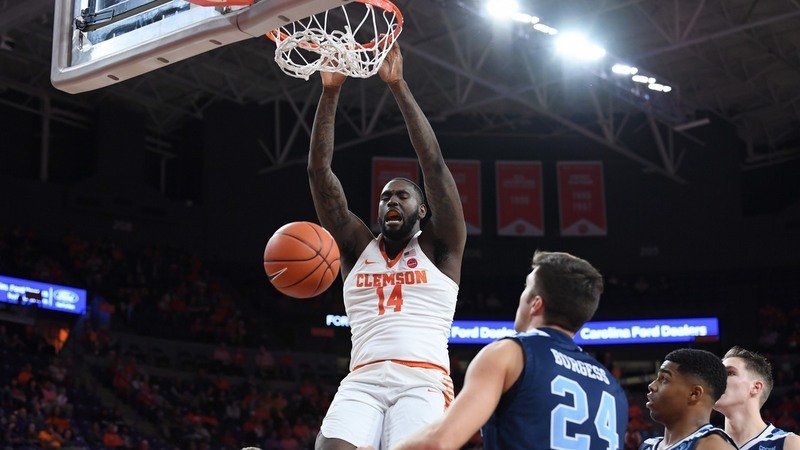 | | |
| --- | --- |
| Clemson opens ACC play at No. 1 Duke Saturday | |
---
| | | |
| --- | --- | --- |
| Friday, January 4, 2019, 12:51 PM | | |
Clemson (10-3) and No. 1 Duke (11-1) tip off on Saturday at Cameron Indoor Stadium in Durham, N.C. at 8:10 p.m. ET.
Bob Wischusen, Dick Vitale and Allison Williams will broadcast the game on ESPN, while Don Munson and Tim Bourret will have the radio call for the Clemson Tigers Network.
Game notes
• As Clemson opens up ACC play, it will look for its first road win at Duke since 1995.
• Marcquise Reed finished non-conference play averaging 20.1 points per contest – the third-highest average in the ACC this season.
• Reed's 20.1 points per contest is the most ever under head coach Brad Brownell through non-conference play and the most since at least the 2007-08 season.
• The Tigers own 15 wins over ranked Duke teams. Head coach Brad Brownell has earned each of the last two victories in 2016 and 2014.
• With four blocks against Lipscomb, Elijah Thomas entered the program's top 10 list for career blocks and is No. 10 with 129 career blocked shots.
PROJECTED CLEMSON STARTERS
G 2 Marcquise Reed 6-3, 188 Gr. 20.1 ppg 5.2 rpg
G 4 Shelton Mitchell 6-4, 200 Gr. 13.8 ppg 2.3 rpg
F 24 David Skara 6-8, 213 Gr. 9.2 ppg 4.5 rpg
F 25 Aamir Simms 6-7, 248 So. 10.1 ppg 4.7 rpg
C 14 Elijah Thomas 6-9, 245 Sr. 13.5 ppg 7.6 rpg
PROJECTED DUKE STARTERS
G 3 Tre Jones 6-2, 183 Fr. 8.7 ppg 3.3 rpg
F 1 Zion Williamson 6-7, 285 Fr. 19.8 ppg 9.4 rpg
F 2 Cam Reddish 6-8, 218 Fr. 13.5 ppg 3.2 rpg
F 5 RJ Barrett 6-7, 202 Fr. 23.8 ppg 6.8 rpg
F 12 Javin DeLaurier 6-10, 234 Jr. 5.1 ppg 4.3 rpg
CLEMSON LOOKING FOR FIRST WIN AT DUKE SINCE 1995
• Clemson has had a long dry spell at Duke, a string of 16 consecutive losses to the perennial power in Cameron Indoor Stadium.
• The Tigers' last win in the facility was in 1995, when Rick Barnes' unlikely first team defeated Mike Krzyzewski's ninth-ranked Blue Devils 75-70 that season before a back injury sidelined him the rest of the season.
• In all, Clemson owns just three other wins at Duke — 1976, 1977 and 1984. The two back-to-back wins were during the Tree Rollins era.
• Clemson's four wins have come by a combined 14 points.
ROAD WINS OVER RANKED ACC TEAMS
• Clemson's last victory on the road against a top-25 ACC team came in 2007 at Virginia Tech. The Tigers have lost 25 straight.
• Prior to the win over the Hokies, it had been over 10 calendar years (at Maryland on Jan. 15, 1997) since Clemson had won an ACC road game over a top-25 team.
• In all, Clemson has 11 wins over top-25 ranked teams on the road in its history (just one of which was Duke).
• While the road has been tough against top-25 ACC competition for the Tigers historically, Clemson did earn ACC road wins at Boston College, Georgia Tech and Wake Forest last season.
TIGER VETERANS IN CAMERON INDOOR STADIUM
• Shelton Mitchell –– 23 points, three rebounds on 8-for-15 shooting in 35 minutes in 2017.
• Marcquise Reed — Eight points and two rebounds in 22 minutes in 2017. Reed also scored 22 points in a 2015 NCAA Tourament game versus Duke while at Robert Morris.
• Elijah Thomas — 15 points, nine rebounds, two blocks on 5-for-7 shooting in 30 minutes.
CLEMSON HAS 15 WINS OVER RANKED DUKE TEAMS
• Clemson has defeated a top-20 Duke team 15 times in its history, the most top-25 wins by Clemson over a school. That includes 11 top-10 wins.
• The last two victories have come under Brad Brownell.
• Clemson's most recent win over Duke was a 68-63 victory and that was a sixth-ranked Duke team.
• Clemson upset a top-20 Duke team six times between 1988-97, with the last victory coming in 1996-97 at Clemson, an 86-82 overtime win over a 10th-ranked Duke team. That was the third year in a row that Clemson had defeated a top 20 Duke team under Rick Barnes.
• Clemson also defeated a top-10 Duke team three years in a row between 1988-90.
• Dale Davis and Elden Campbell were common denominators on those teams. The 1990 victory at Clemson clinched the ACC regular season championship for the Tigers. All three of those were at Clemson.
• It is interesting to note that six of Clemson's 15 wins over top-20 Duke teams have taken place between Jan. 3-13 on the calendar.