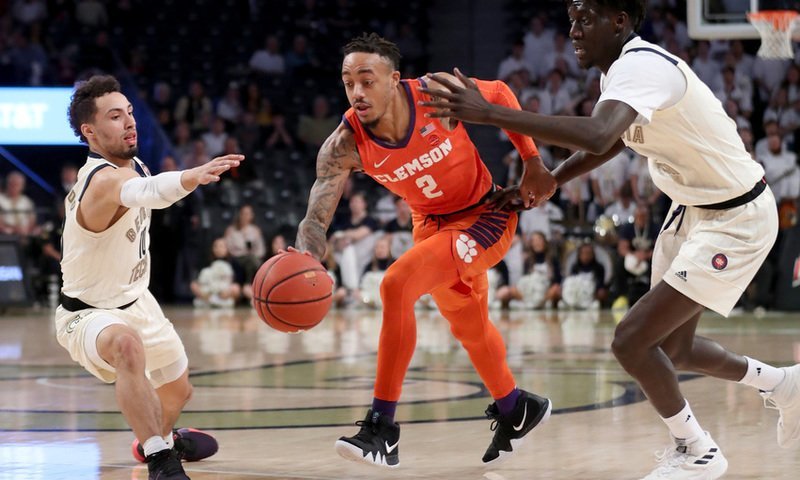 | | |
| --- | --- |
| Clemson blows out Tech to keep winning streaks going | |
---
| | | |
| --- | --- | --- |
| Wednesday, February 6, 2019, 9:38 PM | | |
Clemson held a double-digit lead for the majority of its road trip to Georgia Tech Wednesday to roll the Jackets, 65-42.
The win was a third-straight in ACC action to pull Brad Brownell's Tigers back within a game of .500 in conference play (14-8 overall; 4-5 ACC). It was a seventh-straight win in the series and a regular-season series sweep this season with Georgia Tech.
Clemson shot 49.1 percent from the field, while holding Georgia Tech to 30.2 percent shooting - keeping advantages in defensive (28-18) and offensive rebounds (11-6).
Marcquise Reed led the Tigers with 19 points, joined in double-figures by David Skara and Aamir Simms (13). Elijah Thomas had five blocks in 17 minutes of action.
The Tigers have held their last two ACC opponents to a total of 79 points, which is the fewest in back-to-back games in the last 66 years in the conference for Clemson (per Tim Bourret).
Clemson looks to maintain momentum next hosting No. 11 Virginia Tech on Saturday at noon.
Coach Brad Brownell postgame
Opening Statement: "I thought we played very well today. Obviously, I thought defensively we were very locked in and played with great energy. The activity level was high. I didn't think we gave them anything easy. Offensively, I thought we had spurts when we were very good tonight, and there were a couple spurts when we weren't. I thought we started the game in a good place. The beginning of the second half we struggled a little bit, but we found our rhythm in the middle. We played through Eli [Thomas'] foul trouble which is hard for us to do sometimes so that was good to see. Just a well-played game by my team. I thought we came in here with a pretty good plan and our guys executed pretty well."
On Clemson's physicality: "I think Georgia Tech is a physical team. I think they defend really well. Their inside guys are big and strong and hard to deal with. Our guys are older and more experienced, so they're not afraid of that. We like to think we play pretty hard as well and are pretty competitive and physical. Our rebounding was pretty good tonight. I thought our first-shot defense was great. In the first half, we had a couple times when we didn't rotate down and block out the center when our center was helping on a drive, but that improved the longer the game went. Our guys just kind of hung with it. They do a nice job of mixing man and zone and trying to keep you out of rhythm. We finally got into a better rhythm in the middle/end of second half and that's when we pulled away."
On winning three straight: "Hopefully, it just builds confidence as much as anything. It's not easy on players and this is an unforgiving league. You can have a great week of practice, play two games against very good teams and play well and lose. That's not easy when you're coaching to keep the guys' morale going. I'm proud of our guys. We have an older team with some pride, so I think when we were 1-5 our pride took over. Now that we've won three in a row we feel a little better about who we are and how we're playing. We just want to continue that. The best way to do that is to have really good practices and we've had really good practices throughout most of the ACC season."
On the play of Clemson's defense recently: "Our guys have really bought into what we're trying to do. Our margin for error is… we're not one of the highest scoring teams in the league. We really have to click on all cylinders defensively and make it hard for people. We had an unbelievable first half against Pitt and not a very good second half. We defended Wake [Forest] well and we defended tonight very well. We understand that playing that way gives us a much better chance to win. Hopefully our guys are going to continue to do that."
On tonight's defensive priorities: "Getting back in transition. Being physical and doing what we could to make them uncomfortable in the rhythm and flow. They do a really great job of turning their offense over on you. If you're not careful, you give up layups. Whether it's a back cut, a cut off a post… we just wanted to make sure we took away the layups and make them make plays."
Game notes
Clemson won its third league game in a row … it marked the first time that Clemson has won three-straight ACC games by double digits since the 1974-75 season … the 23-point victory margin was the fifth-largest in an ACC game in Clemson history … combined with allowing just 37 points to Wake Forest on Feb. 3, after allowing 42 to Georgia Tech, it marks the fewest points allowed in back-to-back league games in Clemson history … Clemson has now won seven games in a row in the series with Georgia Tech and earned the program's 26th road victory at Georgia Tech … in three of the last four halves of basketball the Tigers have held its opponent to 20 points or less … Brad Brownell improves to 16-4 overall against Georgia Tech … the win was the 163rd career victory for Brownell at Clemson – leaving him just 14 shy of tying Cliff Ellis for the most all-time … the win signified the 44th time Clemson has held its opponent to 50 points or less under Brownell and the second time in as many games … the Tigers are 42-2 in those contests, including having won their last 23 in a row … Elijah Thomas swatted five more shots against Georgia Tech – giving him 12 blocks in the last two games and 151 (10th all time) for his Clemson career … he is averaging 1.86 blocks per game in his Clemson career – tying him with Trevor Booker (2006-10) for fifth all-time in program history … Thomas corralled six more rebounds to give him 544 for his Clemson career – leaving him 60 rebounds shy of tying Horace Wyatt (1978-82) for 25th on Clemson's all-time list … Marcquise Reed turned in his 59th career double-digit scoring game at Clemson – leaving him 11 shy of tying Larry Nance (1977-80) and Butch Zatezalo (1976-70) for 16th all-time … with his 19-point effort, Reed now has 1,244 points in his Clemson career – good for 22nd all-time in program history … Reed came away with three steals against Georgia Tech and is now tied for 15th all-time in program history with Bobby Conrad (1976-80) with 141 career steals … his 1.62 steals per game in his Clemson career ties him with Derrick Forrest (1988-90) for fifth all time.
Tonight was @ClemsonMBB's 69th all-time meeting at Georgia Tech. The Tigers' 23-point win was their largest margin of victory ever at Georgia Tech.

— Brian Hennessy (@Brian_ClemsonAC) February 7, 2019
Fifth largest margin of victory in Clemson history in an ACC road game, largest since 31 point win at Virginia in 2008.

— Tim Bourret (@TimBourret) February 7, 2019
Clemson has allowed just 79 points in its last two ACC game, 64-37 vs Wake Forest and 65-42 at Georgia Tech tonight. The 79 points allowed are fewest given up by a Clemson team in consecutive ACC games in 66 years in the league.

— Tim Bourret (@TimBourret) February 7, 2019
??????????#ClemsonGRITpic.twitter.com/N6GRKzFQSB

— Clemson Basketball (@ClemsonMBB) February 7, 2019
Marcquise Reed, creator@ClemsonMBB | @accmbb pic.twitter.com/LDalxe5IHh

— FOX Sports South (@FOXSportsSouth) February 7, 2019
Marcquise Reed finds David Skara. ??@ClemsonMBB | @accmbb pic.twitter.com/DkHpjqzBnP

— FOX Sports South (@FOXSportsSouth) February 7, 2019
???? This train's a comin' ??

All about the defense tonight ??#ClemsonGRIT?? pic.twitter.com/Ab197ev16G

— Clemson Basketball (@ClemsonMBB) February 7, 2019
Elijah Thomas is showing why he's a load for anyone in @accmbb to handle. @ClemsonMBB pic.twitter.com/NN2ZfC093d

— FOX Sports South (@FOXSportsSouth) February 7, 2019
First time Clemson has won at Georgia Tech in football and men's basketball in the same academic year since 2001-02.

— Tim Bourret (@TimBourret) February 7, 2019