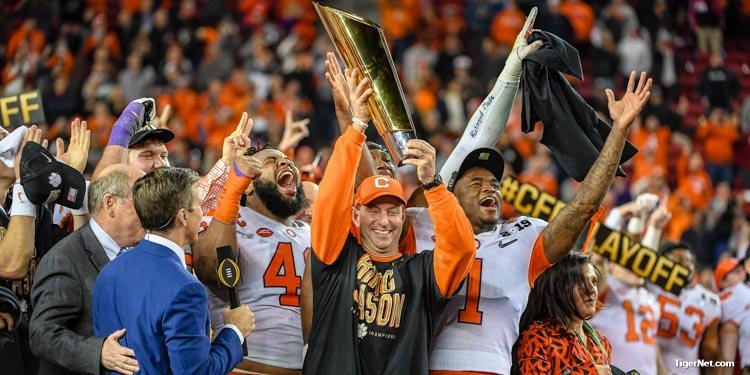 | | |
| --- | --- |
| CFB analyst: "Stick Clemson in the SEC and they're Georgia" | |
---
| | | |
| --- | --- | --- |
| Thursday, July 4, 2019, 9:36 PM | | |
The College Football landscape is Clemson and Alabama and everyone else.
However, some media pundits continue to believe that Clemson would have a tough time if they had to play in the big bad SEC conference.
CollegeFootballNews.com's Pete Fiutak was on WFNZ's Wilson and Parcell show Wednesday and said that he feels that the SEC schedule is just too daunting for most including Clemson.
"I was on an SEC show earlier today - and no one really wants to go there yet, but there is that simmering storyline that's coming that SEC fans are starting to get a little grouchy," he said. "'Yeah, Clemson you're great. No one's denying your greatness, but stick Clemson in the SEC and they're like, what, Georgia?' They might get through one (challenge) to get to a national championship. But it's one thing to go do what an Alabama's done and go through LSU, Auburn, Mississippi State and the whole SEC world or else having to go through NC State - the Virginias of the world. It's just a different animal."
Fiutak has an insane theory that if someone's starting quarterback goes down, then the team might become vulnerable.
"You've got a whole league of OK teams that can kinda do what Syracuse has done the last two years and give Clemson kind of a run. And heaven forbid Trevor Lawrence goes down for any stretch of time, Clemson - I don't want to say Clemson becomes beatable - but they're obviously a lot more vulnerable."