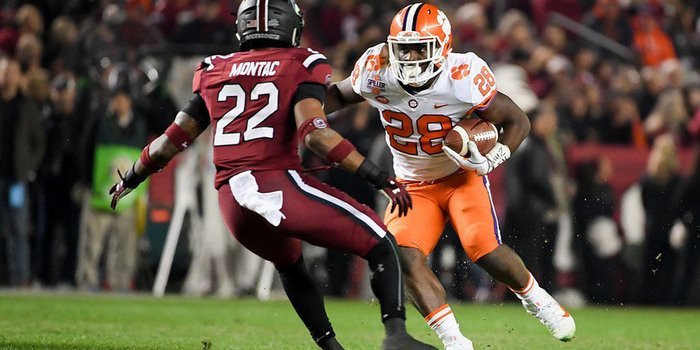 | | |
| --- | --- |
| Advanced outlook: Clemson-South Carolina projections | |
---
| | | |
| --- | --- | --- |
| Wednesday, November 21, 2018, 1:32 PM | | |
It's rivalry week and Clemson's instate rival would like nothing more than the cliche of 'records being thrown out' to be true.
Dabo Swinney's Tigers are seeking only the third winning streak of five or more games in the series overall - coming in on one of the most dominant runs the battle for the Palmetto State has seen.
Clemson has averaged a 24-point margin of victory over South Carolina since 2014, which is the widest in a four-year run since 1935-38 (28.3) and the third-best streak in series history (30.8 PPG for Clemson from 1897-1900 at No. 1).
In the last two games, the Tigers have outperformed the Vegas spread by 16.5 points per and head into Saturday as a 26.5-point favorite. Although Clemson has covered the number in four of Trevor Lawrence's last five starts, the metrics consensus is a 20-plus-point win that doesn't quite reach the current line.
The S&P+ and TeamRankings each take the Tigers by 25 points, while the FEI (38-16) and numberFire (35-16) see it as more of a three-score game. Here's how the sides match up going in and some areas to watch below:
Advanced metrics profile
Clemson
ESPN efficiency rank: Offense – 6. Defense – 1. Special teams – 118.
Football Outsiders efficiency rank (S&P+): Offense – 9. Defense – 1. Special teams – 64.
Success rate*: Offense – 14 Defense – 3.
South Carolina
ESPN efficiency rank: Offense – 31. Defense – 56. Special teams – 45.
Football outsiders efficiency rank (S&P+): Offense – 33. Defense – 72. Special teams – 2.
Success rate: Offense – 57. Defense – 116.
--
What stands out from those figures above is a South Carolina defense that ranks 116th in stopping opponents successfully per play. They match-up a defense ranked 87th versus rushing efficiency against a Clemson offense that's eighth-best on the ground.
The Gamecocks have given up 278 rushing yards per game versus currently-ranked opponents, which ranks 89th nationally - surrendering 3.2 rushing touchdowns per game. Clemson has averaged a third-best 6.8 yards per carry with 3.2 rushing TDs a contest versus unranked foes.
On the other side of the ball, South Carolina sports a better-than-average offense - ranking top-35 overall on ESPN (31) and with the S&P+ (33), but Saturday's test comes versus only the second top-25 defense on its schedule.
Clemson is No. 1 defensively in both ESPN's and the S&P+ metric - also best in containing opponent explosiveness (1st in marginal efficiency), opponent rushing (S&P+), opponent standard downs offense# (S&P+) and points allowed per scoring opportunity (2.81; drives that go inside an opponent's 40).
In the last two meetings, Clemson has held South Carolina 14.4 points and 137 yards under its average coming in. The Gamecocks are averaging 32.8 points (37th nationally) and 429.8 yards per game (46th) up against a Clemson offense scoring 44.7 PPG (5th) and totaling 520.5 YPG (8th) this season.
Metrics outlook: Clemson-South Carolina
SBN: Clemson 41-16
FEI: Clemson 38-16
TeamRankings: Clemson 42-17
numberFire: Clemson 35-16
(S&P+ is a SB Nation/Football Outsiders metric that combines ratings for the five factors of efficiency, explosiveness, field position, finishing drives and turnovers.
* Success rate is determined by gaining 50 percent of the necessary yardage on first down, 70 percent on second down and 100 percent on third and fourth down.
# Passing downs are defined as second down with eight or more yards to go or third or fourth down with five or more yards to go. All other situations are "standard" downs.)
Justyn Ross is the national leader in yards per route run through 12 weeks pic.twitter.com/9PSnwcDkpC

— PFF College (@PFF_College) November 20, 2018
Trevor Lawrence had the highest passing grade among ACC QBs this past weekend pic.twitter.com/xGe0ktcMH0

— PFF College (@PFF_College) November 20, 2018