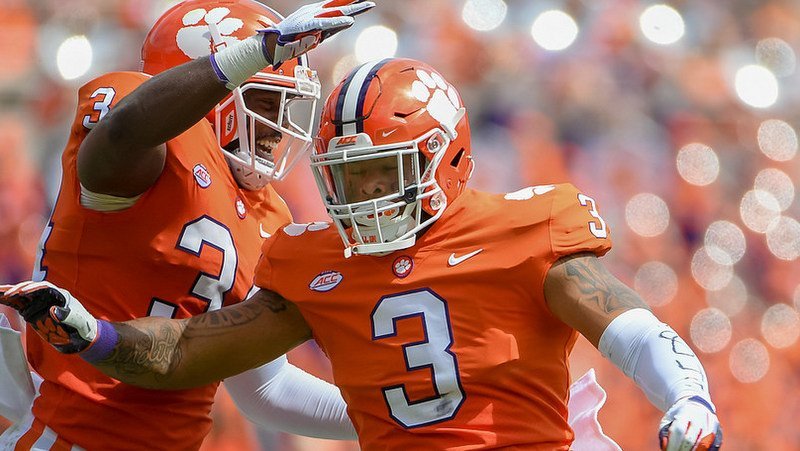 | | |
| --- | --- |
| Advanced outlook: Clemson-Duke projections, freshman standouts | |
---
| | | |
| --- | --- | --- |
| Thursday, November 15, 2018, 11:28 AM | | |
Like most games down the stretch of Clemson's Playoff push, the Tigers are heavily favored by just about any metric versus the visiting Duke Blue Devils.
Clemson will have a shot at stopping one interesting trend in Duke's season, however.
Coach David Cutcliffe's Blue Devils have won all four games as an underdog this season - and by an average of 12.3 points per all in road matchups. The caveat being this is the first time they have been a double-digit dog (28.5) after overcoming as much as a 9.5-point projected margin at Miami this season (20-12 win).
Statistically, there isn't much striking about Duke but they do tend to have success on standard downs* (50th in S&P+; 15th in explosiveness) and hold slightly-better-than-average ranks overall on offense (52nd) and defense (46th).
They meet a Clemson team now ranked No. 1 defensively by both ESPN and the S&P+ analytics and a Tigers offense ranked as high as No. 6 offensively, which explains another hefty round of projections.
All four metrics we've been using here this season see Duke covering the spread but the game being anything but close: the S&P+ taking Clemson 40-13, the FEI liking the Tigers 33-16, TeamRankings picking Clemson 42-15 and another ESPN-affiliated metric in numberFire predicting a 42-17 Tigers win.
Here's how the teams shape up and some more notes on the freshman standouts below:
Advanced metrics profile
Clemson
ESPN efficiency rank: Offense – 6. Defense – 1. Special teams – 120.
Football Outsiders efficiency rank (S&P+): Offense – 11. Defense – 1. Special teams – 63.
Success rate#: Offense – 13 (49.3). Defense – 1 (28.6).
Duke
ESPN efficiency rank: Offense – 37. Defense – 40. Special teams – 36.
Football outsiders efficiency rank (S&P+): Offense – 52. Defense – 46. Special teams – 97.
Success rate: Offense – 80 (40.9). Defense – 44 (39.2).
--
Pro Football Focus broke down grades for the five-star freshmen at Clemson so far this week.
DE Xavier Thomas (86.9) and WR Justyn Ross (84.7) lead the nation and QB Trevor Lawrence is also in the top-5 (78.9).
"On just 209 snaps (Ross is) averaging 4.3 yards per route (run)," PFF's Steve Palazzolo said. "That is outstanding. It leads the nation in that filter. He's gone over a hundred just once but has multiple receptions in seven games this season while recording 495 receiving yards including 222 after the catch."
"Xavier Thomas looks like a future star. He's only played 188 snaps but an outstanding 86.9 grade that's currently the 10th-highest grade among edge defenders this year. Seventeen total pressures on just 85 pass rushes keep an eye on Thomas for the future. He's just scratching the surface now."
Showing his skills pitching in last week at BC, OT Jackson Carman has a 70.4 season grade with three pressures allowed in 75 pass-protection snaps per PFF. Also on offense, WR Derion Kendrick has a 62.4 grade, rushing four times for 33 yards and bringing in eight catches for 125 (57.1 catch rate per SB Nation).
Before a decision to redshirt, DE K.J. Henry posted a 73.6 season grade with six solo stops.
Metrics outlook: Clemson-Duke
SBN: Clemson 40-13
FEI: Clemson 33-16
TeamRankings: Clemson 42-15
numberFire: Clemson 42-17
(S&P+ is a SB Nation/Football Outsiders metric that combines ratings for the five factors of efficiency, explosiveness, field position, finishing drives and turnovers.
# Success rate is determined by gaining 50 percent of the necessary yardage on first down, 70 percent on second down and 100 percent on third and fourth down.
* Passing downs are defined as second down with eight or more yards to go or third or fourth down with five or more yards to go. All other situations are "standard" downs.)
So far in 2018, 85% of opponent's drives against @CoachVenables' @ClemsonFB defense have ended without points being put on the board. This is best at the FBS level with @AlabamaFTBL @UMichFootball @UAB_FB and @GoBearcatsFB rounding out the top 5.

— SportSourceAnalytics (@SportSourceA) November 12, 2018
The @ClemsonFB defense has played 74 drives over its last 5 ACC games.

Three TDs allowed. Three FGs. Getting stops on 92% of drives. Sheesh.

— Max Olson (@max_olson) November 14, 2018