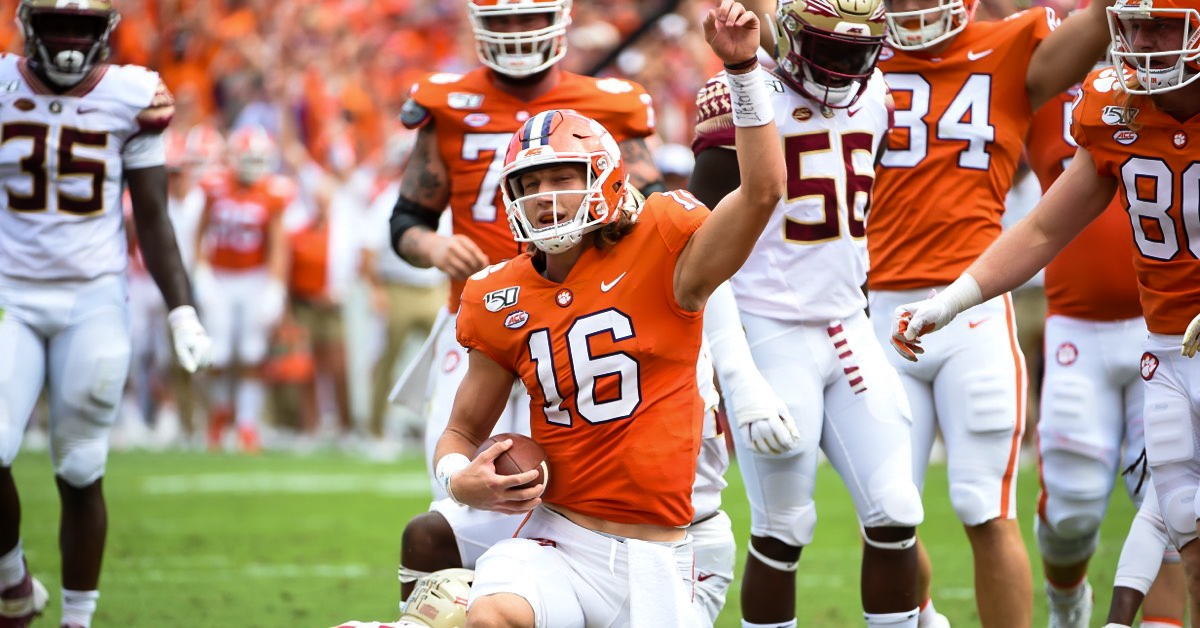 | | |
| --- | --- |
| Advanced outlook: Clemson-BC projections, Trevor Lawrence through 7 games | |
---
| | | |
| --- | --- | --- |
| Wednesday, October 23, 2019, 1:24 PM | | |
Boston College brings an uptempo (10th in plays per game versus FBS teams) but smashmouth attack (fifth in rushing attempts/6th in rushing yards) to Death Valley this weekend.
That is led by a pair of running backs packing around 250 pounds in A.J. Dillon (second nationally in rushing/9 TDs) and David Bailey (181 yards/2 TDs last week versus NC State) in an offense just behind Clemson in total offense nationally (11th; 494.4 YPG).
Beyond the offense, however, the picture is painted on why Steve Addazio's Eagles enter Memorial Stadium as around a five-TD underdog. ESPN's SP+ ranks BC as 94th defensively and 110th on special teams. More metrics:
| Efficiency ranks | Offense | Defense | Special teams |
| --- | --- | --- | --- |
| CU SP+ ranks (No. 6 overall) | 12 | 3 | 86 |
| BC SP+ ranks (No. 62 overall) | 32 | 94 | 110 |
| CU ESPN ranks (No. 4 overall) | 9 | 1 | 109 |
| BC ESPN ranks (No. 62 overall) | 41 | 89 | 96 |
(SP+ is a metric from ESPN's Bill Connelly, formerly of Football Outsiders and SB Nation, that combines ratings for the five factors of efficiency, explosiveness, field position, finishing drives and turnovers. ESPN's Football Power Index-based metric has similar statistical factors weighing together).
Both SP+ and TeamRankings.com like BC to cover the big number, with SP+ picking Clemson 43-16 and TR taking the Tigers, 45-14. Football Outsiders' FEI continues to put faith in Dabo Swinney's team with 36.5 projected margin of victory.
| Metrics outlook | Prediction |
| --- | --- |
| SP+ projection | 94% Clemson (Tigers by 27) |
| ESPN FPI | 98% Clemson |
| FEI | 99% Clemson (Tigers by 36.5) |
On Trevor Lawrence, Clemson offense around midseason
There have been no shortage of comparisons recently between Trevor Lawrence and Deshaun Watson at this point in their careers.
Both were dubbed as preseason ACC player of the year before their second season but Watson saw his freshman season wrap -- with a wrap on his torn ACL -- in a rivalry win over South Carolina. Lawrence capped his rookie year with a dominating 44-16 win over Alabama for a national title.
In his first seven games as a sophomore, Watson averaged 221.9 passing yards with 15 touchdowns to seven interceptions and three rushing touchdowns -- starting 7-0 en route to the school's first national championship appearance since 1981. So far this season, Lawrence mirrors those numbers in averaging 219 passing yards with 14 touchdowns to eight interceptions and five rushing touchdowns.
Watson tacked on 21 more passing scores to just five interceptions on his total, topping 4,000 passing yards (4,104) while also hitting another gear in the running game (five games of 100-plus yards with nine more TDs). Lawrence's passing numbers will likely see a similar tick up, while his running game has also improved as the season has gone on (over 40 rushing yards in four of the last five games with three TDs).
In media narratives, however, Lawrence is more competing with his spectacular finish to 2018. Lawrence averaged 288.5 passing yards with 12 touchdowns to one interception over the final six games.
What's interesting is the comparison of how Clemson is performing as an offense overall in pitting last year's finish against this year's start. The Tigers are averaging 7.01 yards per play, 504.7 yards and 40 points this season, compared to a very similar seven yards per play, 511 yards and 39 points in that six-game stretch -- albeit versus a better strength of schedule toward the end.
It was a natural progression to expect more in 2019 -- and with a solid start so far, there's still plenty of time left for the Clemson offense to do just that.