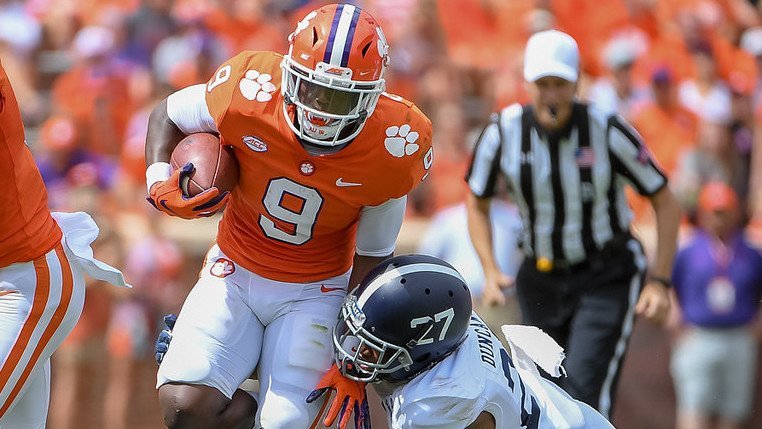 | | |
| --- | --- |
| Zero to Hero: Clemson coaches think Etienne is better when he shows patience | |
---
| | | |
| --- | --- | --- |
| Wednesday, October 31, 2018, 12:48 PM | | |
CLEMSON – Clemson running back Travis Etienne has the top-end speed to match almost any running back in the country and hits the hole as quick as any Tiger running back in recent memory. The Clemson coaches think that for Etienne to be a complete back, however, he needs to slow down.
Etienne ranks 15th nationally in rushing, with 845 yards on 108 carries. His 7.82 average yards per carry ranks 12th. Etienne gained 654 yards in a four-game stretch that started with Georgia Southern but has just 84 yards combined over his last two games.
Running backs coach Tony Elliott thinks Etienne sometimes tries to do too much.
"The biggest thing I tell Travis is quit trying to be Superman, you can go from hero to a zero real quick, don't be a hero just do your job," Elliott said. "If you watch early in the game, everyone wants to point at the offensive line for not getting things going, but the first two runs Travis missed it. He didn't want to be patient, but that's his running style, he's so confident in his ability to break tackles and his speed that a lot of times he doesn't want to wait on the offensive line. The best blocked play we had, we were down in the red zone and he outruns the tackle; if he just slowed down and let the tackle get out in front of him we had a wall built for him to walk in.
"The biggest thing for him is getting him to understand the different schemes and trust the process and be patient. You saw at Wake Forest he slowed down and trusted the offensive line and he had some really big plays. I tell him every day, "It's my job to get you to the second level and then it's your job to take it the distance." So, we're going to work on it every single day, he's still a young guy and has a great attitude about it."
Head coach Dabo Swinney says Etienne needs to be more disciplined.
"He just gets so amped up. He's so fast and explosive. He breaks a lot of tackles," Swinney said. "He just wants to hit a homer every play. Sometimes he can get fast, too fast. He beat our tackle on a play and it wasn't what it needed to be. He needs to be disciplined with the things he's coached to do. He didn't follow the blocks early in the game on a play. But he came back and settled in. He probably should have averaged six yards a carry yesterday. He could have if he would have been more patient and disciplined. Not disappointed with him at all. Just want him to be more detailed in what we're asking him to do."
The good news, according to Elliott, is that Etienne is receptive to coaching and learns from his mistakes.
"Oh he loves it. Each one of them I have to coach different, I can't coach Travis the same way I coach Tavien (Feaster) and vice versa," Elliott said. "He's a guy (Etienne) that wants you to get on him because he knows he's talented, he's not conceited in that, he knows he can run, but he also knows that he doesn't understand all of the schemes yet and he needs me to coach him up on that. I thought he made a lot of progress in pass protection this week, but his first couple runs he was just a little juiced up and didn't' wait on his blockers."