---
| | |
| --- | --- |
| Friday, March 20, 2015 7:01 AM | |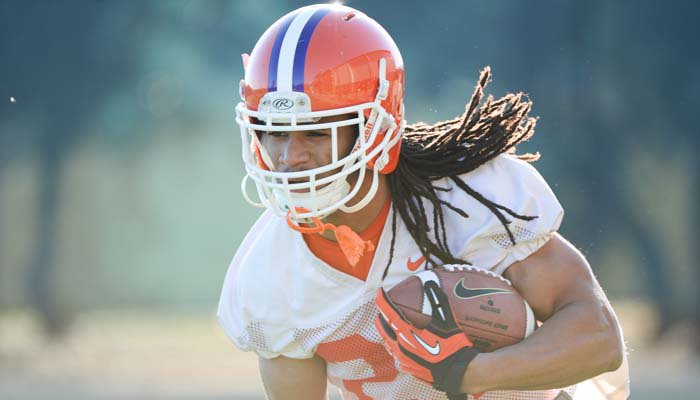 CLEMSON – Zac Brooks

Zac Brooks
Running Back (2012 - 2015)
#24 6-0, 200
Jonesboro, AR
View Full Profile is back and eager to show he can still be a major contributor to Clemson's game.
With less than two weeks to go before the Tigers opened up the 2014 season at Georgia, Brooks felt a pop late in the Tigers' practice on the temporary practice fields between Doug Kingsmore Stadium and the indoor practice facility. He was carted back to Memorial Stadium and received the initial diagnosis – a torn Achilles tendon.
"When they first told me, I laughed because I didn't really know what to say," Brooks said a few weeks ago. "Just kind of at a loss for words. I have a great support system in my family and coaches and everything was fine, but it was tough."
Brooks said that losing out on what would have probably been a starting spot wasn't what hurt the most, saying that watching his teammates play while he watched was a "dagger."
"When you put so much work in throughout a whole summer, a whole year, and then you get to that point and you can't play that's a dagger for anybody," Brooks said. "The starting part wasn't as much of an issue, it was just all the work I had put in wasn't going to pay off for the season the way I wanted it to. Not saying it won't pay off this year, because it will. But just the fact that I wasn't able to play football last season was the part that bothered me the most."
Brooks threw himself into his rehab and said he checked in at 205 pounds prior to camp and isn't limited in any of his activities.
"I am able to do everything," he said. "I just want to pick up where I left off. I am always hungry. Not quite I'm as fast but I will be back soon."
Brooks didn't redshirt when he first arrived at Clemson and was able to use a medical redshirt last season, leaving him with two years of eligibility. During his first two seasons in a Clemson uniform, Brooks has 365 yards on 74 carries and two touchdowns along with nine receptions for 92 yards and one touchdown in 204 snaps over 18 games.
This season he will battle Wayne Gallman

Wayne Gallman
RS So. Running Back
#9 6-1, 205
Loganville, GA
View Full Profile , Tyshon Dye

Tyshon Dye
RS So. Running Back
#22 5-11, 215
Elberton, GA
View Full Profile , C.J. Davidson

C.J. Davidson
RS Sr. Running Back
#21 5-10, 200
Clemson, SC
View Full Profile , Adam Choice

Adam Choice
So. Running Back
#26 5-9, 215
Thomasville, GA
View Full Profile and C.J. Fuller

C.J. Fuller
RS Fr. Running Back
#27 5-9, 215
Easley, SC
View Full Profile for playing time, and Brooks said he feels good about the future of the position.
"We look good. We have a bunch of talented running backs and a great leader in Coach (Tony) Elliott. We also have a great line this year, too," he said. "Everybody coming back has more knowledge and is more mature. From here on looking forward, it looks really good."
However, the good feelings don't mean he isn't trying to win a job.
"Like Coach Swinney always says, you run a race to win," Brooks said. "I always have that urgency. It isn't just for a starting spot. It's for me. Why go into something without a sense of urgency? Why do something without all your heart? Why not give it your best effort? The urgency has always been there and it will always be there."
Asked what separates him from the rest of the pack, Brooks smiled and left it to the reporters to sort out the answer.
"I don't feel like that's for me to say," he said quietly. "I will leave that for you to determine."