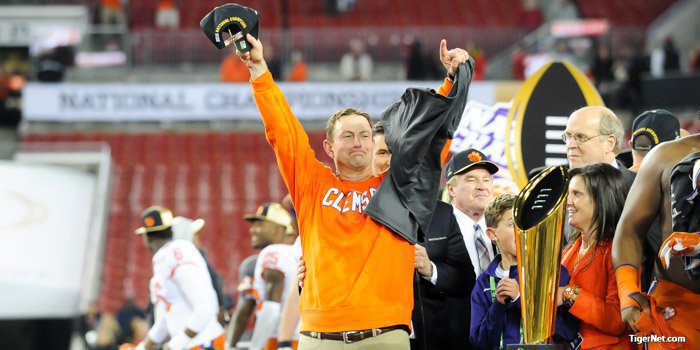 | | |
| --- | --- |
| With one stroke of the pen, Swinney has 54 million reasons to stay at Clemson | |
---
| | | |
| --- | --- | --- |
| Friday, August 25, 2017, 3:36 PM | | |
CLEMSON – With one stroke of the pen, Dabo Swinney and Clemson University proved that the Tigers' head coach isn't going anywhere else. Not anytime soon.
Swinney and the school agreed to terms on a new contract earlier this week – the meat of the contract was in place last week but the final agreement was in place Tuesday – and the Board of Trustees compensation committee officially approved the new deal Friday.
The contract runs eight years and will pay him an average of $6.75 million a year through 2024. That average is up from the $5.33 million average a year he was expected to make through his existing contract before Friday and brings his new total to $54 million over the years through base salary, supplemental pay, licensing and signing bonuses.
There were more than a few takeaways from the early-morning press conference and announcement and press conference at McFadden this morning. Let's start with the fact that Swinney hired an agent. As many of you know, Mike Brown, who represented Swinney for many years, passed away in late January after a battle with pancreatic cancer. I asked Swinney in the spring if he was going to hire a replacement, and he said that longtime friend P.J. Tessman was moving to Clemson and would handle many of the details Brown handled, including Swinney's All In Foundation.
Assuming that was still the case, I asked Athletic Director Dan Radakovich if it was strange negotiating a contract of this size without an agent, and he told us there was an agent involved. Swinney hired a firm (Balch Sport) out of Birmingham (AL) earlier this summer to handle the details of the contract (Larry Fedora and Ray Tanner are clients).
"Actually, there was an agent and that's why we are sitting here in August as opposed to some time previously," Radakovich said. "With the untimely passing of Mike Brown, Dabo took a little time and talked about how he wanted to pull together his team. That was done in May, and we were able to work with them."
Swinney is now the third-highest paid coach in all of college football, only behind Alabama's Nick Saban ($8.1 million a year) and Michigan's Jim Harbaugh ($7.6 million a year). All of these contracts and their numbers are skewed for one reason or another – part of Harbaugh's compensation is life insurance money and Saban had a huge signing bonus – but the school wanted to make sure that Swinney was paid like the rest of his peers.
"When you look at the market, the market is now defined because Dabo has won a National Championship here at Clemson," Radakovich said. "The market is also defined by those four coaches who are current coaches who have National Championship victories. It further includes Coach Harbaugh at Michigan, who has a Super Bowl appearance. We created the terms based on that."
The part that really stands out to me is the buyout – the contract stipulates that Swinney would owe Clemson $6 million if he opted to leave for another school. Considering that many people believe Alabama would make Swinney its first choice if Saban left and a report earlier this week that Texas A&M would make Swinney a priority if current head coach Kevin Sumlin is fired, the buyout is a big piece.
To put things into perspective – Florida St. head coach Jimbo Fisher's buyout now sits in the $1 million range, Harbaugh sits at $2 million, and Urban Meyer's buyout at Ohio St. is $2 million. So why is Swinney's buyout so large? I was told that Swinney wanted that number, because it shows his commitment to Clemson. He wants to be here as long as Clemson wants him here.
Now, we can't be silly and think that if another school really wanted Swinney they wouldn't pony up the $6 million. Alabama would pay that and not even flinch. But it does show Swinney's commitment to the school, and there are multiple reasons he won't find a better gig anywhere else – he's won a national title, the new operations building has his fingerprints all over it, recruiting is better than ever and he's building a brand new 20,000 square foot home just a few miles from campus.
He isn't going anywhere, and he has 54 million reasons to stay.