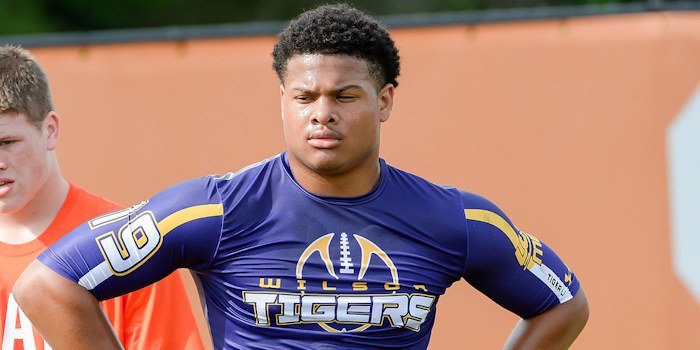 | | |
| --- | --- |
| Visitors list, recruit predictions for rivalry game | |
---
| | | |
| --- | --- | --- |
| Saturday, November 26, 2016, 7:01 AM | | |
With Clemson's 2017 recruiting class almost complete, the Tigers' coaching staff will focus on 2018 in-state prospects Saturday night.
With archrival South Carolina coming to town, Clemson will do its best to show recruits – especially those that live in the state what separates the two programs.
Headlining the group is 5-star Xavier Thomas, who was in Clemson for the Louisville game, and has made multiple trips to South Carolina this season.
Several four-stars will also be in attendance. TL Hanna teammates Stephon Wynn, Jr and Kavesz Sherard, Fort Dorchester athlete/quarterback Dakereon Joyner and South Pointe wide receiver Derion Kendrick.
Wynn is a Clemson legacy as his father played for the Tigers. Joyner is the former teammate of freshman offensive lineman John Simpson and would probably favor the Tigers right now if they were recruiting solely as a quarterback.
The lone impact out of state prospect is 4-star cornerback Verone McKinley III out of Carrollton (TX) Hebron. McKinley will bring his parents to campus for his second trip to Clemson.
***Make sure to check out the recruit predictions at the bottom of the story.
2018 Propsects
Jordyn Adams, 3-star WR, Blythewood (SC)
Josh Belk, 3-star DT, Lewisville (SC)
Dakereon Joyner, 4-star ATH/QB, North Charleston (SC) Fort Dorchester
Derion Kendrick, 4-star WR, Rock Hill (SC) South Pointe
Verone McKinley III, 4-star CB, Carrollton (TX) Hebron
Jordan McFadden, 3-star OT, Roebuck (SC) Dorman
Israel Mukuamu, 3-star S, Moncks Corner (SC) Berkeley
B.T. Potter, K, Rock Hill (SC) South Pointe
Kavesz Sherard, 4-star OL, Anderson (SC) TL Hanna
Dennis Smith, WR, Gaffney (SC)
Xavier Thomas, 5-star DT, Florence (SC) Wilson
Jake Venables, 3-star LB, Central (SC) Daniel
Stephon Wynn, Jr. 4-star DL, Anderson (SC) TL Hanna
2017 Commits
Matt Bockhorst, 4-star G, Cincinnati (OH) St. Xavier
Chase Brice, 4-star QB, Loganville (GA) Grayson
Tee Higgins, 5-star WR, Oak Ridge (TN)
Logan Rudolph, 4-star LB/DE, Rock Hill (SC) Northwestern
Baylon Spector, 3-star LB, Calhoun (GA)
AJ Terrell, 5-star CB, Westlake (GA)
Blake Vinson, 4-star OL, Citra (FL) North Marion
Jordan Williams, 4-star DE, Virginia Beach (VA) Cox
Recruit Predictions
Tee Higgins: 38-14, Clemson
Amari Rodgers: "45-17 us…Can't have any turnovers."
LeAnthony Williams: Blowout…42-14
Dakereon Joyner: "Clemson obviously with a win, but I know South Carolina won't go down without a fight."
Chase Brice: "I think Clemson will dominate the majority of the game. Carolina will probably have a big play or two but nothing that fazes the whole game. Clemson runs away 42-13."
Matt Bockhorst: "38-27, Clemson. I think it's going to be a hard fought game with emotions running high. All of the best things about a rivalry."
Jordyn Adams: "I can't wait to see how the atmosphere will be for an intense rivalry like this one."
Jordan Williams: 35-7, Clemson.
Baylon Spector: "35-10. Clemson comes out early and sets the tone."
Blake Vinson: "I think the Tigers will come out with a W. The key to winning the game will be winning the turnover battle and winning up front. I think the score will be 42-14, Tigers on top."
Noah DeHond: "42-7, Clemson. The key is making sure to score more than the Gamecocks and winning the turnover margin."

Tags: Clemson Football
,
Tee Higgins
,
Blake Vinson
,
Noah DeHond
,
Jake Venables
,
Xavier Thomas
,
Dakereon Joyner
,
Derion Kendrick
,
Chase Brice
,
Josh Belk
,
LeAnthony Williams
,
Baylon Spector
,
Jordan Williams
,
Amari Rodgers
,
Matt Bockhorst
,
Logan Rudolph
,
Kavesz Sherard
,
Verone McKinley III
,
Jordyn Adams