| | |
| --- | --- |
| Venables vs. Petrino? Brent doesn't see it that way | |
---
| | |
| --- | --- |
| Wednesday, September 16, 2015 7:26 AM | |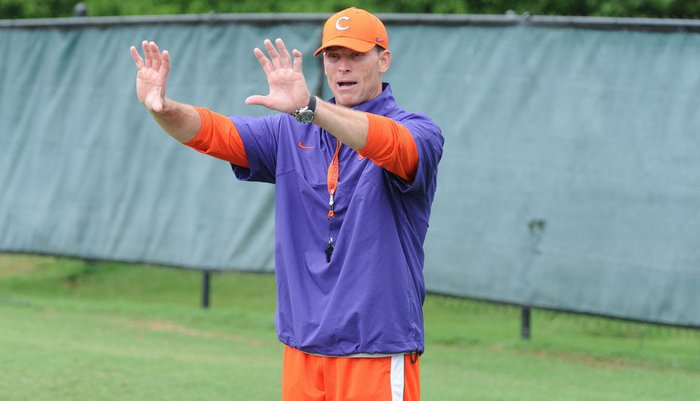 CLEMSON – Brent Venables

Brent Venables
Def. Coordinator / Linebackers
View Full Profile is one of the most respected young defensive coordinators in college football and Bobby Petrino has a reputation as a great play-caller, but don't ask Venables if he is looking forward to Thursday's match-up. Or the chess match between he and Petrino.
It's all about the team.
Clemson and Louisville square off at 7:30 p.m. in Papa John's Stadium, but Venables doesn't even think twice about who is calling the plays on the other sideline.
"No. I don't ever look at it like that ever. It's an opponent, and it's a scheme and it's putting your players in a position to be successful," Venables said Tuesday. "It's the challenge within the game and adjusting and seeing your defense execute it. Coaches get too much credit or way too much blame, but I am not going out there to play the game, and neither is he. It's more about what our players know and how they play the game rather than what I know."
There are plenty of questions surrounding Louisville's quarterback situation – will it be Reggie Bonnafon, Will Gardner, Kyle Bolin or Lamar Jackson? Venables said it's difficult to prepare for the unknown.
"I think there are some differences in the thought process with a dropback guy as opposed to an athletic quarterback-driven scheme. With our guys, we don't tell them a whole lot different. We try to help them based on who is in the game," he said. You use your experience. Here is a guy who does this well, what's your plan? Here is a guy who does another thing well, what is your plan? Here is a guy that does both well so what is your plan? You just have to be ready for it and adjust. They will have a philosophy of what they want to do out of different personnel groups.
"Jackson is a little bit different in some ways but in some ways he is very similar to Reggie Bonnafon in that they are mobile and that they can throw and extend plays. We faced him (Bonnafon) last year and in this conference we have seen plenty of pocket guys. But if they can't run the ball then they are going to have a hard time no matter who is at quarterback. I think that is what they are trying to search through. I expect fully that we will see two quarterbacks because they like what both bring to the table. They've both made mistakes that have been critical. There is a fine line between winning and losing."
Other notes
Shaq Lawson

Shaq Lawson
Jr. Defensive End
#90 6-3, 272
Central, SC
View Full Profile 's development
"He's just consistently doing a lot of the little things the right way. Execution. I think he has more confidence in himself, and I think he knows more about his position and about defense. He worked hard in the offseason to position himself for this year. He is in great shape and up to this point he has been doing well."
Kendall Joseph

Kendall Joseph
RS Fr. Linebacker
#34 5-11, 230
Belton, SC
View Full Profile and Jalen Williams

Jalen Williams
Fr. Linebacker
#30 6-0, 224
Columbia, SC
View Full Profile
"I think they got settled in the other day the longer we played. Some was good and some wasn't so good. The experience was invaluable. The young guys played like young guys sometimes. And then sometimes they play better than you expect them to. App St. kept their guys in there, so some of the things they saw from a speed standpoint weren't things they can get from the scouts and you don't realize that until you get out there, and then you start realizing the sense of urgency and the speed of the game and things of that nature. They work incredibly hard, and they are intelligent. It's a mixed bag right now, but they have bright futures, and that future might be now. I am not terrified of either one getting in the game. We have to find our spots where we can get them in there and prepare for that."
The development of Carlos Watkins

Carlos Watkins
RS Jr. Defensive Tackle
#94 6-3, 296
Mooresboro, NC
View Full Profile
"Here in fall camp sometime is when he really took a jump. I think he had a pretty good summer, and he had more urgency when we started fall camp. It's really a lot of little things. This is how I need to practice, and this is how I need to be coached and this is my weakness, and these are things I need to work on....all that kind of thing. I think he's got better football in front of him. I think he's capable of more. I hope we find that. If he does he will be awfully good and hopefully he will keep working hard and demanding more of himself. "
Thoughts on Scott Pagano

Scott Pagano
RS So. Defensive Tackle
#56 6-3, 290
Honolulu, HI
View Full Profile and Christian Wilkins

Christian Wilkins
Fr. Defensive Tackle
#42 6-5, 299
Longmeadow, MA
View Full Profile
"Some good and some not so good. At times, really good. At other times, laying on our back and that is not so good. Two guys that love to play and are talented that are coachable. They have shown that they can play at a real high level."