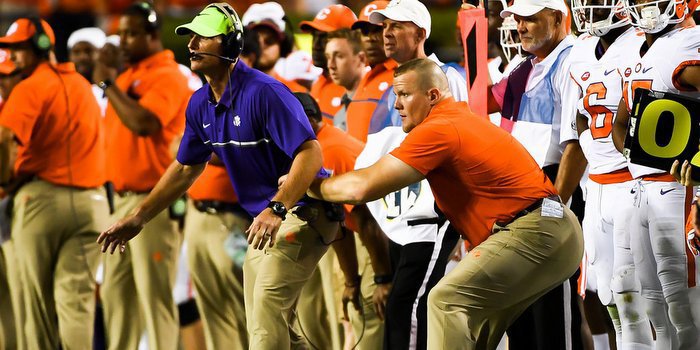 | | |
| --- | --- |
| Venables enjoyed Clemson's back yard effort against Auburn | |
---
CLEMSON – Brent Venables and his Clemson defense will be in their own back yard this Saturday when the Tigers host Troy, but the fifth-year defensive coordinator made it plain Tuesday that sometimes it's fun playing in someone else's yard.
Second-ranked Clemson went to Auburn last Saturday and came away with a 19-13 victory in which the defense accounted for 14 tackles for loss and gave up just 87 yards on the ground to Gus Malzahn's offense.
Venables said he feels like his group embraced the "road dog" mentality that he preaches.
"Nobody ever wants to go and play in your back yard; you always want to go in your neighbor's back yard to play. When you are, it's just a lot more fun," Venables said. "That's how Dan Brooks sells it to his guys. Looking back now, that's indicative of really knowing what to do and trusting each other and playing aggressive and attacking your opponent. If you're not having success, you're not going to have those stats to back it up and validate a good performance. Really happy for as many new parts as there were in the front seven in particular. That is reflective of guys really feeling confident in knowing what to do."
He then said that the effort gives him hope for the rest of the season.
"I think on a lot of levels. I'm hopeful. We are hard on them. We demand a lot and coach them hard. I think that validates what we've been asking of them," he said. "I think having a little success they are like, 'I like to be coached hard. I like that you demand a lot.' It's easier for them to come to work and to go and compete. It's easier for them to listen. It validates what you're saying and what you're asking them to do. It increases trust and improves chemistry as a unit.
"When Jadar (Johnson) can see Kendall (Joseph) is going to hold it down in the middle - all of a sudden you start developing a bond and a trust. Same thing for Van behind Ben. That's the number one thing is giving them some confidence and a shot in the arm that we can do this. There is always going to be ups and downs, though. It's not going always to be holding someone 3 of 17. There will be sometimes when you're on your heels, and you've got to get back to the fundamentals of the game and training your eyes the right way. Every week is different, and you have to start over."
After reviewing the Auburn game tape, he said he was pleased with what he saw.
"I thought there was a lot of precise execution. They were disciplined for a good part of the game," Venables said. "As wide as the widest and deep as the deepest - there are a few exceptions and they do a great job of manipulating you and thank goodness we had a long time to prepare for them because they can give you a lot. I'm just really pleased with the effort and overall execution - how hard they played, how hard they competed. For a lot of guys, that was their first start, and they really played disciplined, and that's just not normal."
On playing Troy
"They have some different things, they do wildcat and do a lot of personnel packages too. They have some zone read option and principles like that - a quarterback that's carrying the ball with misdirection involved."
The pass defense late against Auburn
"We didn't do a very good job preparing those guys. Threw into the end zone thought they'd throw a mid-level route. That's not the position you want to be in. I think some guys tried to do things that we did not execute very well, with the calls that were there. We had some real fundamental basic breakdowns, and that's not to say they wouldn't have the same result, but we did some things that we can't do. We have to clean some things up."
Young guys not getting to play
"I almost emptied the bench at my position, so I don't know. I thought we played a lot of guys. There are a few more we would have like to have gotten out there that hopefully we will."
Jalen Williams at nickel
"Jalen (Williams) had an excellent fall camp and really good spring and has really earned our trust. There is a lot to say for guys that know what to do. He's a good football player. Some of the things that he lacks in size and speed, he makes up for because he plays fast. He's a tackler, and he can cover and play in space, and there could be some mismatches at times, but we are still trying to develop our defense and the different packages. Going into that first game under the circumstances we felt like he was best suited to handle that role. I like his ability to do multiple things. It creates opportunities for him, and I think it helps us. He may not make a play, but he's not giving up a big play either. He graded 82% for the game at 38 plus snaps, and that's good. I would rather win with that than win with a guy that might be a little more productive that's grading in 50%. The 50% is going to beat you. There is savviness. He's got a very confident understanding of what we're doing, what we're trying to show and where we need to be. Guys that have a good feel for it, it doesn't show your hand."
"He probably was a little bit better. He was very impressive all camp. I mean he had some lows during camp, like where he had an off day, but the play where he makes the sack is a super, super athletic play. Because of the quick whistles and we're not tackling the quarterback - you don't always know in practice - what he would have done there. Just a little bit exceeded expectations, not much."
Defensive end
"Christian (Wilkins) being a new starter at defensive end and Clelin and Dexter, those guys being new guys, (Chris) Register and (Richard) Yeargin in there as well, I think Marion (Hobby) and Dan Brooks have done an incredible job helping those guys grow up quickly and providing the knowledge and the tools that they need to play fast and confident. That just doesn't happen - you just don't luck into that. That takes the players work and their understanding, their willingness to be coached and good coaches that functionally can give them tools to be successful. You have to help them. It's not just yelling at them and running through the bags. Those guys are as good as there is in the business. Their track record speaks for itself."

Upgrade Your Account
Unlock premium boards and exclusive features (e.g. ad-free) by upgrading your account today.
Upgrade Now