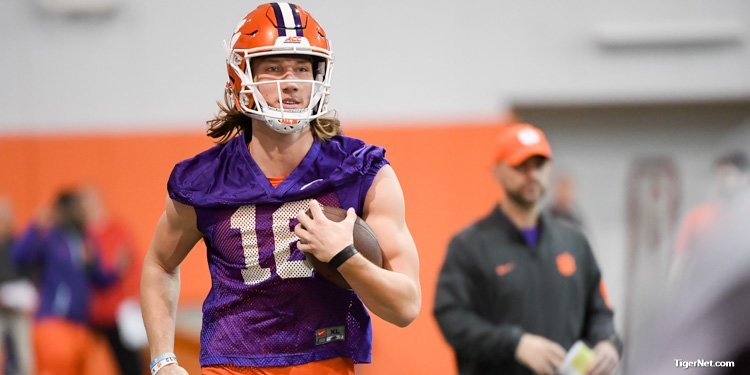 | | |
| --- | --- |
| Trevor Lawrence, trial by fire: Getting burned is part of the process | |
---
CLEMSON – You can tell a child a plate is hot but sometimes the only way they learn is by getting burnt.
Trevor Lawrence is learning that about college football.
The talented Cartersville (GA) freshman quarterback is in the midst of a battle with veterans Kelly Bryant and Hunter Johnson and redshirt freshman Chase Brice to become Clemson's next signal caller, and co-offensive coordinator Jeff Scott said the only way the quarterbacks will learn is by throwing them in the fire.
"Absolutely. It's very competitive. I know everybody would like to kind of know if there is somebody pulling ahead but really those guys are getting a lot of reps," Scott said after Monday's practice. "Kelly is improving from where he was last year. I think he's had a really good seven practice. The young guys behind him have been showing good progress. They have their moments. They've all made mistakes and thrown balls where they're not supposed to throw them, but they've all also made some really good plays.
"For us, what we're looking for is being able to have command of the offense, being able to flip the protections, put the running back where he's supposed to be, communicate with the offensive line, be able to kind of run everything out there on the field. That's really the biggest thing for those younger guys - getting comfortable doing that. I've seen progress. All four of those guys are talented guys. I think this is what this scrimmage is all about, letting those guys go out and compete. Get everybody off the field and let them see live bullets coming at them and hopefully, we'll be able to see some things from that."
Even if that means they get burnt on occasion.
"He has a lot of those ('Wow') moments," Scott said of Lawrence. "There's no question about the ability and the talent that he has. I think for him, he's tested it a few times - tested his arm a few times and he found out there are some throws he can't get away with at this level that maybe he could get away with in high school. It's kind of like my two-and-a-half-year-old daughter, Savannah, they've got to kind of touch that hot plate before they believe it. That's kind of where Trevor is right now. Every day he's kind of testing it. Sometimes he makes the play and sometimes he gets intercepted, but that's what spring is about and that's what learning is about. Finding that that timing and when to make that throw, when to check it down and when to throw it away. He's definitely gotten better. He's doing very well."
Head coach Dabo Swinney said that while all four are progressing, the battle likely won't be over anytime soon.
"They're all doing well. They all have good days," Swinney said. "They've all got great plays and they all have plays they'd like to have back. We've got a competitive bunch and all four of them are fighting, scratching and clawing every day to be the guy and that's what I love. Kelly has been really good. Those other guys are catching on and competing hard."

Upgrade Your Account
Unlock premium boards and exclusive features (e.g. ad-free) by upgrading your account today.
Upgrade Now