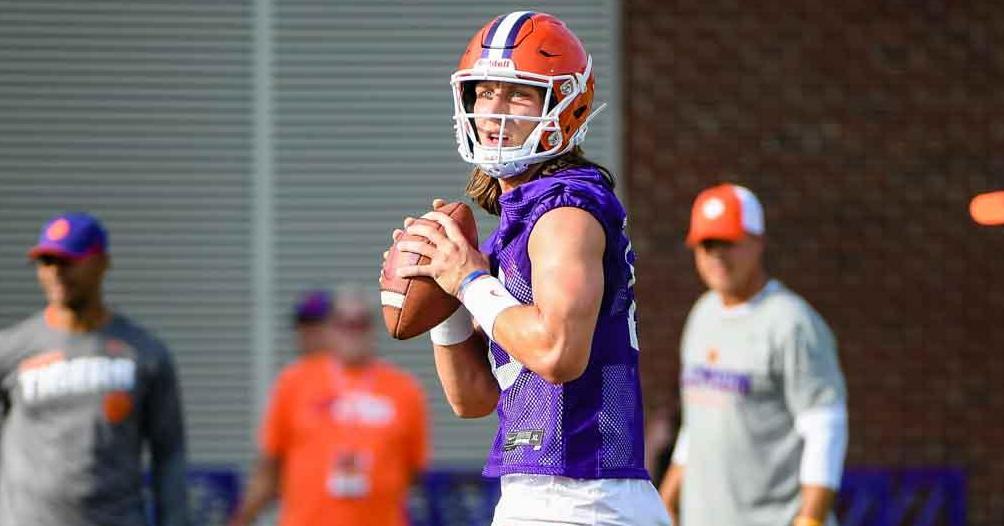 | | |
| --- | --- |
| Trevor Lawrence: Even joking about the Heisman Trophy is dangerous | |
---
| | | |
| --- | --- | --- |
| Saturday, August 3, 2019, 8:01 AM | | |
CLEMSON – Trevor Lawrence is happy to be off social media for the season. That way he doesn't have to read or hear about his chances for winning the Heisman Trophy. Heck, he doesn't even like to joke about it with fellow Heisman candidate and teammate Travis Etienne.
Lawrence, the Tigers' sensational sophomore quarterback, led Clemson to a National Championship last season and enters 2019 as one of the favorites – if not THE favorite – to bring home the cherished trophy in early December.
His stats in 2018 were sensational: 65 percent completion rate, 3,280 yards, 30 touchdowns, and just four interceptions. But it was his play late in the year and in the postseason that set the tone for this season.
Lawrence told the media following Friday's practice that all of the Heisman talk is just that – talk.
"At this point in college football, there's so much talk. I don't think it's that hard to ignore it anymore," Lawrence said. "People say crazy stuff but it all takes care of itself in the end. People before the national championship game were saying all kinds of stuff like we shouldn't be there or we don't have a chance and it all took care of itself. Just like anything it will all play out. Also, we're not on social media so that helps a little bit by eliminating those distractions."
Winning a Heisman is something young football players dream about.
"It's not really one of my goals. It would be awesome if it happened," Lawrence said. "That would be something as a little kid that you dream of but first things first, I want to win a national championship. I think that's our team goal. If it comes with it, then that's awesome but I'm just going to do my job, do what I'm supposed to do and see how it plays out."
What's it like having Etienne to take some of the pressure off?
"It's awesome. He's worked for that. He's worked hard," Lawrence said. "It's nice having a guy like that in the backfield, being able to help you out. Whatever the defense wants us to run - we can run it, we can throw it, we can do whatever we need to do, so that's awesome."
However, the dynamic duo won't speak of the Heisman. They don't even joke about it.
"Not really. We don't really talk about that stuff much," Lawrence said. "That's kind of dangerous to start talking about all of that stuff, even joking. We stay away from all of that and just go to work."
Lawrence knows that if he does make it as a finalist for the Trophy it will be because he's surrounded by top-tier talent.
"It's great having guys like that. Coach (Brandon) Streeter tells us all the time just do your job and everything will take care of itself.," Lawrence said. "Keep it simple and those guys will make plays for you. It's awesome having guys out there where you can do your job, get a one-on-one matchup and you can take it and you don't really have to worry about them coming down with it because they do most of the time. It's not like that a lot of places so I know how blessed we are to have guys like that."
Subscribe to TigerNet on YouTube!