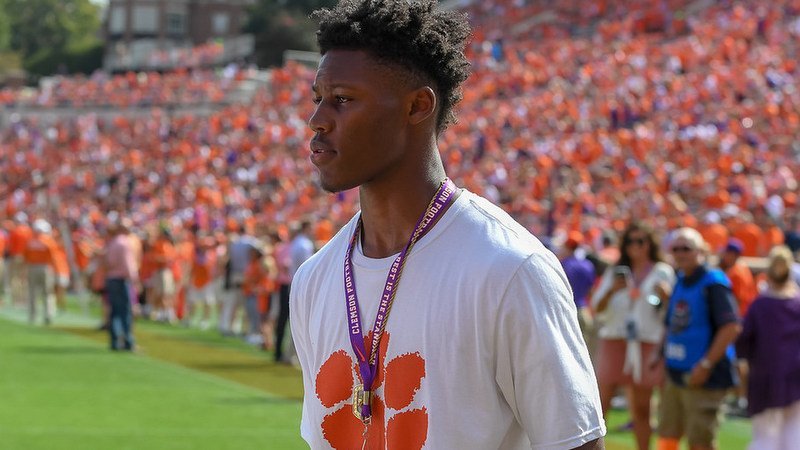 | | |
| --- | --- |
| Tigers take the lead over Gamecocks for Georgia receiver | |
---
| | | |
| --- | --- | --- |
| Wednesday, October 24, 2018, 12:57 PM | | |
The second trip to Clemson in the last month for one of the area's top wide receiver prospects has the Tigers in the lead.
Ze'Vian Capers (6-4 215) of Alpharetta, GA, is a 2020 prospect that both in-state schools want. Capers made the trip to Clemson for the victory over Syracuse – he changed his plans after finding out that Trevor Lawrence would start that game – and made the trek back to Clemson this past weekend.
After Saturday, the Tigers are in the lead.
"Clemson has always been a special place. I actually camped there as a freshman," Capers said. "I have developed a good relationship with Coach (Dabo) Swinney, Coach (Jeff) Scott and coach Brandon Streeter. Our connection has grown a little bit. My family and I are kind of comfortable going to Clemson since we know most of the coaching staff. It feels like a place I need to be especially with their past experience with them having wide receivers drafted into the NFL. But the main thing is the academics."
Capers said the weekend visit was amazing.
"It was an amazing experience seeing former players, students, and staff during their homecoming," he said. "I love everything about Clemson. They have the best fans, great coaching staff, and the culture. It was great seeing Coach Brandon Streeter, Coach Jeff Scott, Coach Xavier Dye, and others. Clemson came out with another dub (W for win)."
Capers has family ties to the state. His mother is from Charleston and he has a lot of family living there and in Greeleyville. So, he feels a kinship with the state, and that includes the Gamecocks as well. He last visited for the Texas A&M game.
"The South Carolina visit, I was really impressed," he said. "I talked to Coach Muschamp and he really liked my film and he really wanted me there. He mainly preached about education. Coach Muschamp told me if I didn't want to get an education, don't come to South Carolina. I want to get an education. I was very impressed."
Capers, of course, has several other suitors and will visit Louisville this weekend and he plans to visit Florida November 3rd and Arkansas the following weekend. He also would like to visit Ohio State and Notre Dame. Capers also is planning to be at Death Valley for the Palmetto Bowl.
Who stands out?
"It's early in my recruitment right now but my top 5 are Clemson, South Carolina, Louisville, Georgia Tech, and Arkansas," he said.
However, none of the others have risen to the level of the Tigers and Gamecocks in this recruiting race.
"I like both schools. Both schools are my top choices right now," Capers said. "Right now Clemson and South Carolina have kind of distanced themselves from everyone else. It's a little bit of a close battle but right now I would put Clemson number one."
Capers said he does not expect to make his decision until sometime in February. He has 50 catches for 1,069 yards and ten touchdowns.