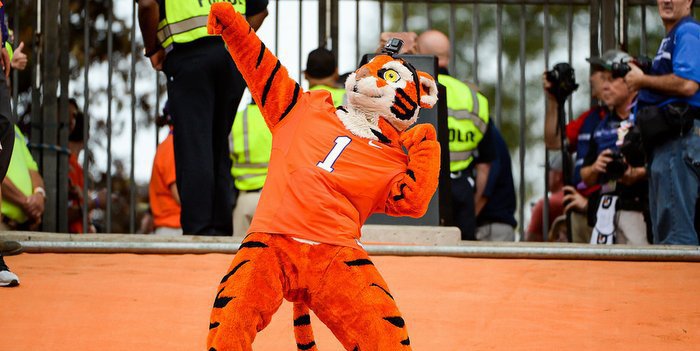 | | |
| --- | --- |
| The Ides of March: Clemson marches forward | |
---
| | | |
| --- | --- | --- |
| Wednesday, March 9, 2016, 7:01 AM | | |
The Ides of March are upon us, but instead of a coup and murder on the floor of the Senate, Clemson fans are celebrating the good times.
In case you've missed out or been hiding under a rock or perhaps far too interested in politics to notice, it's a good time to be a Tiger and maybe not the greatest of times to be, well, not Clemson.
Sure, the world around Clemson isn't perfect – there are questions about the women's basketball program and people will always complain about men's basketball (which beat four teams in the Top 25 and finished the regular season with ten conference wins).
But more good news came down last night – men's golf coach Larry Penley captured his 66th collegiate tournament as Clemson head coach on Tuesday when the Tigers won the Bandon Dunes Championship in Bandon, Oregon. Clemson won the tournament by 17 shots over the University of Washington.
However, Clemson has always been a school that prides itself on football and baseball, and right now there is a lot to like with both of those programs. As we head into the middle of March (spring break beckons!) and basketball enters the final flurry, let's take a look at what we've learned over the past several weeks.
Tennessee and Recruiting
This is a good year for recruiting in the state of Tennessee, and while the University of Tennessee battles a lawsuit and questions surround the program, Clemson has been recruiting the state heavily and already has verbals from two of the state's best prospects.
Four-star running back Cordarrian Richardson from Memphis (TN) Trezevant committed to the Tigers on Sunday. Richardson is rated the No. 5 running back in the nation and the No. 90 player overall nationally by Rivals and he was one of the Vols' main targets. It's no surprise that Richardson was recruited by another Clemson commitment out of the state – 4-star receiver Amari Rodgers from Knoxville (TN) Catholic committed to Clemson last month.
The Vols looked to be in good shape with Rodgers – he had taken frequent official visits to Tennessee's campus – and one of his teammates (offensive lineman Cade Mays) is committed to the Vols.
However, Clemson's burgeoning reputation as Wide Receiver U and reputation as a team that can recruit nationally helped pull Rodgers out of Knoxville, but the impact goes deeper than just Rodgers. Clemson's coaches convinced 5-star 2017 quarterback Hunter Johnson from Brownsburg (IN) to flip from Tennessee to Clemson in December. Four-star receiver Tee Higgins from Oak Ridge (TN) is also strongly considering Clemson, and he's good friends with both Rodgers and Johnson.
It wouldn't surprise anyone if Higgins follows his buddies to Clemson, and Rodgers is also leaning on 2017 Jackson (TN) University School offensive lineman Trey Smith. If the Tigers wind up pulling those two players out of Tennessee, someone might have to hide sharp objects from Butch Jones.
Spring Practice
Mike Williams is back, Deon Cain is running routes every chance he gets, Christian Wilkins might be the team's best all-around athlete and Dexter Lawrence is scaring everybody. Welcome to spring practice.
As someone who's been around the program for more than a few years, I like to think I have a good feel for the talent on hand. This team is scary talented. Dabo Swinney know it, the coaches know it and the players know it.
There are questions about experience on defense, but those cats are all physical specimens who look like they can play. If they get into the playbook and listen to defensive coordinator Brent Venables, this group won't miss much of a beat. Venables just keeps churning out good defenses, and he has plenty of talent to work with. Names like Richard Yeargin and Clelin Ferrell and Austin Bryant and Lawrence will be household names sooner rather than later. The linebacker group is developing depth and the secondary is also very talented.
Add in an offensive line that will be better, studs at all of the skill positions and a stable coaching staff and it's no wonder this team is picked by many to make another run at a title next season.
I walked around the practice field when it began and looked at all of the players Swinney and company have to choose from, and I marveled. Very talented football players but he also has some good human beings on the team, something he mentioned last week. When you have talent and chemistry – watch out. This team looks like it has something to prove. Add in the fact that this is probably Swinney's most talented team, and………..you get the picture.
Baseball
The baseball series against South Carolina felt……..weird. South Carolina's fans were almost too well-behaved Friday in Columbia, and the biggest cheers at Saturday's game in Greenville came from the Clemson fans, who were a majority.
Very few black or garnet shirts were seen at Sunday's series finale Sunday (despite a Doug Kingsmore Stadium record crowd) and I wondered where the sizzle was. The sizzle, as it turns out, was all Clemson. New head coach Monte Lee has his team believing they can win and belief is a powerful thing.
We knew this team would hit – any team with Chris Okey and Reed Rohlman and Weston Wilson and Seth Beer is going to score runs – and that the biggest questions marks would be at pitcher. Over the weekend, Charlie Barnes deserved a better fate than the one he got, Clate Schmidt's changeup was dancing, and Alex Eubanks threw the kind of gutty and gritty effort tournament teams need.
That's right – tournament team. The pitching doesn't have to be as good as it was this past weekend in the series win over South Carolina to make a little noise in the ACC. It just has to be good enough on most weekends, and they can be. If Lee and his team make the tournament this year, many will consider them ahead of schedule. Not Lee.
"I came to Clemson for one reason, and that was to put a team in a position to go to Omaha," Lee said following Sunday's victory. "I think the worst approach you can have as a coach is to show up somewhere and tell people you need your own guys there to succeed. I've tried to embrace these guys from day one, and I told these guys I was going to do it.
"They've done a lot of work so far. Whether it's in the weight room, conditioning or how we practice, our makeup has been terrific, and a lot of the credit should go to Jack Leggett for creating men of character in the first place. I'm very pleased with how our program is doing, but we've got to keep working hard."
I was impressed with how the team responded to the 8-1 blowout. The Tigers came out on Saturday and Sunday and appeared to be the team that was loose and looked like the team that was having more fun. That hasn't always been the case, and Lee deserves a large part of the credit.
This team is going to be fun to watch this year.

Upgrade Your Account
Unlock premium boards and exclusive features (e.g. ad-free) by upgrading your account today.
Upgrade Now