| | |
| --- | --- |
| Swinney says tough week of practice is "by design" | |
---
| | |
| --- | --- |
| Friday, August 8, 2014 2:24 PM | |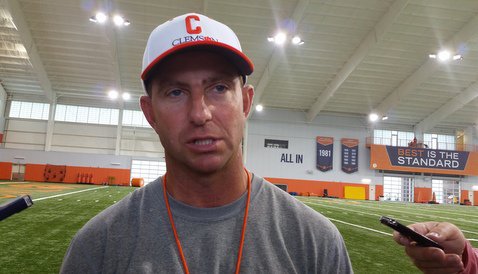 CLEMSON – Dabo Swinney

Dabo Swinney
Head Coach
View Full Profile has put his team through a difficult week of practice already, but the Tigers still have the second session of their first two-a-day practice late Friday and a stadium scrimmage Saturday before they can call it a week.
Swinney told the media gathered at the indoor practice facility after Friday's morning practice session that the players have responded well to the difficult series of practices.
"It's been a tough week by design," Swinney said Friday afternoon. "Wednesday was tough. Thursday night was tough, then we had the quick turnaround this morning. Some of them have kind of hit the wall a little bit. Most the guys that in my mind that I'm really counting on, they've responded really well. We've got a lot of work to do tonight. We'll practice in the stadium and we'll be teaching tempo. We won't have any pads on – just shorts and t-shirts. I look forward to seeing what they can do in the morning in the scrimmage."
Saturday will mark the first stadium scrimmage of fall camp and Swinney is looking forward to seeing how the offensive line has progressed during the first week.
"If [Isaiah] Battle isn't there, we'll move some guys around and see how they respond," Swinney said. "Have some different lineups and put some guys in some different spots and challenge them there to see how they respond. When it's all said and done, I think we'll have 10 guys or so that we can depend on. Right now it's figuring out where they go and who are the top-five, top-six, or top-seven that we can depend on."
Swinney also wants to see what the entire team has learned from their installation periods over the last five practices, as well as special teams.
"I'm anxious to just put it all together," Swinney said. "In practice, you do a lot of situational stuff – third down, goal line, but when you scrimmage you have to react to whatever situation you're in," Swinney said. Just really how they put it all together. I'm anxious to see some special teams work. We've got a lot of work we've got to do there. I want to see Ammon in the stadium and in some pressure situations to see how he responds when it counts."
Other Notes
Injury updates
"Battle looked a lot better today. If we were playing tomorrow he would probably play. We'll see how he's doing in the morning and see if [head trainer] Danny Poole wants to cut him loose or not. [Stanton] Seckinger looked a lot better today. He's actually hopeful that he can get out here in the next week. That would be great. He's responding well. Just some guys dinged up. Shaq Lawson

Shaq Lawson
So. Defensive End
#90 6-3, 269
Central, SC
View Full Profile – we held him today. He was back in green, but as far as live work we held him today. [Sam] Cooper – same thing – he's got a little muscular thing in his shoulder that he's trying to build back up. Adam Humphries

Adam Humphries
Sr. Wide Receiver
#13 5-11, 193
Spartanburg, SC
View Full Profile had a tweak in his hamstring. Those are just things that you deal with when you're going through camp."
On the football players participating in graduation ceremonies today
"Today is a great day. I hate it's raining, but it's not raining over there in Littlejohn. It's raining tears maybe. It's great to see guys finish. I'm really happy for Vic Beasley

Vic Beasley
RS Sr. Defensive End
#3 6-2, 236
Adairsville, GA
View Full Profile , Martin Jenkins

Martin Jenkins
RS Sr. Cornerback
#14 5-9, 185
Roswell, GA
View Full Profile , Reid Webster

Reid Webster
RS Sr. Offensive Tackle
#77 6-3, 300
Woodstock, GA
View Full Profile graduating for the second time, Taylor Watson

Taylor Watson
RS Sr. Safety
#30 5-10, 210
Simpsonville, SC
View Full Profile . Josh Watson

Josh Watson
RS Sr. Defensive Tackle
#91 6-4, 292
Wilmington, DE
View Full Profile graduated last December. I think all but two seniors will have their degrees by December. That's what it's all about. Dwayne Allen

Dwayne Allen
Tight End (2008 - 2011)
#83 6-3, 255
Fayetteville, NC
View Full Profile – I appreciate the Colts giving him a couple of days off so he could come participate. What a big deal that is. For me, it just makes me smile because I know where Dwayne Allen came from. I know how he was when he walked on this campus. To see that young man leave but still stay committed and get his degree, is awesome. It's such a great example to so many others. It's the first time in school history to have two consensus All-Americans graduate on the same day – Vic Beasley and Dwayne Allen."
On autonomy of the power five conferences
"The biggest thing for me is modernizing the scholarship to reflect 2014 as opposed to 1985. Understanding that the scholarship has to be a little different just based on how preparation has changed, how the game has changed, and more importantly how society has changed – gas is more expensive, clothes costs more, food costs more, movies cost more. These guys work year round. I just hope that they will modernize the scholarship and allow for these guys to have a little bit of money in their pockets – not salaries, not professional contracts. Just common sense stuff. Maybe it's travel stuff for parents to go to award shows. Prior to that, it would've been let's feed them, but we already have that."