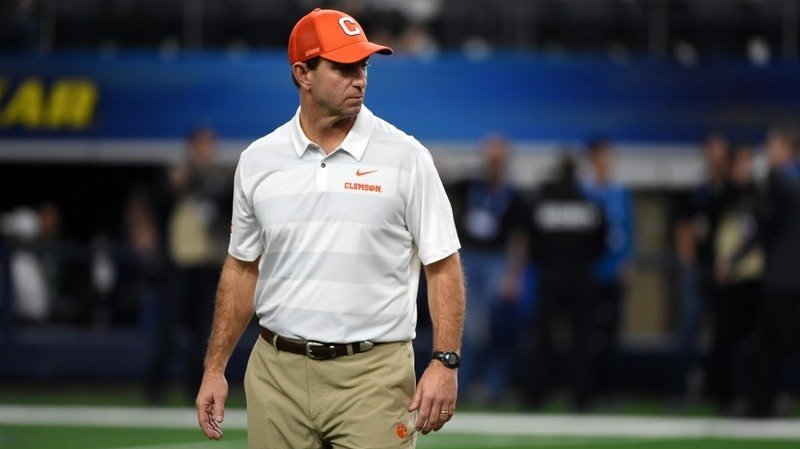 | | |
| --- | --- |
| Swinney says "clearly the two best teams" are left to play for the title | |
---
| | | |
| --- | --- | --- |
| Monday, December 31, 2018, 12:06 PM | | |
Between the Cotton Bowl and travel back from Dallas, it's been a long 48 hours for Dabo Swinney and Clemson, but the Tigers aren't done yet.
After beating Notre Dame 30-3 in the Cotton Bowl Saturday evening at AT&T Stadium, the Alabama Crimson Tide and Clemson Tigers will square off in the College Football Playoff National Championship Game for the third time in four seasons.
Kickoff from Levi's Stadium in Santa Clara, Calif., is set for 8 p.m. ET, Monday, Jan. 7. The Crimson Tide are six-point favorites with the total at 59.5 in the latest Alabama vs. Clemson odds.
Swinney said during Monday's College Football Playoff media conference that the Tigers appearance in their third national championship game is the culmination of a lot of hard work.
"Well, just kind of long day yesterday and traveling back and quickly turning the page to this incredible opportunity that we have in front of us. But, first of all, I just want to say thanks to all the CFP folks. Y'all know Y'all do an amazing job working all year to make this a great experience and the Cotton Bowl was just awesome for us," Swinney said. "Everybody associated, our players had a great time, and it was just a really, really good week. We played a tremendous opponent in Notre Dame, and we played a heck of a ballgame. Really proud of my guys. They've worked their tails off all year to put themselves in this situation, so we're excited d about heading out to California later in the week."
Alabama and Clemson began the season ranked No. 1 and No. 2, respectively, and Swinney said there's no doubt the two best teams are playing for the championship.
"You know, I think that this is clearly the two best teams in Alabama and Clemson, and it's going to be an exciting game. I mean, this is the way it should be, and we know we've got a huge challenge," Swinney said. "Want to congratulate Alabama, as well, for just another amazing year, and Coach Saban and what he's done, it's just -- they're hard to beat. But, we're excited about the challenge, and we're off and running with our prep, and got a short week to kind of get ready to make the long flight out there on Friday. But, we're so thankful to have the opportunity to be a part of it."
Having faced Alabama in three consecutive years, Swinney said his players understand the mindset that it takes to knock of the Crimson Tide.
"Well, I don't really have to emphasize it with this group, I mean, because they know. Like you said, we've played them now four years in a row, and this is a veteran team that we have. They understand that this is a game where you just have so little margin for error," he said. "I mean, it's two or three plays, literally. You've got to have great preparation mentally and physically to get yourself ready. I mean, these are two really good teams that are both hard to beat, and you've got to do the little things to give yourself a chance, whether it be that field position battle, it's where your guys are, it's your footwork, positioning, it's technique, because you just don't have a lot of room for error, either team.
"I think when you look at this game, I think both teams are kind of mirror images of each other to be honest with you, really good defenses, dynamic quarterbacks, very talented running backs, and explosive skill and just kind of built in the trenches. We're so similar. So it's going to come down to just execution and mentally being sharp and making those two or three plays that you don't know when they're coming. So you just have to truly play every play like it's the play. But we love that challenge, and we know exactly what's coming for sure with the type of team that we're getting ready to play."
Dexter Lawrence NCAA suspension update:
"I have not learned anything, like I say, since Thursday. Obviously, we played and traveled all day yesterday, but Dan Radakovich is leading that front, and I know that they'll be having some meetings and stuff today and trying to figure out what the moving-forward process is going to look like. Obviously, we don't have a lot of time for this game. I'm hopeful that maybe something positive will come out, but I don't know anything at all. And, then, beyond this game, we've got -- there will be an appeal process that our players for sure will want to battle because there's consequences for next year. Dexter (Lawrence) obviously has the ability to go pro, and with Zach (Giella) and Braden (Galloway), Zach has got a year left, and Braden is just going to be a sophomore. There's a longer runway for dealing with that and the process that's in place and what they've all got to do, but I don't know anything at all as far as relevant to this game."