| | |
| --- | --- |
| Swinney on playing Alabama: "God has a sense of humor" | |
---
| | |
| --- | --- |
| Tuesday, January 5, 2016 12:21 PM | |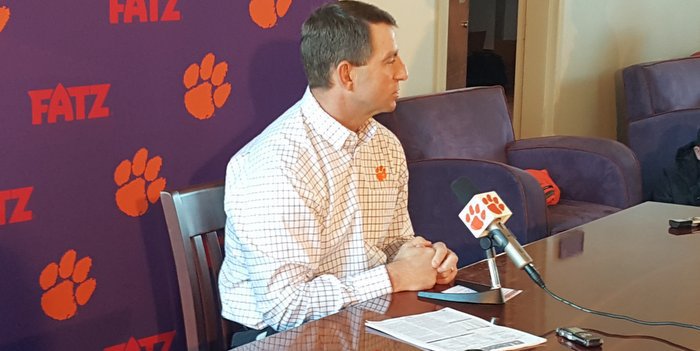 CLEMSON – Clemson versus Alabama means head coach Dabo Swinney gets to take on the school of his dreams, and Swinney smiled Tuesday when asked about the chance to play against his alma mater.
The Tigers and Crimson Tide play Monday in the College Football Playoff National Championship, a meeting between the two schools that have played the biggest role in the life of Swinney.
He said he sees the humor in it.
"It's kind of cool. I think it's neat. God has a sense of humor and I think it's great," Swinney said. "My dream was to play there and go to school there and I was the first one in my family to get a college degree. That was a dream come true for me. I grew up there. I got there when I was 18 and left when I was 31. I grew up in Tuscaloosa. That was my spot until I got married. You just have to smile at God at that one. For me personally, my dad died in August and Clemson hasn't been undefeated since 1981 and my dad - Big Erv - passes away and we are undefeated. I have to believe he is having a lot of fun. His little shop would be a scene right now because it's Alabama and Clemson, his two schools. It's really neat."
Swinney said that Alabama is playing for a national championship for a reason.
"Alabama, it is what it is. They are a complete football team in every sense of the word," Swinney said. "Great coaches. Great depth. Great talent. Great special teams. To me, this is what it's all about. They represent the best and there is no way you can argue with that. They've won 15 and we have a lonely trophy sitting down in that trophy case. They have a whole family. But this is the way it ought to be. We look forward to competing against them.
"Offensively – best offensive line we've seen. They have the Heisman guy – Derrick Henry is pretty good. They have explosive skill with their wide receivers. (Jacob) Coker has played great and when people have challenged him he has stepped up.
"Defensively they have 11 guys on the depth chart and one is a freshman and one is a sophomore and the rest are juniors and seniors. A lot of talented guys. They look like our front last year when we had Shaq Lawson was a backup. They are all great players. They are a really good team and we have to have a great week of preparation."
The team will practice in Clemson Friday and then leave for Arizona. Saturday will be the one day of practice in Arizona.
"That Saturday will be like a regular Thursday for us," Swinney said. "We have a good plan and itinerary for our there and our guys are excited."
Clemson will have to adhere to the 20-hour weekly NCAA rule while Alabama can have unlimited practices and meetings leading up to the title game. Alabama's spring semester starts Jan. 13 -- two days after the CFB Playoff title game on Jan. 11 (ESPN, 8:30 p.m. ET) -- while Clemson's spring semester begins on Wednesday. Clemson can have unlimited practices, meetings, weightlifting, and required film sessions on Monday and Tuesday but the restrictions will start on Wednesday.
Swinney said the extra preparation time for the Crimson Tide won't make a difference in the game.
"People make a big deal out of that," Swinney said. "Tomorrow and Thursday they may have a little more time, and have an extra meeting or walk-through or film session. At this point, more isn't better. I believe less is better. They are who they are and we are who we are – let's go play the game. Our guys don't go to school on Friday and their guys don't go to school on Friday, but our guys are used to going to school, anyway. That's what they do. We just had the highest GPA in the history of the program, so they haven't had a problem balancing things. If they beat us it won't be because they had an extra meeting or walk-through. It's just because they beat us."
Swinney said he's been pleased with the leadership on his team.
"We really have great leadership. Everybody knows we have a young team, but we really treat every game like the biggest game of the year," he said. "To look up and be the only undefeated team in the country is special. I am proud of how they prepared. The Orange Bowl was a great performance and we played very well from a standpoint of physicality and being able to run the ball. We dominated the game in the trenches. That was a great physical performance by our guys. That's what pleases me more than anything."
Other notes
Players of the game
*BJ Goodson and Kevin Dodd were the defensive players of the game, Wayne Gallman was the offensive player of the game and Greg Huegel, Christian Wilkins and Andy Teasdall were the special teams players of the game.
Honor Roll
*Swinney said the program had 48 guys make honor roll, which is a GPA of 3.0 or higher. That is an all-time record for the Clemson program, breaking the record set last spring.